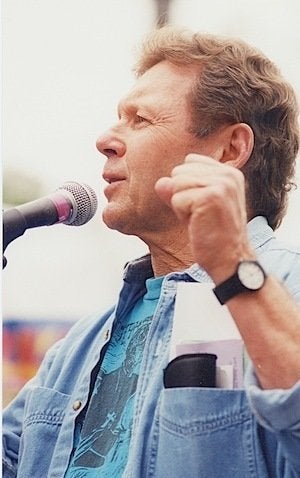 Blessings come in all shapes and sizes, but none could be better--at the moment--for supporters of Women's Ordination Conference, than a male priest/activist suddenly facing excommunication.
God does work in mysterious ways.
Meet Fr. Roy Bourgeois, a celebrated priest and Nobel Peace Prize nominee. He's joined forces with supporters of Women's Ordination, which has been sending a clear message to the Vatican for decades--that womenpriests were part of the original Catholic Church before Canon Law was re-written and should be honored as such today.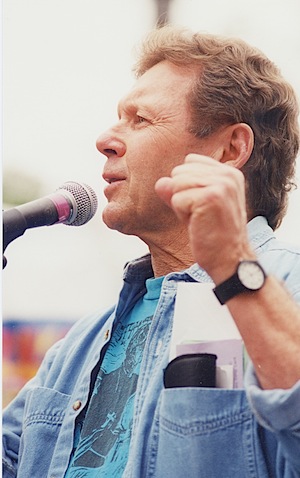 "If we are to have a vibrant, healthy Catholic Church, we need the faith, wisdom, experience, compassion and courage of women in the priesthood," Bourgeois says of the issue. "Many learned scholars have studied the issue and concluded that there is no justification in the Bible for excluding women from the priesthood. With all due respect, I believe our Catholic Church's teaching on this issue is wrong and does not stand up to scrutiny."
The ripple effect of Bourgeois's pleas may be felt all the way to the Vatican, but the result, thus far, is forcing heads to turn. For starters, Bourgeois has been threatened with excommunication by the Vatican's Congregation of the Doctrine of the Faith for his support of Women's Ordination.
All this comes to light in a series of talks Bourgeois and others, including Roman Catholic Womanpriest Dr. Victoria Rue, hosted in support of women's ordination at several forums in the San Francisco Bay Area Jan. 22-25. (Fr. Roy is on a cross-country speaking engagement tour.)

"The Catholic Church is at a crisis point," Bourgeois candidly notes. "Hundreds of Churches are closing because of a shortage of priests. Yet there are hundreds of committed and prophetic women saying that God has called them to serve as priests. Having an all-male clergy implies that men are worthy to be Catholic priests, but women are not.
"Sexism," he adds, "like racism, is a sin. And no matter how hard or long we may try to justify discrimination, it is always immoral."

Rue, a Roman Catholic womanpriest ordained in 2005 (learn how here) who leads the Sophia in Trinity Catholic community in San Francisco, and somebody whom this blogger has written about in the past in articles that appeared in The Advocate--she is lesbian--says that "Priesthood is both a spiritual and a political act."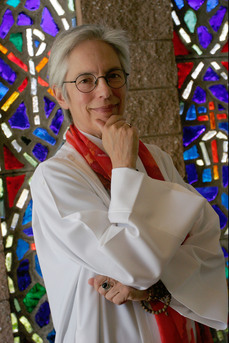 "The Catholic Church says that the invitation to priesthood comes from God and that God created men and women of equal dignity," she adds. "Yet the Church's doctrine on ordination implies that a woman cannot be a priest. This 'stained-glass ceiling' is wrong and must be changed. The early Church had women priests, and Roman Catholic womenpriests see ourselves as continuing this important tradition. There will never be justice in the Catholic Church until women can be ordained."
Bourgeois's support is certainly welcome. He is a Maryknoll priest, human rights activist, founder of the School of the Americas (SOA) Watch, and a 2010 Nobel Peace Prize nominee, along with the School of the Americas Watch. The nomination came about for non-violent protest of the U.S. government's role in the training of foreign military operatives who have used the training to torture civilians, particularly in Latin America, according to the group's website.
In the meantime, should the womenpriests movement continue to blossom, it's not entirely out of the realm of possibility--although a big stretch--that a female could occupy the Pope's throne in the distant future.
Is pink smoke on the horizon?