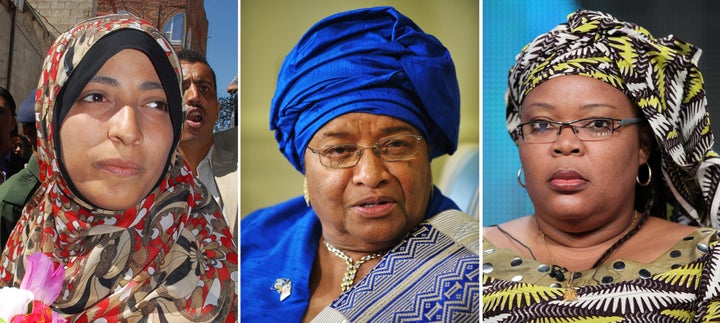 Liberian President Ellen Johnson Sirleaf, peace activist Leymah Gbowee, and human rights activist Tawakkul Karman have been awarded the Nobel Peace Prize. The Nobel Prize Committee lauded their non-violent struggle for the safety of women and women's rights to fully participate in peace-building work. The three recipients were announced today in a ceremony in Oslo, Norway.
"It is the Norwegian Nobel Committee's hope that the prize to Ellen Johnson Sirleaf, Leymah Gbowee and Tawakkul Karman will help to bring an end to the suppression of women that still occurs in many countries, and to realise the great potential for democracy and peace that women can represent."
Karman, a 32-year-old mother who heads the human rights group Women Journalists without Chains, has been a leading figure in the protests against Yemeni President Ali Abdullah Saleh. "She is known among Yemenis as 'the iron woman' and the 'mother of the revolution,'" the Associated Press writes. "A conservative woman fighting for change in a conservative Muslim and tribal society, Tawakkul Karman has been the face of the mass uprising against the authoritarian regime of President Ali Abdullah Saleh."
"I am very very happy about this prize," Karman told the news service from a protest tent in Sanaa. "This prize is not for Tawakkul, it is for the whole Yemeni people, for the martyrs, for the cause of standing up to (Saleh) and his gangs. Every tyrant and dictator is upset by this prize because it confronts injustice."
"With two civil wars, an al-Qaida presence and 40% unemployment, what else is President Saleh waiting for? He should leave office now," she told The Guardian.
Johnson Sirleaf, 72, is a Harvard-trained economist who became Africa's first democratically elected female president in 2005.
Sirleaf was seen as a reformer and peacemaker when she took office in Liberia, a country ravaged by civil wars that is still struggling to maintain a fragile peace.
Sirleaf is running for re-election this month and opponents i have accused her of buying votes and using government funds to campaign. Sirleaf denies the charges.
The committee cited Johnson Sirleaf's efforts to secure peace in her country, promote economic and social development and strengthen the position of women.
"We are dancing," Bushuben Keita, a spokesman for Mrs. Johnson Sirleaf's United Party told The New York Times. "This is the thing that we have been saying, progress has been made in Libera. We've come through 14 years of war and we have come to sustained peace. We've already started dancing."
Gbowee, head of the Women Peace And Security Network, was honored by the Committee for for mobilizing women "across ethnic and religious dividing lines to bring an end to the long war in Liberia, and to ensure women's participation in elections." Gbowee brought together Christian and Muslim women against the power of Liberia's warlords.
"I know Leymah to be a warrior daring to enter where others would not dare," Gbowee's assistant, Bertha Amanor, said to the AP. "So fair and straight, and a very nice person."
The prize is awarded by a five-person committee chosen by the Norwegian parliament, lead this year by Thorbjoern Jagland. Speculation had swirled over who would receive the prize, with Jagland telling the Associated Press that the prize would be given to something "obvious" that he considered "the most positive development" in the world right now.
When Alfred Nobel died in 1895, part of his last will and testament requested the distribution of his fortune as prizes for "the person who shall have done the most or the best work for fraternity between nations, for the abolition or reduction of standing armies and for the holding and promotion of peace congresses." Last year's winner, Liu Xiaobo, received the award for his struggle for human rights in China. President Barack Obama received the Nobel Peace Prize the previous year for his efforts in international diplomacy.
How well do you know past Nobel Peace Prize winners? Take the quiz below and find out!
Related
Before You Go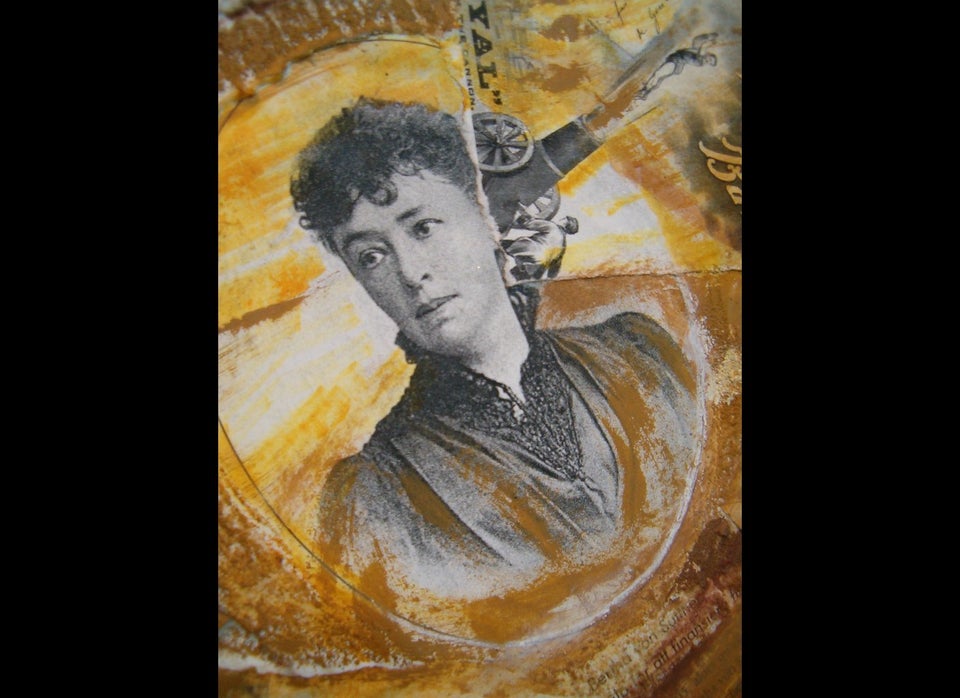 Women Who Pursued Peace
Popular in the Community