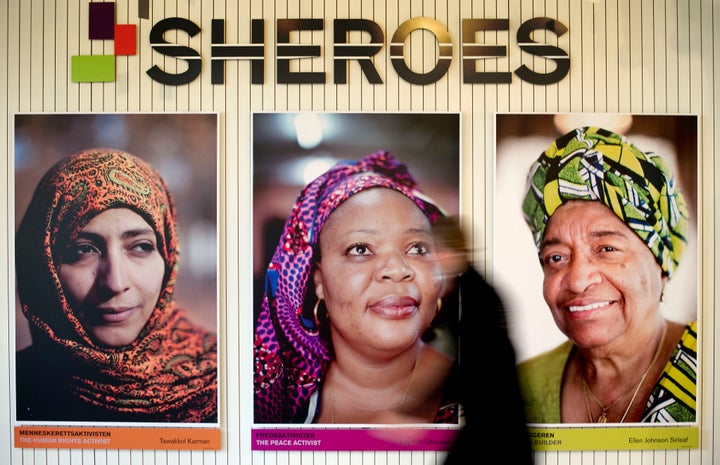 In Norway on Saturday, three women stepped up to be awarded the Nobel Peace Prize for 2011. The awarding of the Nobel to Leymah Gbowee, Tawakkul Karman and Ellen Johnson-Sirleaf is a long-awaited and, some may think, overdue testament to women's courage. While just three women ascended to the podium in Oslo, the victory will be shared by many, many more -- and couldn't have come at a better time.
The ceremony was held on Human Rights Day. Yet, women all over the globe are fighting to be recognized as full citizens of their countries, and to have the same opportunities as their fathers, brothers and husbands. Their struggles take place on many different levels, from the individuals working for justice for rape survivors in their own communities to the handful who walk the halls of power. For many, their participation in public life comes at a huge personal cost.
Samia al-Aghrabi, a Yemeni journalist, was attacked on her way back from a protest in February. She told Human Rights Watch she was set upon by security personnel. Other women demonstrating against oppression in Yemen have experienced harassment and some have been assaulted.
In March, thousands of women took to the streets in Abidjan. As they were demonstrating peacefully against the violence in Cote d'Ivoire, seven women were gunned down by former President Laurent Gbagbo's security forces.
In Saudi Arabia, women continue to be excluded from many forms of participation: they cannot drive, they will be permitted to vote for the first time only in 2015 and they continue to live under a system of "male guardianship" which treats them as perpetual minors, legally unable to make decisions and take part in public life.
If nothing else, this prize tells all these women that their struggles are important, that their efforts matter. In naming this year's recipients of the Peace prize, the Nobel committee sent a clear message: "We cannot achieve democracy and lasting peace in the world unless women obtain the same opportunities as men to influence developments at all levels of society." If the Nobel Committee's message is not heard, if women continue to be targeted and marginalized -- by new governments that emerge with the promise of a different, democratic era or by established administrations that chose to treat some sectors of society differently from others -- we risk undermining peace and security for the next generation.

Leymah Gbowee and Tawakkul Karman and Ellen Johnson Sirleaf represent the full spectrum of participation, and I suspect that this prize will be remembered as being more than just the sum of its parts. No one on this list is flawless, after all, and Human Rights Watch has had cause to criticise Ellen Johnson-Sirleaf. While the Liberian President has made impressive gains in ensuring that the country's hard-won peace has taken hold, there is a tremendous work yet to be done, notably in improving a weak and ineffectual judiciary, and addressing appalling prison conditions and endemic corruption.
It is a time of change, with dictators toppling and new opportunities arising. But political changes that don't create more space for women will not be durable. The Nobel Peace Prize gives hope that even if governments fail, there are others who will support those women who break the mold of their society and claim the roles that are rightfully theirs. Those who oppose change with violence or with apathy are swimming against the tide.

Popular in the Community