It could be the happiest day of your life. Or the saddest. It could be a wedding or a funeral. Either way, it doesn't matter how you feel about fashion. You still have to get dressed, and whatever you wear will be meaningful. So what do you wear on a day that encompasses both grief and unexpected joy? Maybe something wholly unexpected.
That's what lawyer Jenny Carroll decided upon when she was preparing to attend the Nobel Prize ceremony in Stockholm last year. Her father-in-law, Ralph M. Steinman, a professor of immunology at Rockefeller University, had won a Nobel Prize, but he wouldn't be there to enjoy the honor. He died three days before the award was announced. Dr. Steinman had been diagnosed with pancreatic cancer in 2007. For four years, he was treated with traditional chemotherapy and an experimental vaccine based on his own research into dendritic cells. (Dendritic cells -- discovered by Dr. Steinman and the late Zanvil A. Cohn in 1973 -- stimulate the immune system.) Dr. Steinman spent time with his three grandchildren and, Carroll says, "worked till he couldn't work anymore, till the last week of his life." With the cancer invading his liver and bones, he spent that last week in the hospital, surrounded by his family. He died on Friday, Sept. 30, 2011. His survivors -- wife Claudia; twin daughters Alexis and Lesley; and son Adam (Carroll's husband) -- were overwhelmed by grief. "He had so many colleagues all over the world," Carroll says. "We weren't going to tell anyone over the weekend until people were back at their labs. We notified family members. We dealt with the children and their emotions."
In the early morning of Monday, Oct. 3, 2011, the notification process was taken out of family members' hands. Text messages and calls popped up on their phones; the Nobel Foundation was trying to reach Dr. Steinman to tell him his work with dendritic cells had won a Nobel Prize in Physiology and Medicine. (He split the prize with Bruce A. Beutler and Jules A. Hoffman, who also made discoveries in immunology.) With congratulatory calls and emails pouring in from people who had yet to learn of Dr. Steinman's death, the family informed Rockefeller University and the Nobel Foundation. Nobel Prizes aren't normally awarded posthumously, so the foundation would have to reconsider. Only a few hours passed before the organization reaffirmed the award, stating that its secret deliberations and decision had been made in good faith, without knowledge of Dr. Steinman's death. Dr. Steinman's family was invited to Stockholm for the Nobel Prize ceremony and a week of festivities in December.
A strict dress code called for women to wear floor-length gowns, and a powerful mix of sorrow and happiness made two of the Steinman women act out of character. Fashion-loving daughter Alexis, a Los Angeles-based costumer (Showtime's Weeds), found she had no heart for shopping. "All that mattered was that I would be in an appropriate gown that would make my father proud," she says. She was happy to borrow a black, mermaid-style gown from the owner of Shareen Vintage, who offered the dress free of charge when she heard what it was for. Thrifty Dr. Steinman would have liked that, Alexis says. Her twin sister Lesley also borrowed a dress.
Meanwhile, in New York, daughter-in-law Jenny Carroll channeled her emotion into a special project. Formerly a public defender in Seattle, Carroll is now a Seton Hall University criminal-law professor and a mother of two who takes little note of fashion. "I'm not a fancy dress person," she says. "Unless I have to be in court or class, I'm wearing a t-shirt, comfortable pants and running shoes." Carroll -- daunted by the idea of shopping for a dress that would be beautiful, appropriate and somehow symbolic of Dr. Steinman -- asked a friend for advice and was referred to Jean Kormos of Ghost Tailor. Kormos is a couturiere and tailor who happens to have a passion for biology. Over the course of four meetings between Oct. 31 and Nov. 25, Kormos whipped up a gown of muted pinkish-beige silk crepe and charcoal-gray tulle. The tulle skirt was subtly silkscreened with the image of dendritic cells. Together, Carroll and Kormos had found a way to make a true fashion statement: As hoped, the dress led to dialogue with attendees at the Dec. 10 celebration, who were curious about the unusual print. "I wanted them to see why I'm at this event," Carroll said before leaving for Stockholm. "How did a public defender [originally] from South Texas end up at the Nobels? Because Ralph looked through a microscope and didn't give up. When he first discovered the cell, people didn't even believe it. He believed it was a significant find and a way to unlock the immune system."
Still, Carroll says, the best compliments were from family. Dr. Steinman's wife, Claudia -- who was clad in black -- said her husband would have loved the creativity. Carroll's elder daughter, the now-seven-year-old Isla, declared she wanted to be married in the dress. Isla, who attended the Nobel ceremony with her parents, is a science enthusiast like her grandfather. In 2010, during Dr. Steinman's last Christmas, the professor and Isla were discovered in an improvised bathroom "lab" using baking soda and vinegar to shoot cotton balls through the air. Dr. Steinman told Isla that he would attend the Nobel ceremony when she won a prize. Reflecting on her daughters, Carroll -- back in jeans -- sees her foray into fashion as a successful experiment. "My two girls are always faced with the false dichotomy of you can be beautiful or you can be smart," she says. "You can be all. The dress can be beautiful and tell a story. You can be beautiful and tell a story."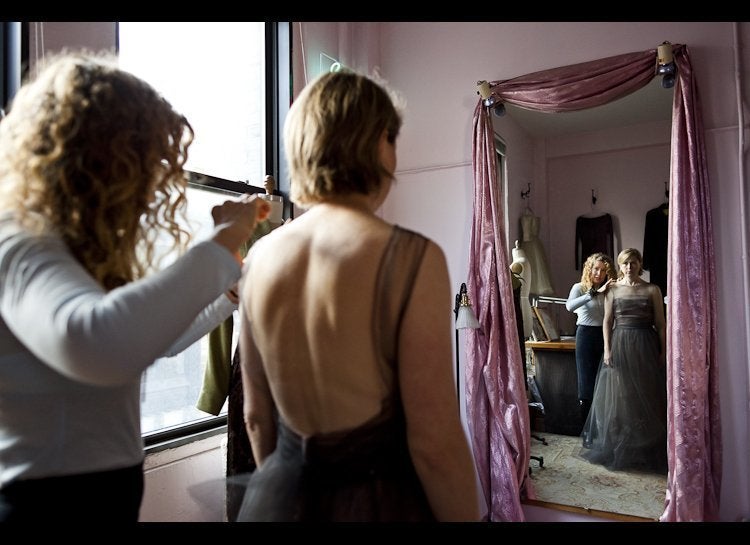 Jenny Carroll's Nobel Prize Dress
Related