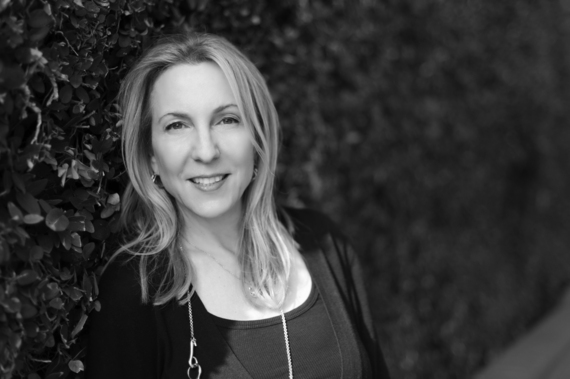 "To be noble is to be kind, considerate and to be of service to others. Noble is the responsibility of making the world a safer and healthier place for all." ~ Susan Rockefeller for NOBLE magazine
Iliana María Such: Can you describe to us a childhood experience, which influenced your business career, especially your relation with filmmaking?
Susan Rockefeller: I've always been a visual person and wondered at the marvels of nature. As a child, I spent my time engaged in so many activities from sledding on hills in my backyard, ice skating on ponds, gymnastics, swimming, to collecting frogs and wandering the woods near my home. I also did a lot of ceramics.
I think the ability to notice intricacies at a young age trained my eye to frame photographs. One of my first memories was of visiting my grandparent's home at the age of six or seven and looking at the book, "The Decisive Moment" by Henri Cartier-Bresson. I was captivated by the way you could tell a story through a frozen image. Collectively, these interests came together through filmmaking.
Iliana María Such: Could you give us an insight into the creative process behind the Food for Thought Film? What do you recommend as a first step to take action and get involved?
Susan Rockefeller: I have been involved with farm issues, working on farms and in gardens since my early twenties. With increases in diabetes alongside an uptick in fast and processed food, I wanted to understand better where we may have gone wrong with our desire for convenience food. Convenient for whom and at what cost? Our health and the health of our soil?
I was inspired to create a film about the beauty and mystery of soil as well as the creation of community through gardening. I loved the idea of the power to vote three times a day with your fork, spoon, or chopstick. So, I thought, why not create a film about the connection between the health of our soil and our personal health -- and provide a foundation for inspiration, education, and also action?
I figured the time was ripe for a film that emphasizes the power of a productive farm ecosystem and healthy communities, the makings of a food revolution, the need for food justice, and the resilience regarding climate change and food security.
The film is available to watch for free at www.foodforthoughtfilm.com, and it is available in English, Spanish, Italian, French, Japanese and Mandarin.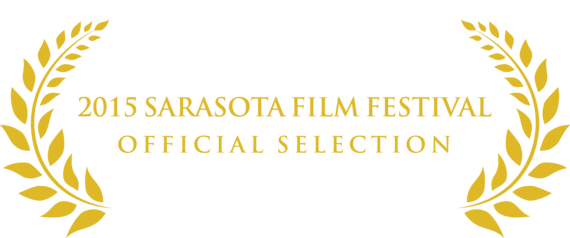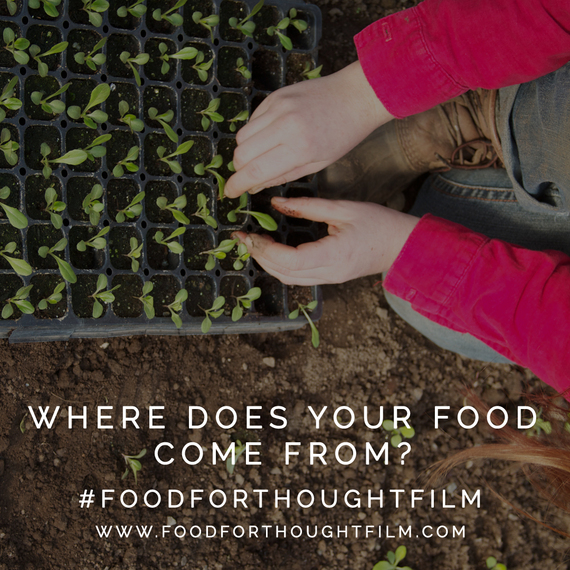 Iliana María Such: Which philosopher has inspired you throughout your career? Why?
Susan Rockefeller: Philosophical writers such as Wendell Berry have been an inspiration! Mary Oliver for her gift of poetry. Also, I have been moved by the poetics of Bob Dylan's lyrics and Simon & Garfunkel's music.
Iliana María Such: What is a good personal experience in defining the Food for Thought, Food for Life collection? What are your challenges?
Susan Rockefeller: Creating Food For Thought involved some mulling over ideas. There are no easy answers, rather gradations of gray; where you live, what variety of foods are available, and your income will influence your food choices. Food For Thought connotes the idea of food for longevity. Food as medicine.
For my jewelry collection that supports the film, I used recycled sterling silver from Sabin Metals. I worked with bees, honeycombs and forks to remind us of the pollinators that give us food and the notions of voting with your fork three times a day. A friend of mine, Stephanie Sacks, wrote a wonderful book "What The Fork Are You Eating?" Another reminder to think before you munch. :-)
A friend of mine, Stephanie Sacks, wrote a wonderful book "What The Fork Are You Eating?" Another reminder to think before you munch. :-)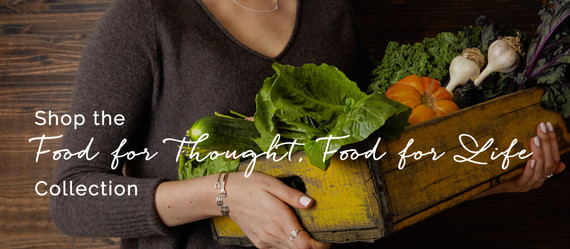 http://protectwhatisprecious.com/products/
Iliana María Such: Can you tell us more about the power of the 1% for the Planet model?
Susan Rockefeller: This is a model that Patagonia came up with to make it easy for businesses to give one percent of their profits for the planet. There are several claims such as giving 100% of returns to a nonprofit organization. But this never tells you exactly what, if any profits, were made. 1% for the Planet levels the playing field to create a platform for companies to match their interest with participating nonprofits. Simple and transparent.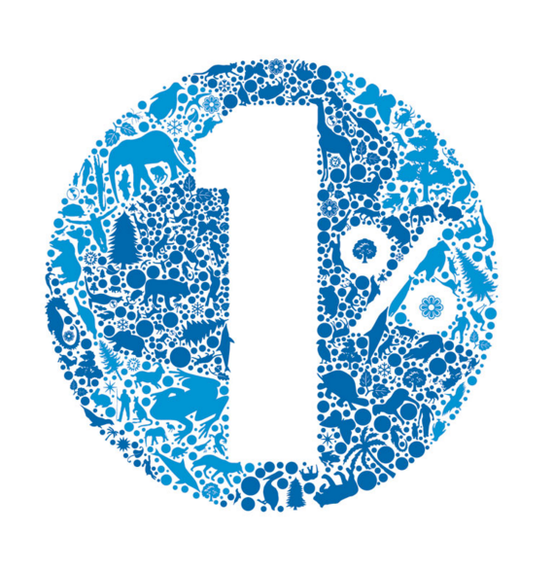 Iliana María Such: Can you tell us about the game-changing program Global Fishing Watch launched in 2016?
Susan Rockefeller: It truly has been a game changer. Google, Sky Truth, and Oceana working together has created a more robust surveillance system for large-scale fishing vessels. It's free, and anyone can use it once it's up and running. You can track vessels and see if they're fishing legally. The power to track empowers local fisherman and governments, citizen activists, and NGO's to watch better and enforce fishing vessel regulations, and report unusual or illegal fishing practices. Very exciting! It will help make our oceans abundant once again!
Iliana María Such: What is the single most inspiring video you have seen addressing today's biggest challenges, which include: climate change, food security, poverty reduction, and quality of life for all?
Susan Rockefeller: I am a science fiction buff, so a few dystopian films come to my mind. The first is Soylent Green with Charlton Heston. It takes place in a futuristic NYC where an investigation into the source of the city's food is underway. I won't say more. Another is the post-nuclear Armageddon Mad Max, as well as On The Beach. Also, movies such as The Pelican Brief and Syriana that deal with corporate greed are good examples of the obstacles facing us for change.
Then there are documentaries such as Food Inc., Fed Up, OMG GMO, which help to illustrate particular fragments of what's happening to our ecosystem. I also enjoy Ted Talks which provide insight into various ways of technology, engineering, and design that can help shape our future. No one film is the answer, rather a kaleidoscope of films is needed. And, of course, my two short films, Mission of Mermaids and Food For Thought, Food For Life, which deals with climate change concerning our oceans and agriculture.
Iliana María Such: You have a creative and poetic soul, could you describe for us through Haiku poetry your personal connection to mother nature?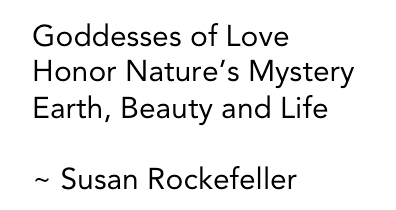 Iliana María Such: What role does music play in your creative process?
Susan Rockefeller: Without music, especially in film and documentaries, it's hard to create a nuanced emotional impact. So music plays a big part in my storytelling. On a more personal level, I enjoy music for dancing and moving my body, for soul-contemplative times, either classical or contemporary journey music. There are so many genres that evoke different memories and responses. So music is just amazing! It's universal. It's healing; it 's a connector across race, culture and class. And it adds to the heart so much of life's experience.
Iliana María Such: Was there a particular human exchange you can describe which inspired you towards taking charitable action regarding the causes you love?
Susan Rockefeller: My memories of being by the ocean as a child, and the wonder and fun it generated for myself and my family inspire me. My mom cooked healthy food for us, fresh vegetables and fruit. She loves to garden and found great joy in presenting food.
Having raised two children myself, I now understand the need for the family meal and serving nutritious dishes. In my twenties, I studied ecological agriculture at the University of California, Santa Cruz, after which I lived a subsistence life in Alaska in the Arctic with the Inuit in which nearly ninety percent of the food came from hunting, fishing, and small gardens.
The Unsettling of America by Wendell Berry had a transformative effect on me in college. Also, one of my professors, David Smith, at Hampshire College was instrumental in my love of reading American literature about landscapes and nature. So rather than one particular event, all of these and probably more moved me to be involved in conservation.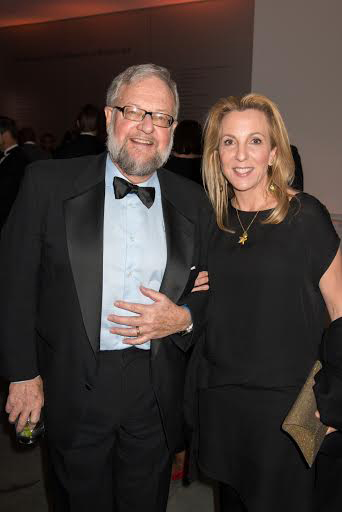 Iliana María Such: You have a healthy relationship with your husband, David Rockefeller Jr? How is he as a person, not as a global leader?
Susan Rockefeller: He is kind, smart, funny, brilliant, and manages to balance an enormous amount of time around family, philanthropy, and conservation, as well as using his voice for narration narrating films, books on tape and reading poetry. We nurture our marriage and even in our busyness make time just to be together. Marriage takes work and imagination and being open to both individual aspirations and shared goals as a couple. My husband has his priorities straight, and his values and mine are aligned. He is one of the smartest people I know and one of the kindest--and his humor, thankfully, helps us get through whatever difficulties may arise.
Iliana María Such: What advice can you share with the world on the importance of empowering others to reach one's full potential? How do you empower others in your daily life?
Susan Rockefeller: Be yourself. Don't worry about what others think. The eccentrics are the ones who emerge happier and more satisfied. Feel and listen to your heart, find what you love, and work to find meaningful work and connections with like-minded people. Be a lifelong learner. Read the paper and get a perspective on where you are in the world and find ways to give and be of service. I can guarantee you will feel better the more you give to others. Giving will help you find your potential as well.
Iliana María Such: Would you describe yourself as a spiritual person? If so can you share with us one of your more profound spiritual experiences?
Susan Rockefeller: I am a spiritual person. I think the older you get, the more you appreciate each day you are here. Life is a miracle and the more you delve into your environment, the more you realize how utterly amazing it is to be alive. I wake up to an All Souls daily meditation email from the Unitarian Church, one block from our home. I was raised Jewish, cultural not religious. I love the culture of Judaism and the tenets of the Judeo-Christian traditions. So the Universalist Unitarian Church is a great place for a blended marriage and family.
There are several spiritual experiences. For example, colors that emerge during a fading sunset, the abundance of sea life in the Alaskan waters to the emergence of a deep night sky with twinkling stars. Discovering the Aurora Borealis in the Alaskan Arctic and watching the pink and green colors swim across the evening sky seeming to touch the earth from the heavens above. Wonder, awe and silence usually come with these encounters. They are each of spiritual significance. The most profound spiritual journey of all is the gift of motherhood. Having my two children has been my greatest joy and the most excellent reminder of the miracle of life and love.
As a gardener, I am in awe of nature's gifts, which are all around us, most notably, the abundance of vegetables and sacred geometry. My delight is never-ending, especially as I age and know how fragile and miraculous it is to be alive.
Iliana María Such: What is your message to entrepreneurs who struggle to launch their ideas?
Susan Rockefeller: Commit to your vision, be adaptable to change, failure is part of being an entrepreneur. If you fall, get up and keep working your vision. Seek advice and know that success comes with collaboration and partnership. Work and pay your dues. Gain experience, ask for help, get a mentor, and let your life unfold. Have faith.
Iliana María Such: What is your greatest hope for the future? What is next for Susan Rockefeller?
Susan Rockefeller: My greatest hope is for a worldwide spiritual transformation simultaneous with advanced technology and global empathy in the way we approach all our production and processes - in essence, to have a circular economy where there is zero waste.
I hope that we can create a thriving economy that treasures the natural environment--and in doing so, bring back abundance in our oceans, health in our soils, and in turn, have the world with less inequality, and more social good for all living things. What's next? More time for rest, rejuvenation, and re-imagine this kind of vision for the future! More art, more family, more nature, and more collaborations with like-minded businesses and nonprofits to help create health and beauty for ourselves and the earth.
Iliana María Such: How would you like to be remembered?
Susan Rockefeller: As a kind, loving daughter, wife, mother, and friend, who loved family, art, and nature and worked to protect them through art, philanthropy, and day-to-day life.
Iliana María Such: Who are your top three living NOBLE thought leaders?
Susan Rockefeller: Pope Francis for the transformative work he is doing and encouraging over one billion Catholics around the world to be in service to the earth and each other.
His Excellency Amr Al Dabbagh for his work in service to children around the world, and his harnessing the power and creativity of entrepreneurship to help alleviate suffering and solve the many challenges facing our global community.
Robert Zemeckis for directing and creating some of the most compelling films: The Walk, Contact, Cast Away, Back to the Future, and Forest Gump. His films touch upon the power of art, passion, and our ability to connect with the mystery of being alive.
Calling all HuffPost superfans!
Sign up for membership to become a founding member and help shape HuffPost's next chapter