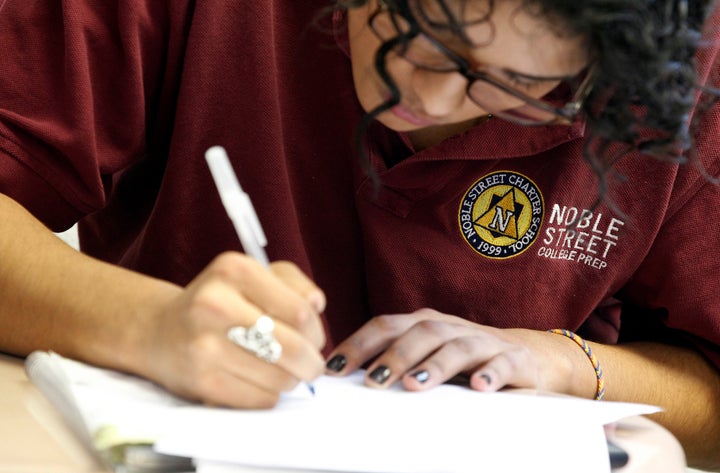 Following a media firestorm prompted by outcry from parents and students at schools in Chicago's Noble Street Charter Network, Illinois legislators are now considering a bill that would prohibit schools from levying fees for student misbehavior.
The schools made headlines in February after allegedly collecting nearly $390,000 in disciplinary fines over three years from low-income students for minor infractions like chewing gum or failing to make eye contact with teachers. A report by the Voices of Youth in Chicago Education (VOYCE) and Parents United for Responsible Education (PURE) found the fines discriminate against students and "surreptitiously raises the cost of public education."
The amendment is aligned with allegations that the policy places an undue burden on poor students. Noble's disciplinary code charges students $5 for minor infractions and up to $280 for misbehavior in the classroom, according to the report by VOYCE and PURE.
"Noble is forcing low-income parents to choose between paying the rent and keeping their child in school," Donna Moore, parent of a student at a Noble school, said in a statement released by the advocacy groups that accompanied the report. "This is a hidden tax on Chicago's Black and Latino families, and it's wrong."
Ninety percent of students in the charter school program, offered as an alternative to traditional public schools in Chicago, come from low-income families, according to VOYCE and PURE. Mayor Rahm Emanuel has praised charter schools--and Noble specifically--for offering youth a more rigorous and effective curriculum than their public counterparts.
Administrators from the Noble Street Charter Network say the disciplinary fines contribute to that high-performing environment.
"The discipline code allows us to be sure that the classroom is not disrupted for the vast majority of students and that those students who don't follow the rules, learn that behavior has consequences," the network said in a statement issued after parents and students organized a protest of the policy. "Self-discipline is an important lesson for students as they prepare for success in college and beyond."
See coverage of the VOYCE and PURE protest that sparked this debate:
Popular in the Community