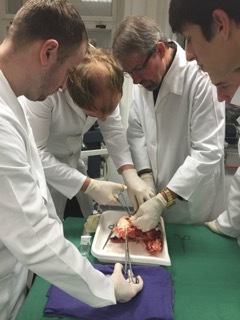 NobleStitch PFO Closure Makes History at CSI International Conference
It was not your typical medical conference because this was a prestigious example of history in the making. The National Congress of CSI held its annual event in Frankfurt, Germany and all attendees observed a groundbreaking surgical event.

After a series of successful clinical cases in Sweden, Kazakhstan and Germany, NoblesStitch PFO Closure surgery was performed live on-camera for the first time in medical history.

Over 1,100 of the best international cardiologists and physicians attended the Structural Heart Conference for this global ground-breaking event.

"I had been invited to do a live patient on-camera procedure with my technology," says Professor Anthony Nobles, CEO Nobles Medical Technologies 11 and HeartStitch, Inc. "It was a complete success and everyone was happy!"

Although the surgery itself takes only about 30 minutes, patients who have been bedridden with strokes have done so well, they get a second chance by getting their lives back. The 30 minutes becomes a lifetime worth of healing.

Using NobleStitch EL, the procedure was performed by Professor and Dr. Horst Sievert (Director and Founder CVD Frankfort, Germany and Board of Directors CSA) and Dr. Michael Mullen (Consultant Cardiologist, The Heart Hospital and Co Founder London Heart Specialists.)

Professor Nobles spearheaded the conference with his technical support. "Physicians asked questions during the procedure and we answered it as the need arose."

NMT 11 transmitted the PFO closure surgery live to Congress. The successful closure was performed on a patient who previously suffered a stroke and was able to utilize the NobleStitch EL closure.

"We are proud to have been a part of this ground-breaking event and introduce our technology as it was performed in real time. Every time a patient gets treated by one of our devices is very exciting. This was amazing!"

Added Noble, "Patients stricken with strokes, migraines and chronic fatigue and are bedridden with tremendous pain, have done so well, they get back to their usual lives. These 30 minutes springboard into a lifetime of daily work and activity."

It took only an hour for Nobles to invent the PFO closure, two years to perfect it and about seven years to get it patented and manufactured.
******************************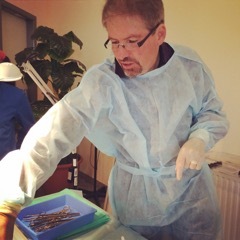 An Interview with Tony Nobles
For the uninitiated, Tony Nobles (aka Professor Anthony Nobles) is considered one of the great minds in the medical device field. He is a world-renowned inventor, professor, lecturer, author, mentor, entrepreneur, CEO of various companies, and biomedical engineer. But he also is a Formula One race car driver, Warbird pilot, philanthropist, and most importantly, devoted husband and father of six.
This is the first of a series of interviews with Nobles in which he reveals facets of his career, achievements and personal life.

Mike Ragogna: Tony, what are you best known for and from where do your ideas originate?
Tony Nobles: I'm mostly known for my SuperStitch Femoral Closure device, which I sold to Medtronic and my endoscopy systems I designed for several major companies including, Baxter Edwards, Cordis and Johnson & Johnson among others.
These ideas come many ways. I often work hand-in-hand with some of the top physicians in the world who call and say, "Hey Tony, I've got a problem. I need to be able to get behind the heart here, and I need to be able to do this...and there's no way to do that." I devise a solution always thinking from two fronts, one as a biomedical engineer and one as a businessman who creates a new market. The process is to develop and patent it and clinically demonstrate a solution. The other way is listening to the J&J's, the Medtronic's, and Boston Scientific folks interacting with their people and/or watching their markets and trying to anticipate ten years out what new products and solutions are needed.
MR: When did you first realize you had a gift for inventing?
TN: When I was 4 years old, I started taking things apart and trying to figure out how they work, always trying to create a better way. As long as I can remember, even when I was a little kid, I looked at things differently than the rest of the world. I look at a salt shaker and I see a heart valve. I don't know why. When I look at a pair of skis, the first thing my brain does is dissect how they're made, dissect how they work, and come up with a better way to do it, then apply what I used there to some new solution for a medical device. It's actually difficult NOT to start a new business every week. I have to tell myself "Okay, yes, I know I can build a better pair of skis but that's not my business." It's a blessing and a curse and it's been my process, literally, since I was a child.
MR: What was your first patent and what were some features of the device?
TN: My first patent was for a hand-held electronic book, kind of a cross between the Nook, Kindle, iPad and a Macbook. It was a device I patented back in the mid-'80s where you could actually have the pages of a book not only come up on a screen, but they would also be interactive. Back in those days, computers were large and bulky and primitive so I developed a one-unit master board, or what we now call a motherboard. It had removable memory chips that held each book or data package. This would work for school books as well as novels. For a physics book, if an arrow wrapped around a surface, you'd have an active button you could push that would animate. This is before animation was feasible to animate what you were trying to visualize in 2D so people could understand it. You could flip pages with the push of a button and it had a full keyboard that allowed you to type data and information in.
MR: Your invention came during a period before USB or even public Internet technology. So how did you come up with the idea for portable storage technology and what was your motivation?
TN: My motivation was to develop the technology to benefit schools and learning, so the first challenge was to determine from where would all this information be acquired? At the time, the Library of Congress was the best resource. I envisioned and designed a method that would access a computer database at the Library of Congress, where people would input the information and that data could be transmitted to schools via phone lines to a mainframe computer where these electronic books could download the text and information. This was before there was a true Internet.

With respect to storage, I developed this concept where I took EPROMM's which were electrically programmed memory chips and I would put books on those. So you could actually have what we now call today "USB," years before there was ever such a thing and you could just plug them in. It is easy to see if you look at the patent. The first prototype achieved all of the functions I envisioned right out of the box.
MR: Was the device ever sold or marketed?
TN: That was my first big invention, so after building the working prototype, which was funded by a family friend, he arranged a meeting with Ross Perot, who ran a very large electronics company at the time. I was a teenager and wasn't sure how to pitch my business plan however I knew my product. I got the opportunity to sit down with Perot and pitch him on it and it was a memorable meeting. After my presentation, Perot told me that he loved the idea but that I was 20 years too early, and he was right. Commercially, I see my invention today everywhere I look--in Barnes & Noble, at the Apple store and in the hands of everyone sitting next to me on a plane. I just keep thinking to myself, "Damn, I was right...but so was Perot!"
MR: Which of your inventions or achievements are you most proud of?
TN: If you were to ask what are my greatest achievements to date, from a medical device standpoint, I'm very proud of the many instruments I invented in laparoscopic surgery. The most significant was the Visualization Trocar, which improved the safety of general surgery overall. The Visualization Trocar technology was licensed to Johnson & Johnson among other companies, and it's sold all over the world today. The second one that I consider to be one of my greatest inventions is the instruments I have invented for neurosurgery, particularly the ones that treat kids, Through neuroendoscopy, I developed devices and procedures for treating hydrocephalus, developing instruments for third ventriculostomy which have been used world wide as far back as 20 years ago. These products gave me such pride and satisfaction when recently during a couple of public appearances world renown neurosurgeon and presidential candidate Ben Carson stated, "I could not have achieved all of the things I have done in Neurosurgery if not for the inventions of Tony Nobles."
My third would have to be in the field of heart surgery, particularly minimally invasive "beating heart" surgery. I invented a device that allowed surgeons to do bypass surgery on a beating heart without the need for the heart-lung machine and without stopping the heart. It has been licensed this technology through several companies like Boston Scientific, Guidant, then to Maquet, who sells the technology today under the name "HeartString III."
MR: What are your next inventions or devices coming to the medical field?
TN: Our companies Nobles Medical Technologies 2 and HeartStitch recently launched the first of a series of suture based products for treating structural heart disease. The first is the NobleStitch EL suture based closure system for the closure of PFO or Patent Foramen Ovale, which is a tunnel between the 2 atrium of the heart. PFO is found in more than 27% of the population and has been linked to stroke, severe migraine and Chronic Fatigue [Syndrome]. The NobleStitch technology allows doctors to treat patients without open heart surgery or without implanting large metal devices in the heart which are the current methods of closing the PFO tunnel. We started with this seven years ago when we did the "first in man" treating a 17 year patient suffering from stroke and severe migraine. The difference in treatment was dramatic in the life of people now who've had strokes, who've had really severe migraines or have had Chronic Fatigue [Syndrome]. These patients can now be treated without a big implant that can erode through and cause a perforation that can be fatal.
I'm very proud of this technology which can lead to reducing strokes and provide solutions for physicians who may not want to deal with the risks of the permanent metal implants particularly in younger patients. We give doctors a way to close that PFO so that they can get their treatment at a young age and not worry later on in life. I think that that is probably one of my biggest achievements so far, but I believe there are more coming.
Calling all HuffPost superfans!
Sign up for membership to become a founding member and help shape HuffPost's next chapter