This article contains explicit images.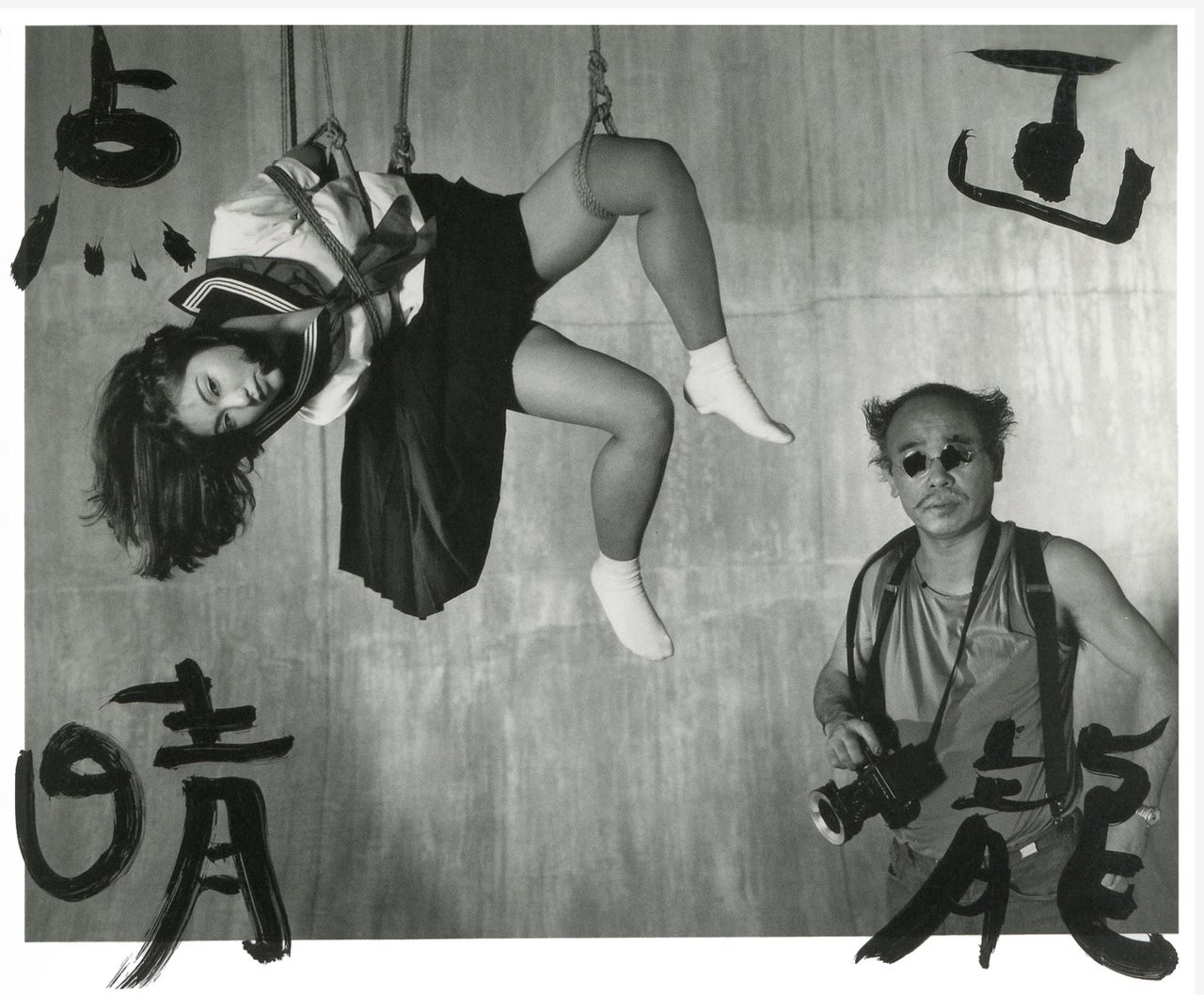 NEW YORK ― Of the hundreds of explicit pieces by the Japanese photographer Nobuyoshi Araki currently on display at the Museum of Sex, only one work ― 1985′s "Tokyo Lucky Hole" ― was deemed too vulgar to make it through Japanese customs on its way to New York earlier this year.
"Tokyo Lucky Hole" captures a raucous moment at a Japanese sex club of the same name, where a crowd is watching a young woman ― her legs spread in a position yogis call "happy baby," her crotch fully exposed ― let loose an arc of urine into an open umbrella held by an excited bystander. Araki himself is in the frame, gripping the woman's legs as she relieves herself.
According to curators Maggie Mustard and Mark Snyder, Japanese customs agents singled out the image as too "obscene," removing it from a MoSex-bound shipment. The print was subsequently returned to its owner, Tokyo's Taka Ishii Gallery, and the museum was forced to borrow another print of the image from a different source.
That officials raised objections in the first place was hardly surprising. As Snyder told HuffPost, "Araki's work has been in similar circumstances before."
Since his career began in the 1970s, Araki, now 77, has unapologetically defied Japan's social norms with his intimate, graphic and sometimes sordid depictions of sexuality. "Nobuyoshi Araki has been labelled a pervert, a madman and a genius," reads a bit of introductory wall text at MoSex. But Mustard and Snyder aren't interested in rendering a verdict on which of these descriptions fits best. They're merely hoping to incite discussions about Araki's photography and what it means today.
As the episode with Japanese customs makes apparent, straddling the line between fine art and pornography is a high-stakes endeavor. Obscenity isn't just taboo in Japan ― it's illegal. "Japan's obscenity laws require all genitals to be blurred or pixelated in media, including any material intended for adult audiences," MoSex's wall text notes. In 1992, Japanese police enforced these laws when they shut down an Araki exhibition titled "Photomania Diary," where more than 1,000 35-millimeter slides were displayed in a light box. Eight of the slides featured images of unpixelated genitalia.
"The cops looked at every single one with a magnifying glass!" Araki recalled in 2011. He was then arrested on charges of disorderly conduct.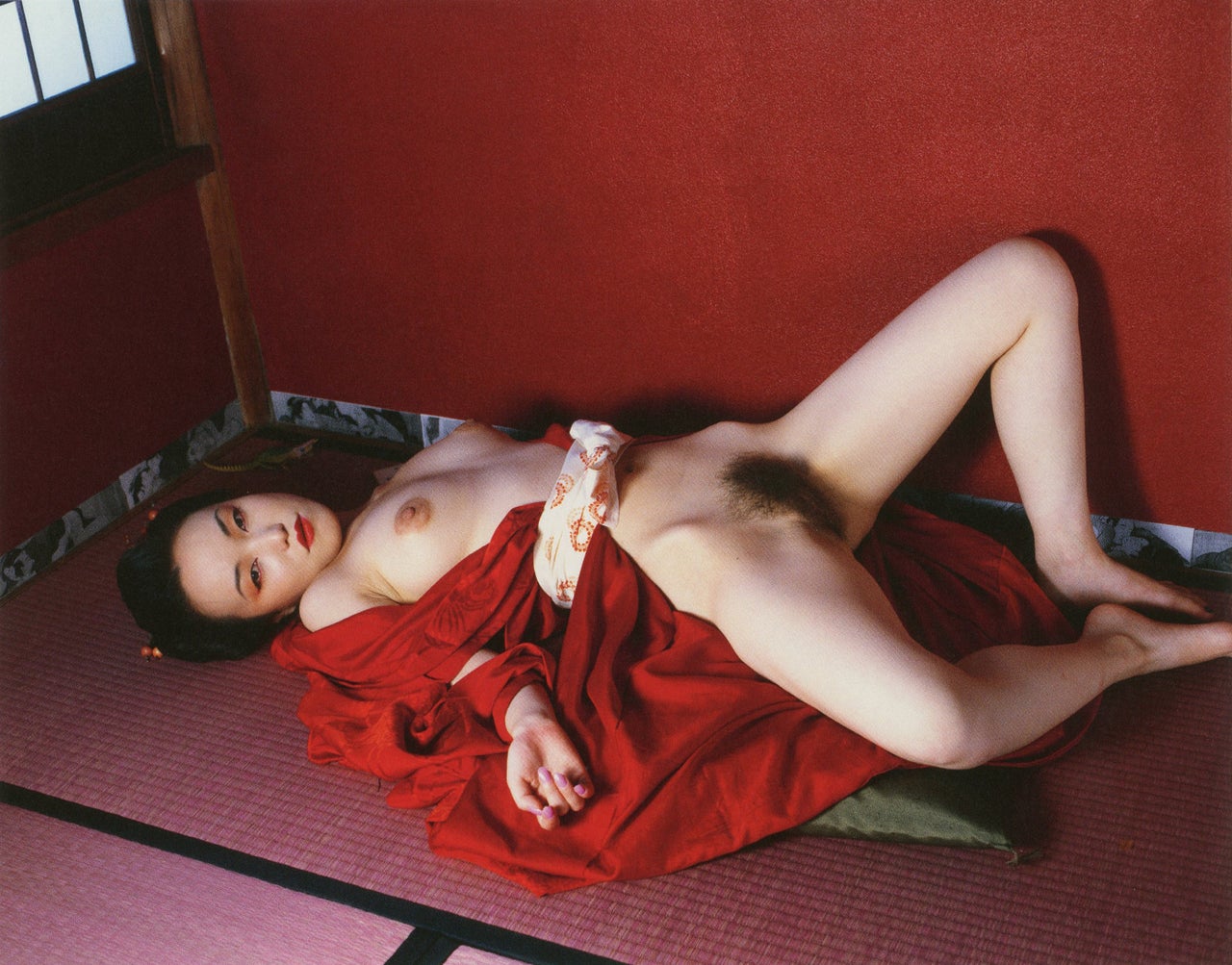 Of course, acts of censorship and detainment have only stoked Araki's reputation. Throughout his 50-year career, he's positioned himself as a perverse demigod, or, as he puts it, a "photo devil." (He has the horn-shaped tufts of gray hair to back it up.) Fans and critics have read into his work accordingly. When captured through Araki's lens, even sidewalk cracks and overripe figs look like sexualized female anatomy.
"Who else can make a photo of the ground look so much like a vagina that you start to seriously consider jerking off to it?" Tomo Kosuga wrote for Vice in 2008.
Araki's "photo devil" persona, and the art world's swift acceptance of it, epitomizes to a cartoonish degree a longstanding power imbalance, in which men are more likely to inhabit the role of "genius provocateur" while women play the passive muse. It also makes clear a dynamic that underlies that imbalance: that men feel entitled not only to women's images, but also to their bodies. Araki is not shy about the latter point. He refers to his camera as a kamara ― mara being a Japanese slang word for penis ― and when asked in 2011 how he gains such intimate access to his models, he responded: "Sex is like foreplay. Photography comes afterwards. Or vice versa."
"Of course I had sex with all my models," he added. "It is a certainty."
Yet throughout the majority of Araki's career, the conversations around his work have primarily concerned the photos themselves. Are they sexist? Too graphic? Too perverse?
"For a long time, the question of the fraught photographer-subject relationship was left out of these conversations," Mustard said. "For us, that was always going to be the central component, looking closely at the dynamics at play."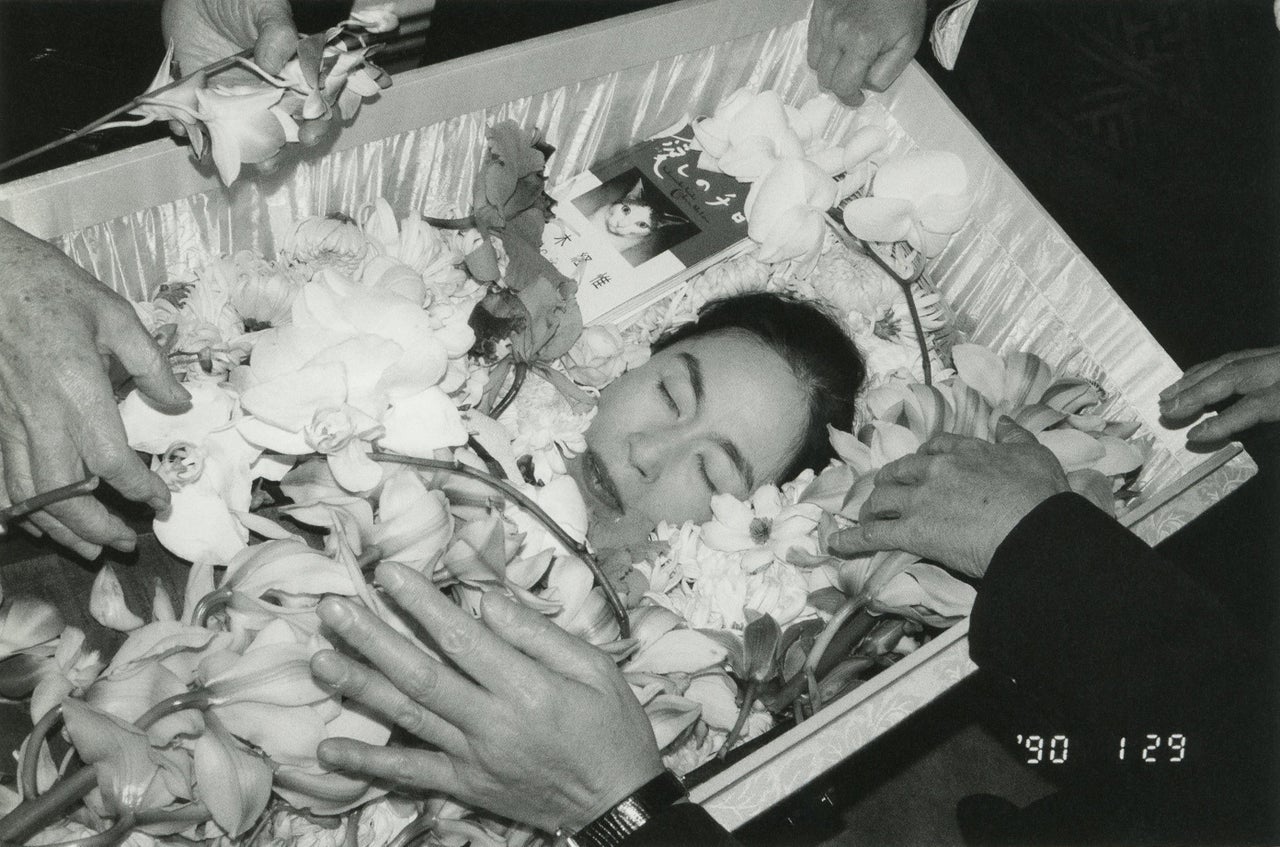 2018 is in some ways a strange time to mount an Araki retrospective. As more and more stories emerge of powerful male artists engaging in harassment and assault of models ― Terry Richardson, Bruce Weber and Chuck Close have all been accused of sexual misconduct, accusations they all deny ― it's difficult to discuss Araki's photos without considering the behavior, relationships and power dynamics that made the work possible. That work can be found in famous art institutions around the world, but it's the Museum of Sex, not a traditional museum by any stretch of the imagination (its lobby is a sex toy store), that's chosen to initiate the conversation.
MoSex's two-floor exhibition, "The Incomplete Araki: Sex, Life, and Death in the Work of Nobuyoshi Araki," traces the photographer's wildly prolific career, using controversy as a guide. "Controversy: Araki vs. Japan," "Controversy: Araki vs. the West" and "Controversy: Photographer-Subject Relationships" are three of the organizing principles meant to help viewers make sense of the hundreds of prints, Polaroids and photo books on view. Other parts of the exhibition are organized according to Araki's obsessions: Kinbaku-bi, or aesthetic bondage; Ukiyo-e, or traditional 17th-century Japanese art; and his late wife, Yōko.
Yōko was one of Araki's first serial subjects, and his work featuring her is by far his most sentimental. After meeting at a Japanese advertising firm called Dentsu, the two married in 1971. Araki chronicled their honeymoon in snapshots ― nudes, naps and quiet boat rides. Tragically, Yōko died in 1990 of ovarian cancer. Araki photographed her face in the coffin, engulfed by orchids, as strangers' disembodied hands bid their goodbyes. Following Yōko's death, Araki had long-term relationships with three of his models: Shino, Komari and Kaori. (The museum refers to all three women by their first names alone.)
"The narrative has always been that these relationships are deeply consensual and emotional," Mustard said. "These models feel like their work with Araki is inseparable from their relationships with him. We wanted to delve deeper into that component."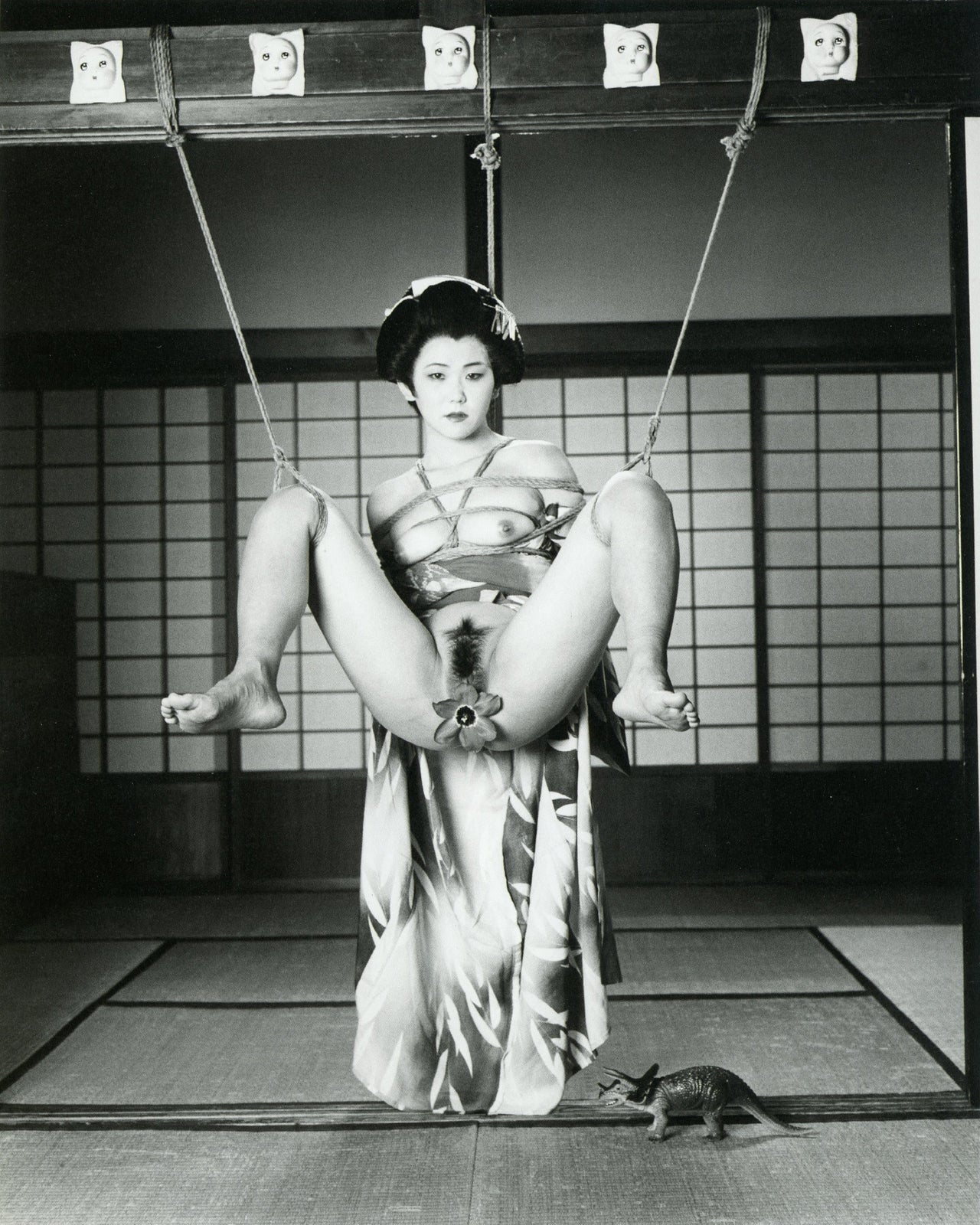 Walking past image after image of women at MoSex, their legs bound and breasts exposed, can be a throttling experience. It's easy to feel complicit in what art critic Taki Koji has called Araki's "raping gaze." The stomach-churning feeling is especially pronounced when poring over Araki's 500-plus Polaroids, which lack the fine-art trappings of his larger prints. The bulk of snapshots resemble a criminal's basement stash of nudes, suggesting not so much art as police evidence.
For Mustard and Snyder, it was crucial that Araki's subjects ― long understood to be collaborators in his photography process ― were properly represented.
"We wanted the voices of these women to be part of the show," Mustard said.
So the curators used small television screens to play interviews with the women alongside Araki's work. "He's the god of photography come down to earth," Shino says in one clip from the 1990s. "It feels to me that he really is loved by the heavens." Of their work together, she was similarly effusive, describing their connection as a creative partnership more than a subject-object relationship. "It is warm, because you're doing it from your heart," she says. "It's profound. There is love there, too ― love inside of it."
By most known accounts, the women in Araki's photos fully consented to the sexual situations and interactions depicted therein. There is one notable exception, which MoSex brings to light: In a Facebook post this past August, a woman claimed that Araki touched her inappropriately on a commercial shoot for a Japanese teen magazine in 1991, when she was 19 years old. (The woman, who never pursued legal action due to fear of professional repercussions, asked the curators not to disclose details of her identity or the alleged incident.)
In the exhibition's wall text, MoSex attempts to shed light on how Araki's prominence in the art world could complicate our binary understanding of consent. "The most recent allegations against Araki reveal that there is a broader issue at stake," the text reads, "one in which the male photographer and his level of celebrity, unconsciously or otherwise, can dictate the dynamics and conditions of consent in artistic production involving bodies — most especially the bodies of women, and their individual agency."
As a celebrity and artist, MoSex suggests, Araki has always been in a position of power when it comes to his subjects. His celebrated vision determined the settings of shoots, where he considered provocations a necessary part of creating good work. If women ― even those who initially consented to a project ― felt a line was crossed at any point during a modeling session, would they have felt authorized to say so?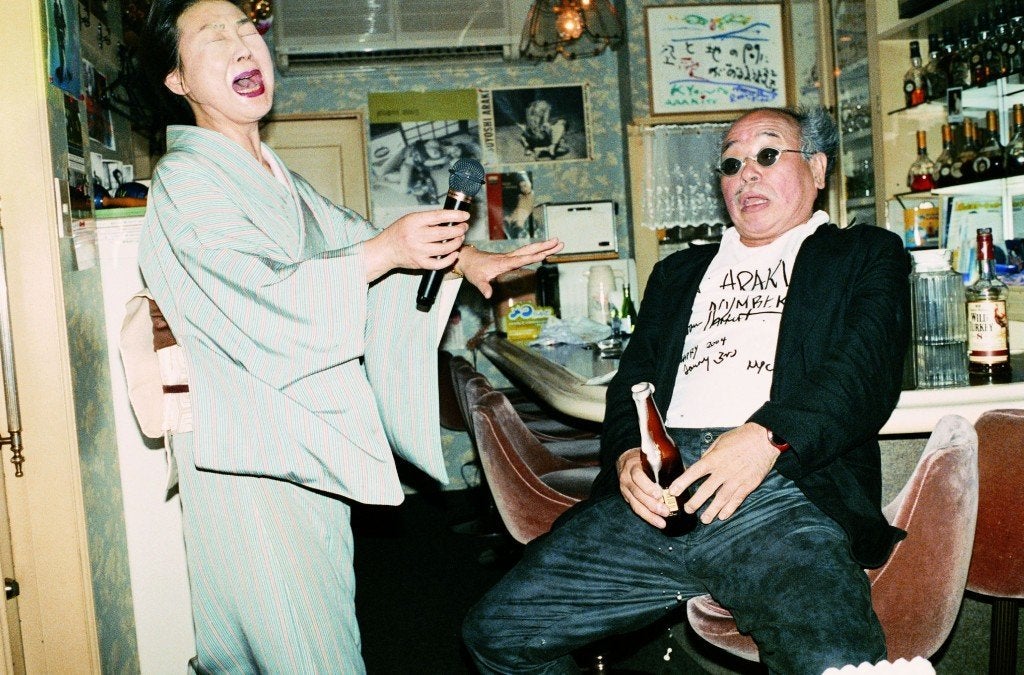 Context is key in Mustard and Snyder's show. Rather than run from the various criticisms of Araki, they tackle them head-on ― including a pivotal question raised in 1999 by the critic Christian Kravagna: "How can someone's photographic practice so obviously based on the commodification of the sexualized female body be acclaimed in a context that has become highly sensitive to the representation of gender power relations?"
Kravagna argues that Western viewers can reconcile their appreciation of Araki's works with their nagging moral principles because of their own racism. White Westerners in particular, he suggests, are less willing to object to images that feature Japanese women in objectified positions, especially when the poses emphasize traits like obedience and eroticism.
The Museum of Sex raises an array of questions when examining Araki's complex legacy. Amid the Me Too movement, and the sudden, overdue arrival of accountability for powerful men who have exploited women, it might seem like a counterintuitive time to exhibit work that can read as misogynist and objectifying. But thanks to MoSex's careful curation, the show becomes a timely meditation on an artist whose work is at once seductive and disturbing, controversial and deep-rooted. Araki is not the first artist to skyrocket to stardom by photographing conventionally beautiful women. Nor is he the first to use that opportunity to sleep with them and boast about it. But thanks to the seismic shifts now underway, he might be the last.
Popular in the Community