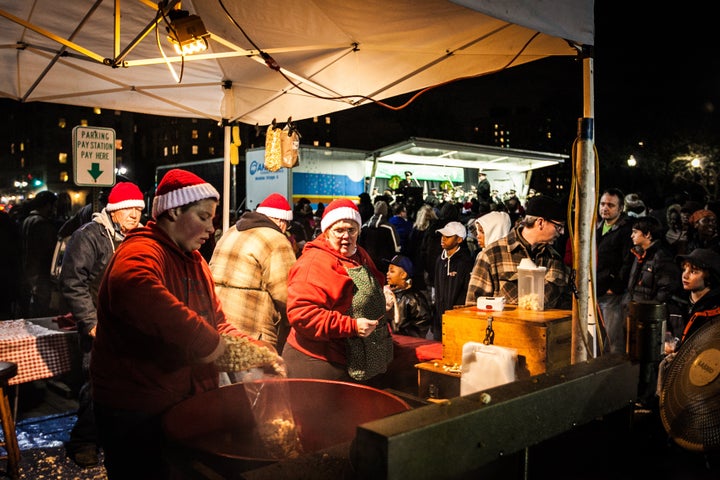 Detroit's Noel Night has been described as a "Christmas card come to life" because of the picturesque holiday ambience it brings to the city's Midtown district. The annual cultural open house, now celebrating its 40th year, regularly draws tens of thousands of people who come to catch a free glimpse of the neighborhood's many attractions.
This year over 75 local venues -- restaurants, shops, museums and more -- will be participating in the holiday extravaganza, which takes place on Saturday, December 1, from 5 to 9:30 p.m.
A major part of the event's pull each year is its impressive musical acts, and this weekend's lineup is no exception.
Irma Thomas, who is also known as the "Soul Queen of New Orleans" will be putting on a special gospel Christmas show at the First Congregational Church at 7:45 p.m. Thomas is a veteran performer who received a Grammy for Best Contemporary Blues Album in 2007 for her CD "After the Rain."
The Ahn Trio is a classical music trio made up of three sisters who were born in Korea and educated at Juilliard. The sisters have a reputation for genre-jumping that skirts the boundaries between popular and classic music. They'll be holding two performances at the Max M. Fisher's Music Box at 7:00 and 8:15 p.m.
Annmarie Borucki, special projects manager for Noel Night organizer Midtown Detroit Inc., told The Huffington Post that two renowned guitar trios will also make an appearance this year.
"For years we've been trying to get the California Guitar Trio and the Montreal Guitar Trio. This year we're going to be having them perform together at the Detroit Institute of Arts," she said. "If anything, they're technically amazing, but at the same time they're quite entertaining."
The guitar trios will be playing the DIA's Lecture Hall at 7:45 p.m. At the same time, the Good Lovelies, an all-female Canadian folk music trio will also be playing in the museum's Kresge Court. Also performing at various venues throughout the evening will be the Wiyos, a rockabilly band; the Tartan Terrors, a Celtic music, dance and comedy troupe; latin/jazz/rock musicians Sin Hielo; hip-hop duo Passalacqua; the Detroit-based acoustic duo, Lac La Belle and a number of other acts.
In addition to the music, there will be opportunities to check out a number of free events and local venues. This includes a chance to tour Midtown residential property the Auburn, to shop around at the Detroit Artists Market's Annual Art for the Holiday Show and to take a special peek at the Michigan Science Center, which has been closed for the last year. Ice sculpture carving, a holiday photo scavenger hunt called the Reindeer Run and a community sing-along led by the Salvation Army Band are just some of the holiday activities offered during the evening.
The show's organizers suggest visitors check the Noel Night website for parking tips and arrive at least an hour before any performance they hope to attend. Click here for a complete schedule of events, and check out photos below of festive times at prior Noel Nights.