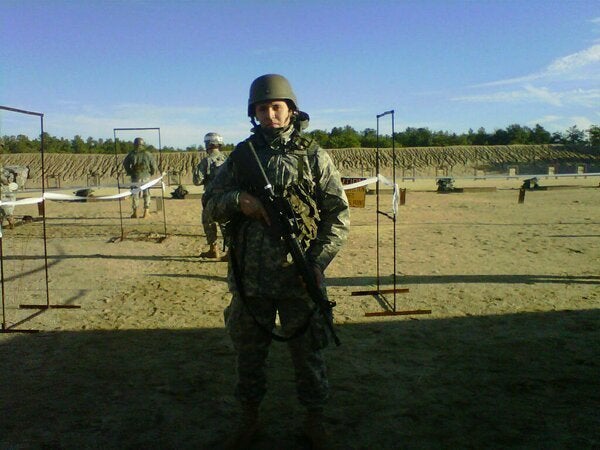 The heartbreaking revelation came as the Queens District Attorney's Office said that it was probing the 5:15 a.m. incident near LaGuardia Airport that left Noel Polanco, 22, dead, a month before he was set to celebrate his 23rd birthday.
Cecilia Reyes, 46, said that her son, who worked at a local Honda dealership and served in the reserves, wanted to join the active military and eventually the NYPD.
"He wanted to become a cop," she said. "He wanted to go and be active [in the military] and after he came back out, he wanted that as a career.
"He was very, very happy about wanting to go away and come back as an officer."
Reyes said that the fact that Polanco, who she said stayed away from trouble, was killed by an officer was a cruel twist.
"He always wanted to become a cop and to find out that his life was taken by a police officer… They have to know how to do their job," she said.
"I wasn't even able to become a grandmother. They took him away so young. He was going to be 23 next month."
Polanco, who also worked at local hookah lounges at night, according to friends, was with an off-duty cop, Vanessa Rodriguez, and a bartender from an Astoria club, Ice Lounge, when he was allegedly spotted driving erratically at 5:15 a.m.
Sources said that he cut between a pair of Emergency Service Unit vehicles, then darted to the left lane before shifting back between the NYPD vehicles.
Cops eventually pulled him over near 94th Street and a detective, Hassan Hamdy, who approached the car from the passenger's side opened fire, hitting Polanco once in the abdomen, sources said.
The details about what sparked the shooting remained murky Friday.
Cops initially said that Polanco reached under the seat for what appeared to be a power tool, but later said that the circumstances of the shooting were not clear. No weapon was found.
The bartender, who was in the front passenger seat, also reportedly said that Polanco's hands were on the steering wheel when he was shot through the open window.
"Noel didn't have a chance to put his hands up. They screamed, 'Put up your hands!' and shot at the same time," said Diane DeFerrari, 36, the bartender who was riding in the front passenger seat, according to the New York Daily News.
"They acted in pure road rage."
The off-duty officer who was riding with Polanco in his 2012 Honda Fit, Rodriguez, has been on modified duty for allegedly stealing a sweater from an H&M store in Queens.
Sources said that Rodriguez, a friend of Polanco's from the neighborhood, was sleeping in the back seat when she was awoken by the gunshot.
Polanco's mom, who lived with her son in Lefrak City, demanded justice in the wake of the shooting and said that she was looking to retain a lawyer.
"It should be investigated," she said. "I want him to pay for what he did to my son because he doesn't know the pain that he put us through.
Hamdy, who has since been placed on modified duty, was part of the ESU's Apprehension Team, a citywide unit that sometimes tangles with violent suspects in its search for wanted criminals.
The team had just come from executing a search warrant in The Bronx and was on its way to Brooklyn to do the same, according to a report.
Hamdy, who has since been placed on modified duty, was named in a 2007 lawsuit that said that he and other officers roughed up a Queens man and his grandmother. The city settled the case for $235,000.
But Hamdy, a 9-year veteran has also been lauded for his heroics on the job, helping save people from a burning Queens building in May and reportedly negotiating the surrender of a man armed with a machete in 2008.
Polanco's fellow soldiers came to his house Friday to express their condolences, including Spc. Radoslaw Musiej, 33, U.S. Army specialist, who served in the National Guard with Polanco for five years."
"The guy never raised his voice to anybody," he said. "We liked to break each other's chops in the unit, and he always took everything in stride.''
''I loved the guy. We all did. He was more than a brother.''
Musiej said that he and Polanco rose through the ranks together and that he had submitted his paperwork to go on active duty.
''Do the right thing. Let the truth come out. Somebody did something wrong, and I'm pretty sure it wasn't him.''
Calling all HuffPost superfans!
Sign up for membership to become a founding member and help shape HuffPost's next chapter
BEFORE YOU GO
PHOTO GALLERY
Noel Polanco Shot Dead By NYPD