Seven years ago, as a 24-year-old former model who was barely starting a new career in jewelry design, Love knew she'd have challenges as a single, young mom, so she joined a prenatal yoga group in order to meet other pregnant women. The ladies in the yoga group quickly became a support system and source of guidance for Love, and it wasn't long before she was hooked.
She began taking her son, Aukai, to mommy and baby yoga classes when he was only 5 months old. Now, six years later, they practice partner yoga together at least once a week.
"For him, yoga is really fun," Love told The Huffington Post, but partner yoga also "creates a really strong bond between us. He has to look me in the eyes and say, 'OK, slowly, I'm going to put my feet here' and 'You move your weight this way.' It creates that sense of communication and strengthens our bond."
(Story continues below)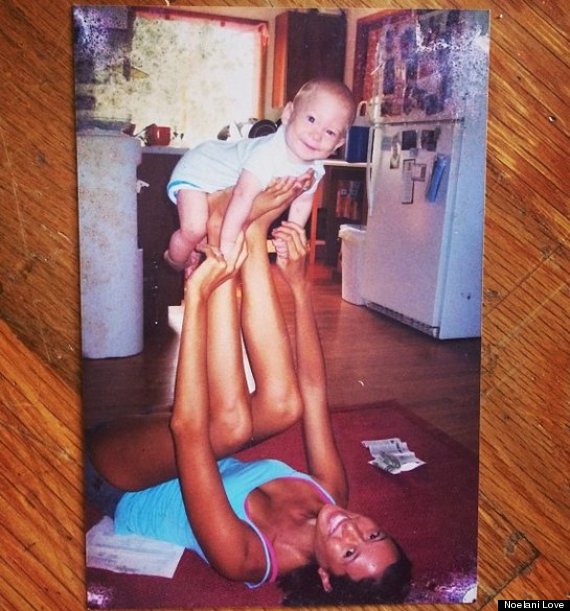 Noelani Love and Aukai circa 2009, practicing baby partner yoga.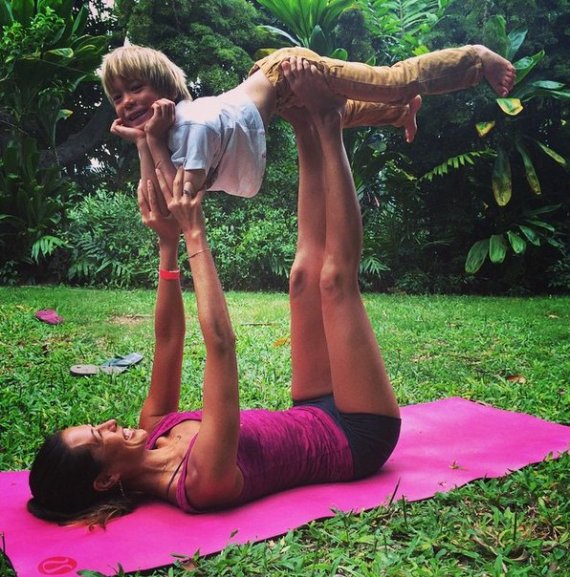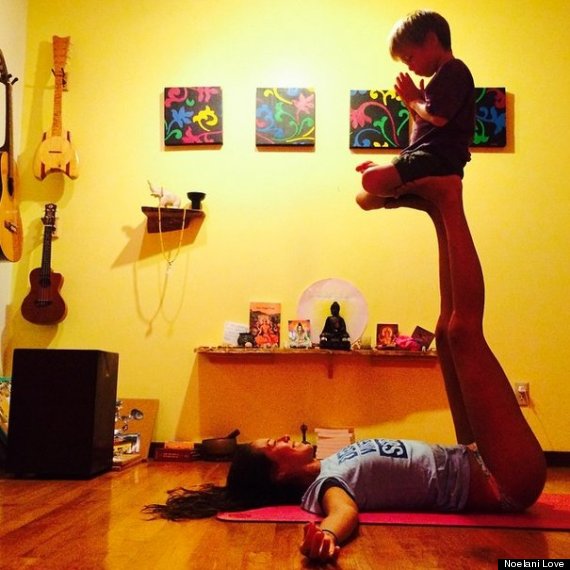 Outside of yoga (and partially because she couldn't afford a babysitter), Love brought Aukai with her during her beach workouts and introduced him to the outdoors lifestyle. When he was still an infant, she would carry him on her shoulders to the beach for a swim, "literally packing him on my back like a little monkey and wearing him in the water."
As he got older, she brought him deeper into the ocean until he could swim by himself. She taught him how to fish and took him on hikes through Oahu's tropical forests. "I grew up as an athlete and I'm definitely a waterwoman," she said, "and I want him to love all those things, too."
Now, the 6-year-old has been known to climb up coconut trees or catch fishes to eat for dinner.
Story continues below.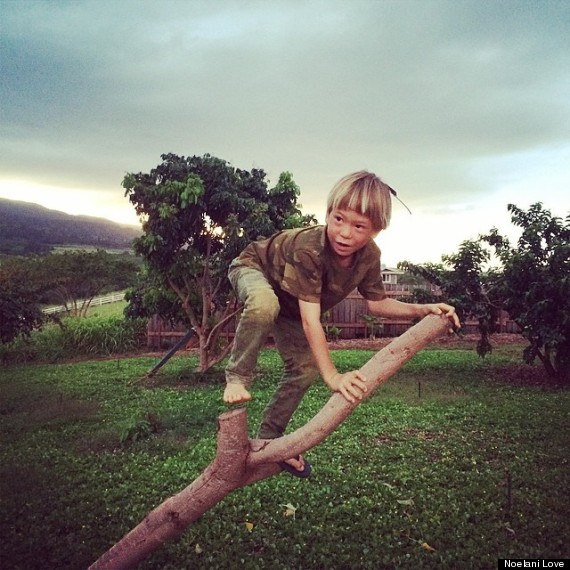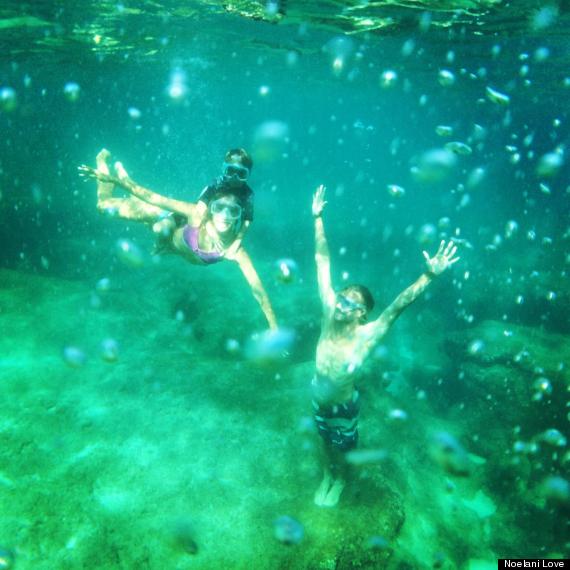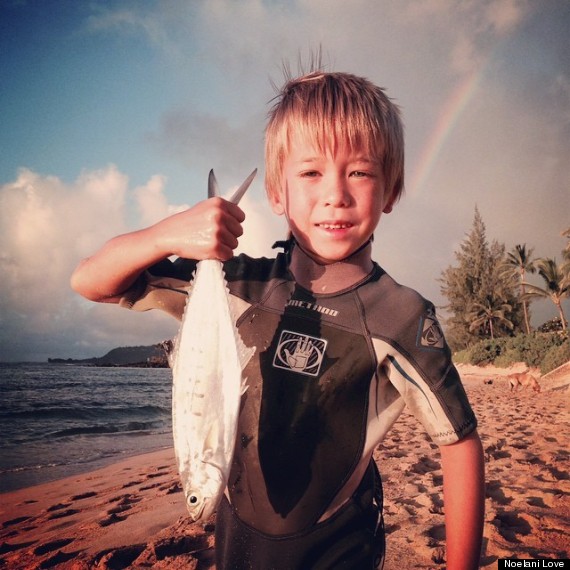 Love also uses yoga to teach Aukai discipline. If, for example, Aukai refuses to eat a home-cooked meal or is acting rude, Love asks him to put his hands at heart center (prayer hands) and tell her five things he is grateful for.
One night during a dinner party, Love noticed that Aukai was acting up for attention. She asked him to do his favorite yoga poses for the guests, which he excitedly agreed to do. This, she says, turned his hyper energy into focus.
"We creatively, constructively harnessed that energy of him wanting to show off and be the center of attention, but in a constructive way," she said.
(Story continues below)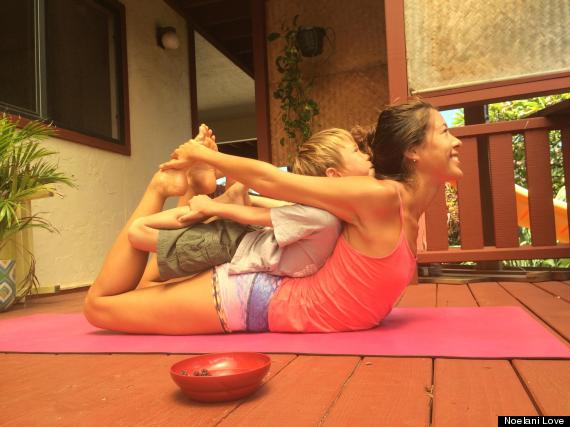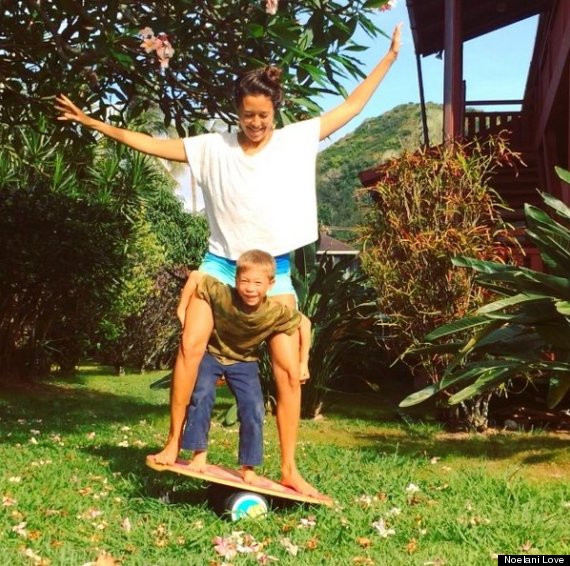 Just as Aukai grew up with yoga, Love's business did, too. Her jewelry designer business transformed into Noelani Studios, a yoga studio and fashion boutique on the north shore of Oahu, where Love teaches yoga (including prenatal and baby and mommy classes), natural birthing classes and sells her handmade jewelry.
According to Love, the most important yoga lesson she hopes to instill in her son is a sense of empowerment and responsibility. "It starts with the basic foundation of appreciating our bodies and our abilities," she said, but it also means showing him that "his actions have an effect on the world."
Recently, Love asked Aukai to write his very own affirmation that describes who he wants to be in this world. Now, as a reminder, everyday he says:
"I, Aukai, am happy with my family. I am nice to other people and everything.
I like to bake cookies and share the love."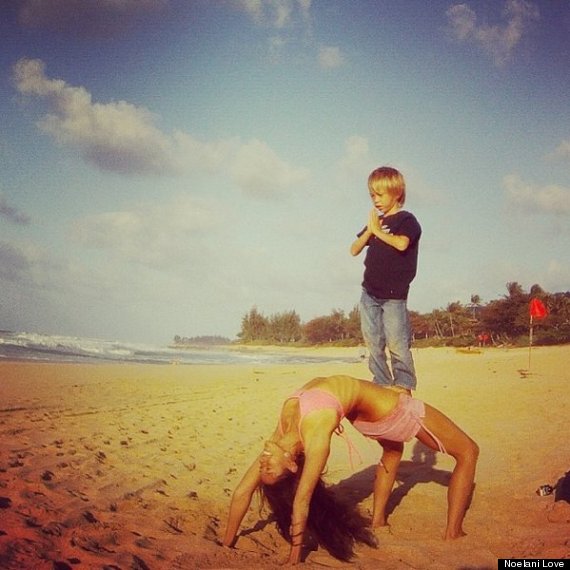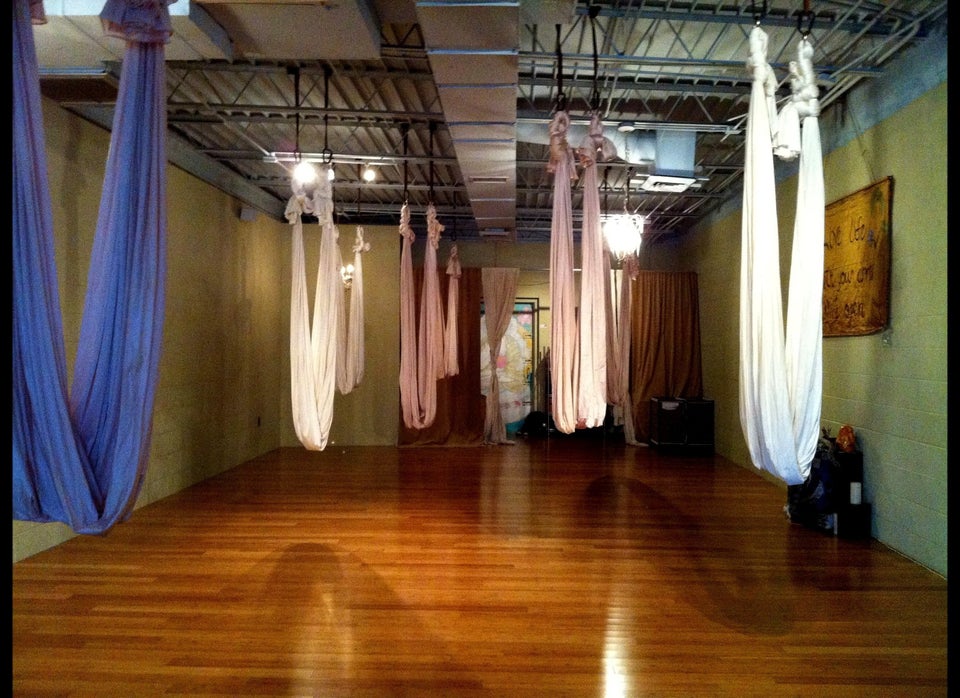 Unconventional Types Of Yoga