Noelle Spinosa is a business leader, mom, and hair and make-up artist who has been making people beautiful for more than 25 years at her Noelle Salon. Her salon is the Boston area leader in hair extensions, hair color, and hair loss solutions, and she has made a name for herself not just by becoming the stylist to celebrities, but also by dedicating her time to finding hair solutions for those suffering from Trichotillomania, Alopecia, and other conditions resulting in thinning or hair loss. Noelle Salon has always been known for having all colors and textures of hair extensions in stock, but even more exciting is that Noelle is now branching out into her own line of hair extensions and hair care products in an effort to make it even easier for people to expose their beauty.
In a world where there are salons on every street corner, Noelle has built a massive beauty empire by cultivating a killer culture among her team members, differentiating her product offering, and through niche marketing. She's a dreamer, doer, and empire builder extraordinaire. Here are 4 lessons on how to achieve your B-HAGs, Big Hairy Audacious Goals in business and life, from Noelle Spinosa.

Those Who Need You the Most: Noelle says that one of the keystones to her business success is that she has built a business by catering to the needs of clients who need her the most, people with hair loss. Many years ago, Noelle was one of the first salons to offer hair extensions. Originally she thought that her clientele would be women who wanted to have fuller, more luxurious hair. What she soon found was that her phone began ringing with two types of hair extension clients; women and transgender women who were seeking a longer or fuller look as well as people with thinning or extreme hair loss. Soon, Noelle was digging in and learning about the different types of hair loss and learning new ways in which she could help. It wasn't long before she was an expert in helping people with Trichotillomania or Alopecia regain their confidence, starting with a full head of hair. Noelle is passionate about this niche area of her business. Over the years, she has expanded and changed the hair extensions offered at her salon, always opting for real human hair that is weaved in such a way that nobody can tell that they are extensions. Still noticing that there was room for improvement in the offerings available for hair extensions, Noelle recently opted to design her own line of extensions which are available through her salon, including her patented design clip in hair extensions that are so secure that nothing causes them to slip out. Noelle says that achieving your big goals in life is so much easier when your goals align with the needs of the clients. She says that if you are willing to help clients solve hard problems, you set yourself up for success.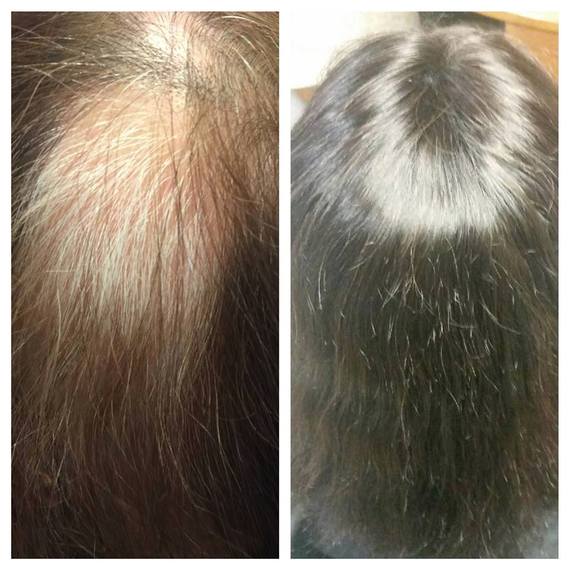 Culture Matters: Noelle says that her success is powered by an amazing team of artists who care about each other, the salon, and the customers. She says that you cannot just pull a stylist off the street and assume they are going to work well within your environment. Noelle says that when she's interviewing candidates for her firm, she is looking for someone who cares about people and someone who is deeply passionate about their art. Talent is a minimum standard, says Noelle, and she says it's not enough to be successful at her salon. Noelle says that the customers who come into the salon are like a blank canvas and they are trusting the stylists and make-up artists with their outward beauty and their self-confidence, and so she will only hire people who understand the importance of what they've been entrusted with. I was in the salon getting my hair and make-up done as I interviewed Noelle, and what I noticed was a girlfriend like camaraderie among the clients and the artists. Women were chatting about life, business, challenges, struggles, and fears while the artists and stylists were listening, offering advice, and making them even more beautiful. The vibe of the salon felt anything but customer/service provider - it felt like a girl's night out.
Go Old School:
Noelle's mom and dad came to the United States from Italy. Growing up, Noelle always remembers her mom mixing ingredients together to make shampoo and hair conditioners. She noticed early on that that the women in the family all had long, thick hair, and so many years later Noelle decided to start mixing botanicals and exotic oils to duplicate what her mom had created years earlier at home. This resulted in Noelle launching her own line of hair care products, called
, including shampoo, conditioner, and hair growth elixir. Her products come in beautiful pink and black packaging, uniquely designed to make them easily recyclable and biodegradable.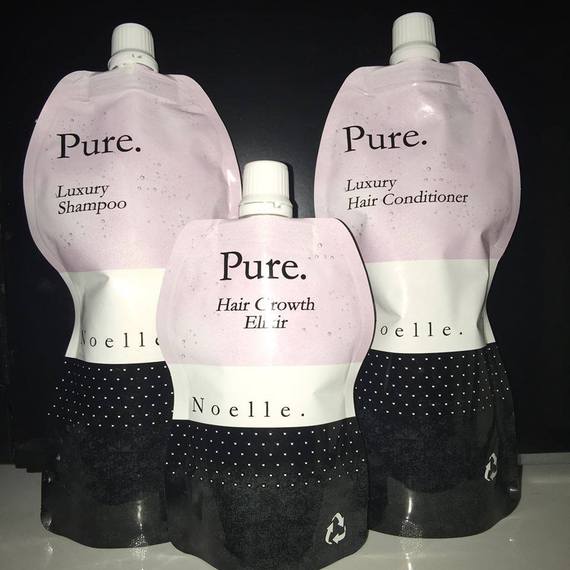 Invest In Your Passion 24/7: Noelle's final secret to success is that she's so passionate about her business that she is working in or on her business 24 hours a day, 7 days a week. When she's not in the salon working, she's working on her salon from somewhere else. She says that the first time getting hair extensions is like the first time getting plastic surgery, the client has tons of questions. Noelle makes herself available to answer questions and she's constantly educating her clients about hair, make-up, and beauty through her websites and blogs. I asked her if she ever gets tired of being on 24 hours a day and Noelle says she'd have it no other way. She's happiest when she is immersed in her business and she is in a state of pure joy when her salon gives a woman back her self-confidence, which is a regular occurrence at Noelle Salon.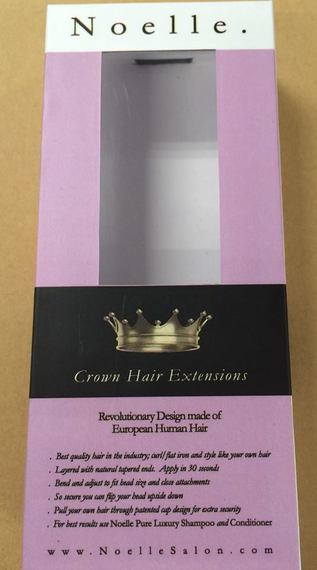 At the end of the day, Noelle Spinosa says that her Big Hairy Audacious Goal in life is to make people beautiful, because beauty inspires confidence, and the massive empire she has built, Noelle Salon, is simply a byproduct of living her passion.