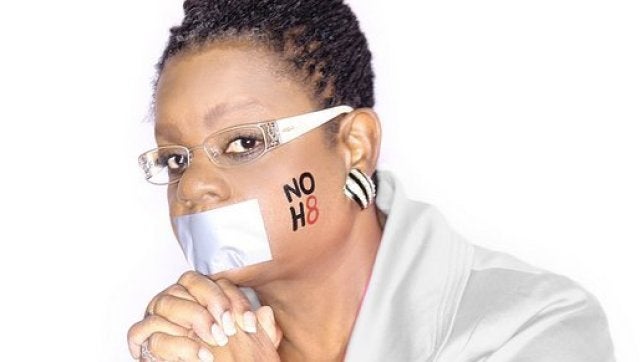 To celebrate the 25th National Coming Out Day, the NOH8 campaign, founded by Adam Bouska and Jeff Parshley, has today released NOH8 photos for 26 members of Congress who took part in the campaign's second "NOH8 on the Hill" event, held Sept. 13. These representatives join the 10 members of Congress who participated in the first "NOH8 on the Hill" event back in February, and Rep. Adam Schiff (D-Calif.), who reached out to the campaign afterwards, which means that 37 sitting members of the House of Representatives have now added their names and faces to the NOH8 campaign.
The congressmen and congresswomen who took part in September's sitting are Rep. Gwen Moore (D-Wis.), Rep. Lucille Roybal-Allard (D-Calif.), Rep. Suzanne Bonamici (D-Ore.), Rep Michael Capuano (D-Mass.), Rep. Jan Schakowsky (D-Ill.), Rep. Jim McGovern (D- Mass.), Rep. John Yarmuth (D-Ky.), Rep. Joe Baca (D-Calif.), Rep. Lois Capps (D-Calif.), Rep. Sam Farr (D-Calif.), Rep. Nydia Velázquez (D-N.Y.), Rep. Ted Deutch (D-Fla.), Rep. Zoe Lofgren (D-Calif.), Rep. Peter Welch (D-Vt.), Rep. Sheila Jackson Lee (D-Texas), Rep. Charles B. Rangel (D-N.Y.), Rep. Chaka Fattah (D-Pa.), Rep. Debbie Wasserman Schultz (D-Fla.), Rep. Mike Quigley (D-Ill.), Rep. Rush D. Holt (D-N.J.), Rep. Raúl Grijalva (D-Ariz.), Rep. Janice Hahn (D-Calif.), Rep. Mike Honda (D-Calif.), Rep. Al Green (D-Texas), Rep. Danny K. Davis (D-Ill.), and Rep. Susan A. Davis (D-Calif.). To date, all 37 members of Congress who have posed for NOH8 photos have been Democrats, in spite of the fact that Republicans were invited to take part in both "NOH8 on the Hill" events.
"Projects like NOH8 are ensuring that marriage equality continues to be in the forefront of our fight for equality," said Rep. Roybal-Allard of California. "I am proud to participate in the NOH8 campaign to help draw attention to this ongoing civil-rights battle in our state."
Underlining how the NOH8 campaign has grown from a local California effort to oppose Proposition 8 to a national campaign, the members of Congress who took part in the recent D.C. shoot represent districts in some 13 different states: Arizona, California, Florida, Illinois, Kentucky, Massachusetts, New Jersey, New York, Oregon, Pennsylvannia, Texas, Wisconsin, and Vermont.
Rep. Gwen Moore from Wisconsin commented, "Love is love. Whether heterosexual, homosexual, bisexual, or transgender, no one should be denied the opportunity to express this love through marriage. I stand strong in my support of the LGBT community and marriage equality."
In a statement regarding his NOH8 photo, Florida Rep. Ted Deutch said, "I'm excited to participate in the NOH8 campaign and to stand up against hatred and bigotry of all kinds."
Although a session was made available to senators as part of the recent shoot, no senator has yet posed for a NOH8 photo. There was hope earlier in the year that Sen. John Kerry might become the first senator to do so, but due to committee work he was unable to do so. For similar reasons Sen. Bernie Sanders was unable to take part in the most recent shoot, despite expressing interest in doing so. Plans are in place to organize a third shoot, focussing on U.S. senators, after the upcoming election.
While a number of the representatives who took part in the recent Capitol Hill shoot were unable to do so back in February due to scheduling issues, the large number participating this time, just weeks before a presidential election, is doubtless at least partly due to President Obama's and Vice President Biden's May statements affirming their support for the right of same-sex couples to marry. Hundreds of Capitol Hill staff were also able to get NOH8 photos taken as part of the recent shoot.
Commenting on the shoot, NOH8 co-founder Jeff Parshley said:
We would like to thank every member of Congress who had a NOH8 photo taken as part of "NOH8 on the Hill II." We're still very keen to photograph our first senator and so would ask any that are contemplating supporting our campaign to reach out to us.

Although Proposition 8 was the original inspiration for the NOH8 Campaign, there will still be a lot of work for us to do when it's finally and permanently struck down, as we hope it will be soon. The NOH8 campaign is now a way for people everywhere to demonstrate their support for equality, not just in California and not even just in America, but the world over.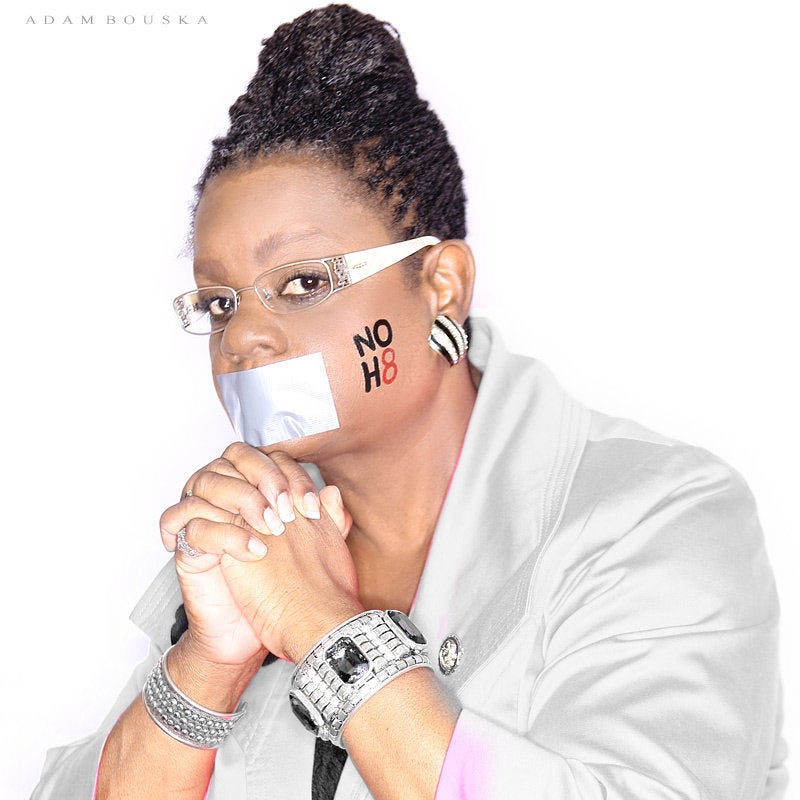 26 Congressmen And Women Pose For NOH8