San Francisco's most enticing and provocative film festival, NOIR CITY opened its 11th season on Friday night at the city's celebrated movie palace, the Castro Theatre. First on the roster of the festival's 27 films was Gun Crazy (1950), which stands alone among classic Noir. Following the screening, the film's pistol-packin' leading lady, Peggy Cummins was interviewed by Noir City producer Eddie Muller, a.k.a, "The Czar of Noir." At 87, Peggy Cummins is a total knock-out, the last word in a unique job description -- Grand Dame of the Femme Fatales.
In 1945, movie mogul Darryl F. Zanuck brought then 20-year-old Peggy from Ireland to Hollywood. His plan was to catapult her into fame with his next major project, Forever Amber. His compatriots at Twentieth Century Fox thought otherwise. Said Peggy, "They - whoever They were -- said I wasn't sexy enough!" At that point, the Gun Crazy fans in the audience booed Fox's historically short-sighted Studio Execs. Though Forever Amber proved to be a popular favorite with ravishing Linda Darnell as the promiscuous "Amber St. Clair," Miss Cummins' personal assets and sexual vibrations as the gun-crazed "Annie Laurie Starr" have withstood the test of time.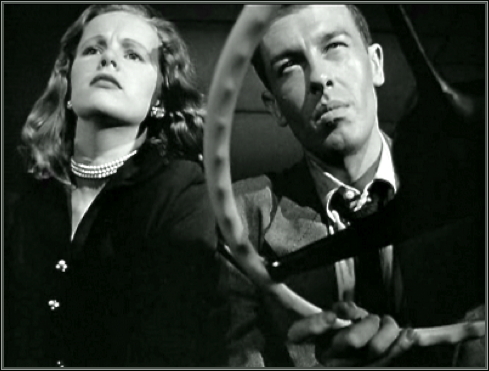 PEGGY CUMMINS and JOHN DALL (Gun Crazy).
Photo, Film Noir Foundation
"That's life," Peggy responded. "When I think of it, Linda was probably much better than I could have been. But I got my luck with Gun Crazy. It's a part I thought I could play, don't ask me why. And it wasn't only me. Nothing is only you. It's the writer and the script and the director."
What becomes a legend most? The screenplay of Gun Crazy is the work of Dalton Trumbo -- one of the "Hollywood Ten," the daring writers and directors who stood up to the House Committee on Un-American Activities in 1947 and remained silent on the subject of Communism. The film, a.k.a Deadly Is the Female, was directed by Joseph H. Lewis (Terror in a Texas Town, Cry of the Hunted) and falls into the category of "Outlaw Cinema." Trumbo digs deep into the complex relationship of a couple who shares a gun fetish and an insatiable appetite for each other. With John Dall (Rope, The Man Who Cheated Himself) as her never miss sharp-shooter "Bart Tare," the film gained cult status and is recognized as the precursor to Arthur Penn's Bonnie and Clyde (1967). "John Dall made me look good," said the venerable star. "I made him look quite good, too."
Peggy was agog at the overwhelming energy of the sold-out and looking-good in period costume crowd at the Castro Theatre. She made the journey from London to San Francisco on her own, totally clueless as to the glamorous celebration in store. Peggy acknowledged that the audience's response to her and Gun Crazy was like nothing she had ever experienced and would be hard to describe when she returned home. "Don't make me cry," she said. "To sit here, at my stage in life, to have come from England -- it's amazing. Amazing!"
Said Eddie Muller, "You have achieved immortality with this film."
In my recent interview with the devoted film preservationist, Eddie shared the remarkable progress he and the Film Noir Foundation have made this past year alone in resuscitating a significant number of films, some believed to have been lost. He has been using the catch phrase, "Keeping It Reel" as an acknowledgement of how the business is changing so dramatically and quickly.
"My thing as a cultural archeologist," says Eddie, "is to make sure that people have access to popular entertainments and great creative works that they don't have any other opportunity to see, or don't even know about. There are some films on this program that no one has ever heard of. I'm happy to show them in whatever format is the best for the audience. I'm not backing off of my 35mm Crusade at all. But, for example, we're showing two 3-D films this year -- Man in the Dark and Inferno -- and the only way those films can get shown at the Castro Theatre is digitally. There is no alternative. If I wanted to hold the hard line and say that I'm only going to show 35mm, then those 1,400 people that Friday night aren't going to see 3-D Film Noir. I want them to see it. We will show them digitally. And I'm thrilled, because it is another exclusive right to Noir City. Sony restored Man In the Dark -- a film that hasn't been shown in 3-D in decades."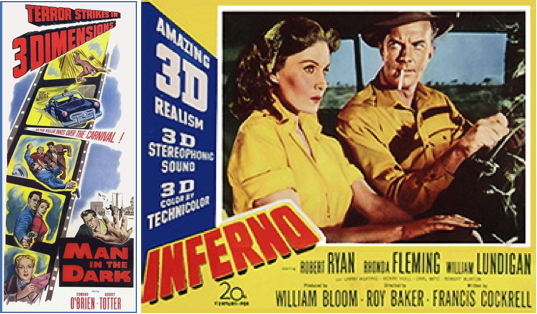 Man In The Dark (1953) and Inferno (1953)
Photos, Film Noir Foundation
Film Noir resonates with a contemporary audience in a way that other film genres do not. It is the style. We see the roots of our contemporary society in these films. It's the point where we started to loose our innocence as a culture. Noir is very glamorous and accounts for why people respond to it so positively. Yet there is a real hardcore cynicism about a lot of the films that allows people to not feel they're just on a nostalgia trip.
"It surprises me," he said, "that there are not a lot of other entities like the Film Noir Foundation. We have enjoyed a lightning-in-a-bottle situation here in San Francisco. When people who are curious about our restoration process - that is, how we raise the money - when I tell them that it's primarily through screenings at the Castro Theatre, it's mind-boggling to them. Other venues around the country where we will do this program are only 250-seats or 475-seats, maybe 600 in L.A. You can't raise money showing in venues of that limited capacity. The fact that the Castro has 1,400 seats and we can fill them, means that we can pay all the normal fees and still have enough of a profit left over that we are able to invest in more film preservation and restoration."
One of the most popular evenings at the festival is "Bad Girls Night." This year's features begin with The Other Woman (1954) directed by Hugo Haas and starring Cleo Moore, followed by The Come On (1956) directed by Russell Birdwell and co-starring Anne Baxter and Sterling Hayden. Eddie knows that the films of Hugo Haas have been relegated to the cinematic scrap heap and that it's time for the director to get a reassessment.
"Hugo Haas very much like a Billy Wilder or Alfred Hitchcock," said Eddie, "in that he wanted to be his own boss. But he just couldn't break through to that level. He said that you can have complete freedom in Hollywood -- if you make the money -- and they'll leave you alone if you don't spend a lot of money. Haas would get very small budgets and make his movies his way. He would star in them, produce them, write them, and direct them. He made the same movie over and over again. They're all variations on The Blue Angel - plots about a middle-age man who is driven to ruin by some Sex Pot Blonde. But they're not really that bad! The Other Woman is especially good because it's about Hugo Hass' experiences in Hollywood. He plays a movie director who is destroyed by this actress who wants to be in one of his pictures. He's rude to her and she concocts a scheme to blackmail him. In-between its pot boiler plot are all of these wonderful asides about his life in Hollywood and they're all autobiographical. Fox gave us a good print to show. I really enjoy The Come On because it's really just a down and dirty trashy movie. It was released just prior to The Ten Commandments. It's pretty bargain basement for Anne Baxter - which is part of its appeal. You can see that she and Sterling Hayden both know - Oh, my God, are we slumming it here!"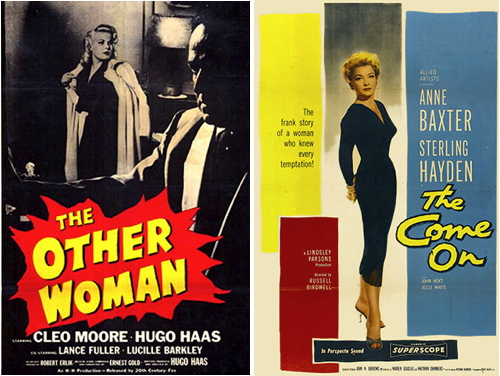 The Other Woman (1954) and The Come On (1956)
Photos, Film Noir Foundation
"Without any question," he continued, "this has been the most difficult year in terms of getting everything we want on film. I have to say that because of the success the festival has had and because of the relationships I've developed with people at the studios, I am also pleased -- in fact, ecstatic about -- some of the films we are showing digitally. They have really gone as far as they could possibly go to create the best digital version possible. Sunset Boulevard is a completely restored 4K digital restoration and Paramount is letting us premiere it in the U.S. All the people that are in charge of the archives at the studios are going through this incredibly challenging period right now. They want to preserve as much as they possibly can. But the accountants, who really run everything, have stopped seeing any advantage in 35mm at all."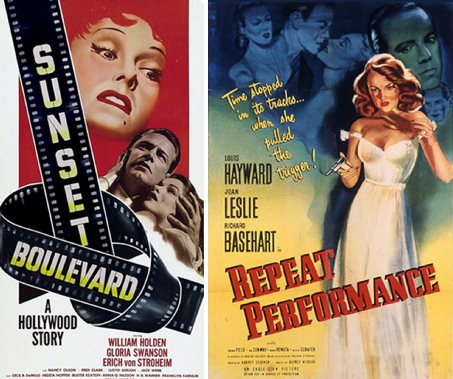 Sunset Boulevard (1950) and Repeat Performance (1947)
Photos, Film Noir Foundation
"As I warned the audience at Noir City last year - by the end of 2013, there are some studios that will stop shipping 35mm altogether. Paramount will not ship you a 35mm. That's why we're showing Sunset Boulevard digitally. At some point, Twentieth Century Fox will stop shipping 35mm and so will Warner Brothers. The impact is far, far greater for new movies than it is for repertory cinema, like I do. I'm happy because Noir City has established such a reputation and that everybody enjoys what we do so much, that they will make an exception for me. Fox is giving me 35mm prints for this festival. But this is not going to be the norm for a lot of other rep houses around the country. So, it really is a very special situation we have here in San Francisco. People can still see these films in 35mm - the thing that makes this festival so special."
Popular in the Community