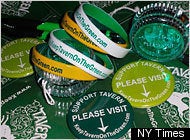 Never mind the number of stars garnered by an eatery or even the tab. The main criterion for me when it comes to New York dining (and New York East aka the Hamptons) is whether you can hear your dining companion(s). To judge by noise levels in the city's restaurants, it's apparently de rigueur to have one or more women on hand shrieking like banshees. It's never the men shrieking -- one of their many virtues -- just the women.

I was recently at a Tribeca tavern where the crowd kicking back on a Friday after work included the requisite screechers. Now why, I wondered, as I responded to a question swallowed by the racket, couldn't the mayor institute a stiff fine for screaming in restaurants, like the one for spitting in subways? Bloomberg could both strike a blow for civility and siphon the bucks into the MTA. The same evening I fled to an East 9th Street Italian that attracts more of an altecocker crowd, anticipating a lively conversation with a charming friend -- but no! the screechers had followed me. Or else all New York restaurants simply rent a few for the evening to create an aura of "energy."

This brings me -- and sorry to sound curmudgeonly -- to France. As a film critic, I go to France every year to cover the Cannes Film Festival. Not this year -- busy promoting my novel Conscience Point, or at least loitering near the shelf at Barnes & Noble where it prominently resides. And this year I gave Cannes a pass, like many of my compatriots, because the bankers were fiddling with derivatives while the country melted down.

But here's the thing: for all the crowds and mayhem that overtake Cannes during the fest, they don't shriek there when they eat. Nor do they in the rest of France. I once dined in a 2-star near the Eiffel Tower, where voices, like the sauces, were a reduction, a civilized murmur, a digestif in itself. Wouldn't it be nice if we could import -- along with the Vuittons and Chopards and sixty dollar sun cream -- the luxury of that quiet? The only problem: you'd better be on good behavior. In the 2-star near the Eiffel Tower, the then boy friend took issue with l'addition and in loud and execrable French proceeded to make that known at excruciating length to the waiter. Need I describe the reaction in the room? Oh, les Americains ...
Related
Popular in the Community