 Let us list the great innovators of our most recent century: In fiction, James Joyce; in popular music, John Lennon; in film, Stanley Kubrick; in pornography, Ron Jeremy; in frozen food, Hot Pockets; in screen savers, the 3D maze with the brick walls that you travel through; in reality television shows, "The Mole" with Anderson Cooper.
I bring up these great innovators/innovations because a Nokia exec recently suggested that the company's newest phone, the Lumia 920, belongs on the same list as Joyce, Lennon, and Mole. At a press conference Wednesday morning, Jo Harlow, Nokia's executive vice president, called the Lumia 920 "the most innovative smartphone in the world." Later, Nokia CEO Stephen Elop doubled down, proclaiming the Lumia 920 to be the "world's most innovative smartphone." It is an ambitious claim, an impressive boast, a thrilling bit of bravado from a struggling tech company. But is it grounded in reality? Is Nokia's Lumia 920 -- a smartphone whose predecessor sold a paltry 600,000 units in America -- really the most innovative mobile device in the world?
Hold on to your Speedo strings, folks: It just might be.
The Lumia 920, detailed in full at an event in New York on Wednesday morning, is a really good phone on its own merits. It has a Retina-quality display and a camera that can challenge (if not exceed) the iPhone's. It is solidly built, with a responsive touchscreen and a quick browser. Sure, it's a little heavy, and the Windows Marketplace is still relatively barren of quality apps compared with the Google Play Store and Apple App Store. Overall, however, you'd have to say it is at least competitive with other flagship smartphones, in terms of hardware.
But here's where Nokia can lay claim to that Innovator crown: Nokia has piled on a bunch of intriguing, nigh-experimental features to the Lumia 920 that truly do differentiate it from any other phone, and that you can expect to see on other phones in due time. These aren't features that are "better" than those offered on other devices -- we're not talking about megapixel count or screen quality or device lightness, an incremental victory in a specs war. These are features that simply do not exist on other smartphones, but that certainly may in the coming years.
The most notable of these features, of course, is the ability to charge the phone wirelessly. Wireless charging capability is built right into the Lumia 920, without the need for a case or cover to enable it. You simply buy the charging accessory -- be it a mat, pillow, or funky electrified speaker -- and plop the Lumia 920 on top, and it powers the battery. While Apple tries to figure out how to shrink the size of its charger, Nokia has eliminated the charger altogether. Other smartphone makers will certainly follow as the years go by, and when your trivia host at the local bar asks you, in years hence, which phone was the first to go wireless, you will know that the answer, by golly, is the Lumia 920.
And you will win whatever ridiculously nerdy team trivia event you happen to be at, guaranteed; those $50 in BitCoins will be yours and yours alone.
And let us not forget the colors. For better or worse, is there another smartphone maker in the world that would not only mass produce a bright yellow version of its most important device in years, but also use that bright yellow version in its debut?
These are small things, but to paraphrase Blink-182, all the small things can add up to a greater truth. In this case, the truth is that Nokia clearly runs a creative, ambitious laboratory whose accomplishments it will neither hide nor brush away, and the Lumia 920 is one whopper of a strange and innovative smartphone. The company -- once the conventional choice for cell phone buyers -- is not afraid to alienate or turn off potential consumers with left-field inventions and features. It is innovating, and fast.
This is not to say that Nokia is, definitively, the most innovative phone maker going today, or that the Lumia 920 is the most innovative phone. Samsung's Galaxy S III shipped with a heap of wild features, including Smart Stay, Direct Call, and Buddy Photo Share (and, too, the sheer size of the Galaxy Note "phablet" itself might qualify Samsung for that crown). Apple, too, which all but invented the modern smartphone, and has competitors chasing down Siri, could also lay a legitimate claim.
That we are seriously discussing Nokia as an innovator -- that a Nokia exec could call the Lumia 920 the most innovative in the world without the world bursting into derisive laughter -- must be some kind of victory for the old Finnish phone maker. While Motorola spent its day upgrading its previous smartphone's specs without really unveiling a wowie-zowie feature; while Research In Motion scrambles to produce a smartphone that people actually want to commit two years to as their sole device; and while a raft of other companies, including but not limited to LG, Sony, Kyocera and HTC struggle to differentiate themselves from the Apple/Samsung behemoth; Nokia has done so with a phone that is not only unlike any other, but that likely presages what we'll be seeing from the aforementioned manufacturers for years to come.
Nokia, it seems, will not fade into obscurity with milquetoast phones or half-baked knockoffs. Its Lumia 920 may very well fail. But, hey, so did "The Mole."
Before You Go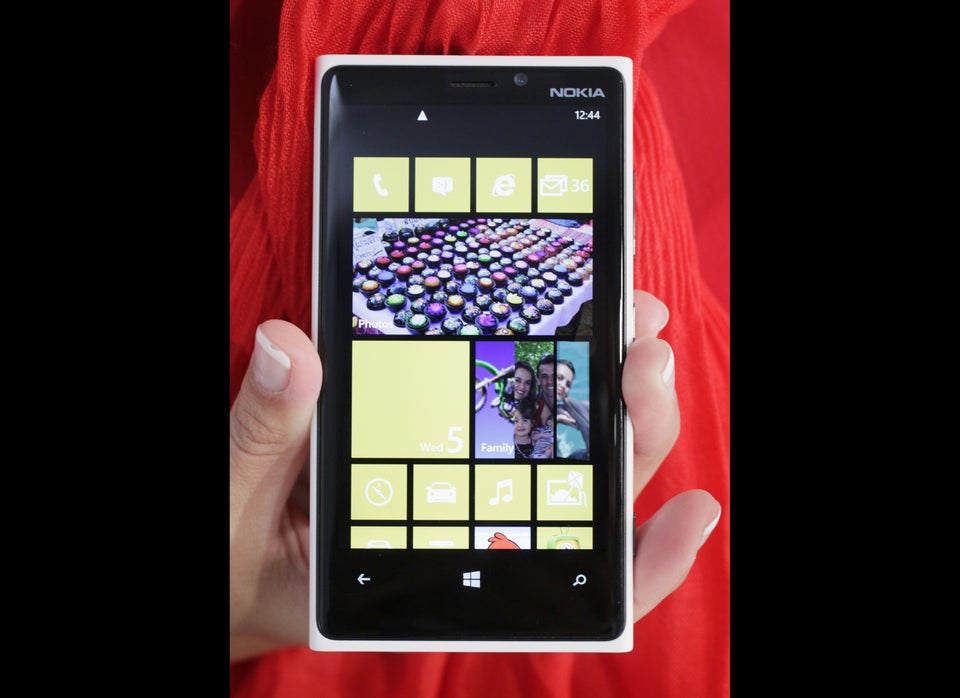 Nokia Lumia 920
Popular in the Community