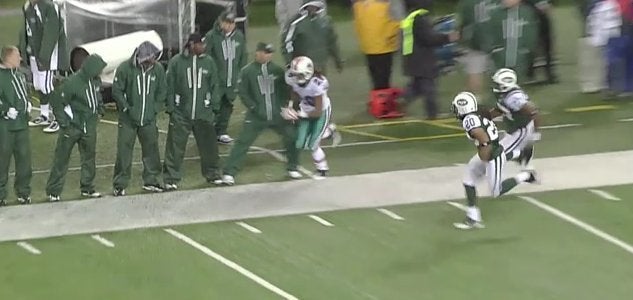 EAST RUTHERFORD, N.J. -- Dolphins cornerback Nolan Carroll was tripped by the New York Jets' strength and conditioning coach on the sideline while covering a punt in the third quarter of Miami's 10-6 victory Sunday.
The rookie fell to the turf while running down the sideline, and the Jets' Sal Alosi later admitted he interfered with Carroll.
"I made a mistake that showed a total lapse in judgment," Alosi said in a statement released by the Jets about 2 1/2 hours after the game. "My conduct was inexcusable and unsportsmanlike and does not reflect what this organization stands for."
Carroll, who had an interception in the first quarter to set up a field goal, lay on the field for several minutes before walking off. He got back into the game in the fourth period.
Carroll said he was not angry about the incident.
"We got a W. That's not my problem," Carroll said. "That's the Jets' problem. We just move on. I felt contact, but I've got to watch film. I can't comment on it right now."
Jets coach Rex Ryan said he was unaware of the situation until informed by Bruce Speight, the team's director of media relations, after the loss. Ryan said the Jets would investigate the matter.
"I spoke to coach (Tony) Sparano and Nolan Carroll to apologize before they took off," Alosi said. He added he apologized to Ryan, general manager Mike Tannenbaum and owner Woody Johnson.
"I accept responsibility for my actions as well as any punishment that follows," he said.
Alosi could face discipline from the Jets and from the NFL.
"The only thing I know ... is that my guys were screaming up there at the time," Sparano said. "When Nolan was down on the ground and they showed the thing, somebody from that sideline stuck a foot out. I talked to the referee. I didn't see it at that particular time. I told him at that point that it was on tape and the people upstairs are telling me that's what they see."
Sparano said he would send the film to the league.
"I don't know what else can be done," Sparano said. "There was a player down on the sideline and that's not good. We're trying to take care of players in this game."
Alosi was with the Jets from 2001-2005, then worked for the Falcons for one season. He returned to the Jets in 2007.
Alosi was a linebacker for Hofstra from 1996-2000.
Related
Popular in the Community