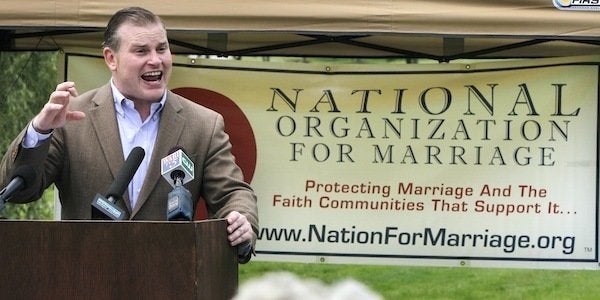 PROVIDENCE, R.I., Associated Press
A group that opposes same-sex marriage sued the Rhode Island Board of Elections, saying it wants to run ads in the governor's race and other contests but doesn't want to have to comply with state campaign finance laws.
The National Organization for Marriage said in a federal lawsuit that it should not be forced to report its expenditures or comply with spending limits or bans that are required for political action committees. The group said it shouldn't be considered a PAC because it's not controlled by a political candidate and does not spend the majority of its money on Rhode Island's political races. It says the rules for PACs are burdensome and interfere with free speech.
"You have to negotiate the myriad regulations that apply, and for a lot of organizations, it's just not worth it," said Jeffrey Gallant, a lawyer with the James Madison Center for Free Speech, which is representing the group. "These laws are a deterrent for free and open speech in political matters."
The suit, filed last week in U.S. District Court in Providence, does not specify the races the organization wants to be involved in, but sample ads that are included as exhibits to the complaint show support for Republican ideals -- including lower taxes and fiscal conservatism.
In one ad, a girl named Emily explains that she learned in school that day "about a prince who married a prince. And I can marry a princess!" The narrator then instructs viewers or listeners to contact Democratic gubernatorial candidate Frank Caprio or his independent opponent, Lincoln Chafee. Both candidates say they support same-sex marriage.
Another sample ad, presumably prepared before the Sept. 14 primary, encourages voters to support the Republican nominee for governor -- John Robitaille won the GOP primary -- by calling him to say, "Thank you for standing up for marriage."
The group also wants to run ads for General Assembly races.
Rhode Island is one of two New England states that does not allow same-sex marriage.
Mike Healey, a spokesman for the attorney general's office, which is representing the board of elections, declined to comment Monday but said the National Organization for Marriage has filed similar suits in other states.
Gallant said the organization's lawsuit was supported by a recent blockbuster U.S. Supreme Court decision that freed businesses and unions to directly spend money on federal elections.
U.S. District Judge Mary Lisi has scheduled an in-chambers conference on the lawsuit for Thursday.

Calling all HuffPost superfans!
Sign up for membership to become a founding member and help shape HuffPost's next chapter