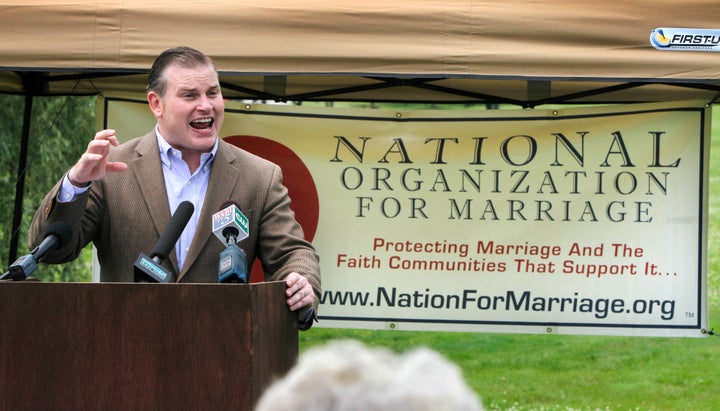 The meteoric rise of the National Organization for Marriage, from humble Princeton, N.J. beginnings ($500,000 in revenue in 2007) to the leading national anti-LGBT organization ($9 million in revenue in 2010), has confounded observers and pro-equality activists. How did NOM explode onto the scene so quickly, and why did it take over the mantle of anti-gay politics in the United States from more seasoned players? What has driven donations to NOM since 2007?
While there have been past hints about the reasons behind NOM's growth spurt, a series of confidential internal documents unsealed Monday by a Maine court and first obtained by the Human Rights Campaign provides new information about how, in the aftermath of California's Proposition 8, NOM strategically leveraged large secret donations to fund the anti-marriage movement across the country.
NOM's Role in Proposition 8 and the Public Response
Before the 2008 Proposition 8 campaign in California, few people had heard of NOM, which had been founded just the year before by Brian Brown and Maggie Gallagher. Even after the campaign the NOM leadership worried that NOM wasn't getting the recognition it deserved. "While some of our donors and close allies (and some of our adversaries, too) know, most of the world may never know the crucial role that NOM played in the Prop. 8 campaign," said NOM's confidential 2008-09 Board Update released on Monday.
Prop. 8 was NOM's coming-out party, and the organization boasted of having raised nearly $3 million for the effort and becoming the largest single contributor to the campaign. NOM raised funds through NOM California PAC, a ballot-measure PAC registered in California that was required to disclose its donors. In fact, NOM California PAC raised close to $1.9 million. In a pattern that would become significantly more apparent in the years after Prop. 8, NOM had little grassroots support but instead raised funds from a few wealthy donors: $550,000 from billionaire investor and Republican activist John Templeton and his wife; $275,000 from the Knights of Columbus; $125,000 from San Diego hotel magnate Doug Manchester; and about $180,000 from the Caster Family, owners of A-1 Self Storage, a California retail chain.
Prop. 8's narrow passage, which eliminated the right for gays and lesbians to marry, a right that had been recognized months earlier by the California Supreme Court, was a wake-up call for fair-minded Americans across the country and incited a groundswell of new activism. Peaceful but forceful criticism was directed toward Prop. 8's proponents, including those who had funded the nearly $40-million campaign intended to take away the civil rights of LGBT Californians. Manchester, the Templetons, and the Casters were among those who heard disapproval. In San Diego, a boycott launched by local activists against Manchester-owned hotels received widespread publicity. A West Hollywood restaurant frequented by LGBT customers lost significant business after a manager donated to Prop. 8.
Buoyed by victory, NOM failed to realize that public opinion nationwide was undergoing a significant shift in favor of LGBT equality. Those who had supported the Prop. 8 campaign, including the Church of Latter-Day Saints, could not escape the fact that they had dedicated so many resources to promoting bigotry and denying loving couples a basic civil right. Public opinion quickly turned against the LDS and individuals who funded the campaign, not just in California but across the nation.
In response to the public outcry, NOM and its allies began a shift toward secrecy that would have significant implications for both NOM and the anti-LGBT movement going forward. NOM immediately filed suit in federal court to prevent disclosure of donors to its California PAC, the beginning of what would become years of self-described "donor protection litigation." As NOM's Board Update described, "The antagonism faced during the campaign ultimately paled in comparison to the hatred leveled at Prop. 8 supporters by gay marriage activists after the election. Boycotts, picketing, and occasional violence -- must of it targeted at Latter-Day Saints and local family businesses -- were orchestrated by local gay marriage advocates and tolerated by all the national and statewide organizations." (Ironically, one of the acts of "hatred" identified by NOM, boycotts, is now being utilized by NOM against Starbucks for its support of marriage equality.)
Thus, NOM's victimization crusade was born, a multi-year effort to fight public disclosure across the country by arguing that donors were being victimized and harassed. Courts didn't buy it. In California the federal court dismissed NOM's lawsuit and completely debunked its claims of threats or violence. In fact, "plaintiffs ... produced insufficient evidence that the more incendiary events on which they rely were connected to Proposition 8 or to gay marriage at all." Instead, the court noted that "numerous of the acts about which [NOM] complains are mechanisms relied upon, both historically and lawfully, to voice dissent ... This court cannot condemn those who have legally exercised their own constitutional rights in order to display their dissatisfaction with [NOM's] cause."
Meanwhile, California's Fair Political Practices Commission came down hard on the LDS, investigating and finally fining the Church for failing to disclose tens of thousands of dollars of in-kind contributions. The Church was roundly criticized for its leadership and fundraising role in Prop. 8.
For anti-LGBT donors, the thought was that there must be a better way. And with NOM's existence, there was.
The Lesson of Prop. 8: The Growth of NOM As a Vehicle to Hide Anti-LGBT Donors
Frustrated by withering criticism in the Prop. 8 aftermath, it was time for the anti-LGBT movement to regroup and devise a new fundraising strategy, one that would, in NOM's own words, offer "donor protection." Following Prop. 8, the multi-million-dollar question for anti-LGBT funders was how to fund similar campaigns in other states while avoiding the harsh criticism they encountered in California.
NOM offered a big solution. By giving money to NOM, instead of directly to state fights, donors could remain anonymous and avoid public condemnation. NOM outlined this program, which it called its "state emergency reserve fund," in explicit and chilling detail in its 2008-09 Board Update uncovered by HRC on Monday:
Given the threats of intimidation to donors who support marriage in California and nationwide, we face a serious hurdle in getting state ballot initiatives and candidate campaigns funded because donors must be disclosed. However, if NOM makes a contribution from its own resources that are not specifically designated for one of these efforts donor identities are NOT disclosed. Given that a ballot initiative is likely to be on the ballot to overturn Proposition 8 in 2010, that Maine may require additional funding, that both Iowa and New Hampshire require disclosure of donors for political activity -- it is critical that we have a reserve fund to give to these efforts to ensure victory and protect donor identity.
With this statement, NOM, a 501(c)(4) organization not required to disclose general fund donors, leapt onto the national stage and became the preeminent vehicle for anti-marriage political activity around the country. The Manchesters, Templetons, and Casters of the world, as well as the Knights of Columbus and the LDS, now had a way to engage in the anti-LGBT fight secretly, free from public criticism or accountability. And this was the key to NOM's growth. In its "$20 Million Strategy for Victory," within a section entitled "Can We Win?" NOM told its funders that "one key advantage we now have is the capacity to protect the identity of our donors." It is the one underlined phrase in the entire document.
The "state emergency reserve fund" for ballot measures and other political fights was to be NOM's focus, budgeted at $5 million. Another $5 million was to be spent on the racially divisive "cultural strategies" program that sought to "drive a wedge between gays and blacks ... fanning the hostility raised in the wake of Prop. 8."
All of this was to be done with the utmost donor secrecy. After Prop. 8 the LDS publicly retreated into the background, issuing occasional statements about the American Foundation for Equal Rights litigation but doing little else publicly to oppose marriage equality. Big publicly disclosed individual donors nearly disappeared. The fights in Maine in 2009 and in other states in 2012 have been fought primarily with secret funds provided by NOM and the Catholic Archdiocese rather than by the range of organizations and individuals who had been disclosed publicly in California.
The source of NOM's funds? No one other than NOM knows for sure (a review of the Knights of Columbus' annual reports revealed a $500,000 contribution to NOM in 2008 and a $1.4 million contribution in 2009). But what is known is that NOM serves as a repository for big funders, not small donors. NOM's most recent tax return, for 2010, showed over $9 million in revenue -- striking growth for an organization in its fourth year of existence. Of this $9 million, more than $8 million (almost 90 percent) came from five large anonymous donors. Less than 9 percent came from donors giving less than $5,000.
NOM's Losing Legal Battle Against Disclosure
Given the centrality of donor secrecy to NOM's mission, it is understandable that the anti-LGBT organization's fights in the past four years have taken place as much in the courtroom, challenging disclosure laws, as in the court of public opinion.
Since 2008, NOM and its allies have unsuccessfully challenged disclosure laws in Washington, Maine, Minnesota, New York, and Rhode Island. Multiple federal judges and state campaign finance agencies have thrown out NOM-backed cases, concluding the reasons NOM cites for secrecy -- that LGBT people are bullies and will harass NOM supporters -- are bogus and without sufficient evidence.
In Maine in 2009, NOM tried to avoid a repeat of California by funding the campaign from undisclosed general funds rather than through a publicly disclosed PAC. But NOM's new strategy of secrecy went a step too far, breaking state campaign finance laws and instigating an investigation. Ironically, it was NOM's fight for secrecy in Maine that prompted Monday's court-ordered release of confidential documents that help tell this story.
Popular in the Community