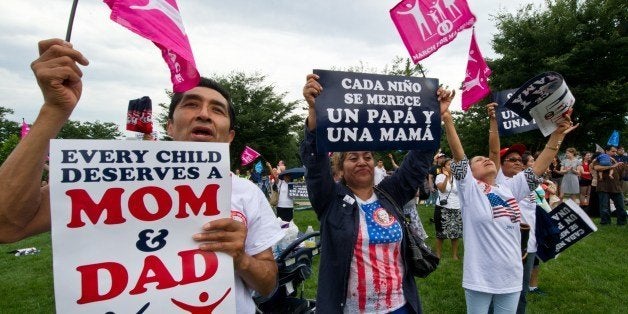 WASHINGTON -- On a sweltering day in the nation's capital, around 1,500 people gathered on the National Mall with homemade signs and American flags to protest the growing momentum for same-sex marriage around the country.
Speakers at the second annual March for Marriage, a rally organized by the conservative National Organization for Marriage, argued on Thursday that they will be remembered for taking a brave stand against injustice. They invoked Martin Luther King, Abraham Lincoln and America's resistance to the Nazis.
"There is no doubt in my mind that this country would not exist had it not been for the providential hand of God," former Arkansas Gov. Mike Huckabee said to cheers and cries of "Jesus saves." "I'm also convinced that if we reject his hand of blessing, we will feel his hand of judgment."
Rep. Tim Huelskamp (R-Kan.), the author of a proposed constitutional amendment to ban same-sex marriage and the only sitting member of Congress to speak at Thursday's event, urged the crowd to keep up the fight against same-sex marriage in order to prevent "damage to our families and possible damage to our children, to our culture and our society."
Huelskamp, a tea party favorite, acknowledged that he is a lonely voice in Congress when it comes to pushing back against gay marriage. When the Supreme Court struck down a core piece of the Defense of Marriage Act last year, Huelskamp said he was the only lawmaker standing outside the court in protest.
"I'm shocked by the deafening silence," he said.
Thursday's crowd outside the Capitol was diverse and multilingual. The Huffington Post spoke to attendees from all over the country, many of whom had begun traveling as early as 1 a.m. to be there. Some came on buses organized by their churches; some carpooled with family or friends. They offered a multitude of reasons for why they felt they should attend the rally -- and why they think same-sex marriage is a threat to America and possibly humankind.
"How are we supposed to reproduce in this nation if it's a man with a man and a woman with a woman?" asked Catherine Andujar of New York, who came to D.C. with members of her church.
Andujar said states that have passed same-sex marriage laws are "blinded by the enemy" and "didn't think twice about the human race." Asked about the idea of gay couples adopting children, she paused, but then said she didn't like that idea either.
"That child won't have a chance to live the way God intended us to live," Andujar said. "They will just keep the chain going and going. It will lead to no human race [or] reproduction."
Two women from Virginia who came together on a bus organized by their Catholic church said they were opposed to same-sex marriage -- "holy matrimony is the cornerstone of our country" -- but that civil unions for same-sex couples might be OK.
One of the women, Katie Donoghue -- who asked to be identified by her middle name because she had taken off work to attend the rally -- paused and shook her head. "I'm fearful of these incremental steps," she said. "They're teaching young children about bestiality now."
"And they're teaching them about sadomasochism," Andrea DelVecchio, her friend, added.
"And fisting!" Donoghue said. "Do you know what fisting is?"
DelVecchio and Donoghue, like others interviewed at the rally, emphasized that they did not hate gay people. "I have many friends who are lesbian, gay and transgender. I love everyone," Donoghue said.
Some attendees accused certain officials of backing gay rights for their own political gain. Robert Broadus of Maryland, who held up a massive U.S. flag, said the only reason his state legalized same-sex marriage is because its Democratic governor, Martin O'Malley, wants to run for president in 2016.
"He twisted arms, he threw people in jail, he ruined people's lives to push this through," said Broadus, who went on to criticize 2012 Republican presidential nominee Mitt Romney for ushering in same-sex marriage in Massachusetts when he was governor.
"Why does the Republican Party nominate Mitt Romney as their nominee when he is against God and he is against life?" asked Broadus. "How can we trust our politicians if both sides are working for the devil?"
Others couldn't help but credit gay rights advocates, begrudgingly, for their success in furthering their cause.
"Some very, very, very smart educated people got ahold of the gay movement about 20 years ago. They decided to go incrementally, and it's worked," said Mackie Christenson of Leesburg, Virginia. "They stopped having the parades in D.C. where people were wearing no clothes and leather and chains, and guys [were] making out on floats. They stopped doing that. They said OK, let's do this smart."
Christenson, who came to the rally on a bus with members of her church, called President Barack Obama "a liar" for saying he supports same-sex marriage since he didn't when he ran for president in 2007. She scoffed at the idea that he has evolved on the issue over the years.
"Oh, please," she said. "How would he have time to evolve on this issue? We've got the Ukraine on fire, the Middle East is a mess, unemployment. When would this evolvement happen? ... It's BS. It's like the conversion of Hillary Clinton."
To some, the crowd turnout didn't seem as large as it was last year. But they were hopeful that more people will be coming in the future.
"This march is in its infancy and we clearly have a long way to go, but we'll get there," said Donoghue.
"The young people get it," DelVecchio agreed.
Nearby, a 12-year-old girl named Jordan unfurled a rolled-up poster, revealing a phrase she had heard over and over that day and seen on hundreds of other signs: "Every child deserves a mom and a dad."
Rolling her eyes, she said her grandfather had brought her to the march.
"It's stupid," Jordan said, looking around at the crowd. "If two people feel a certain way about each other, then why shouldn't they get married? They shouldn't judge other people because of how they feel."