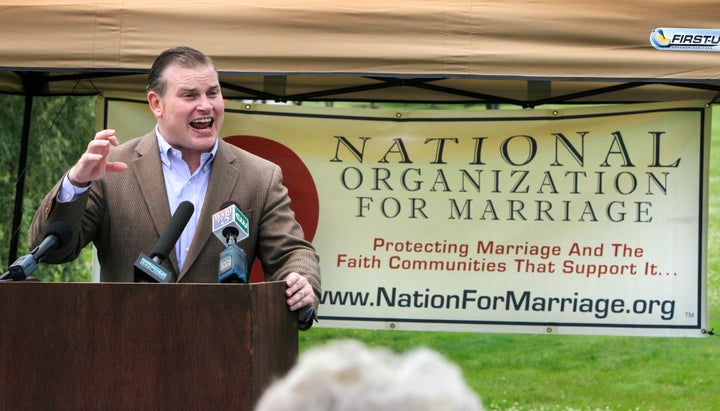 WASHINGTON -- The National Organization for Marriage (NOM) is the leading group fighting the legalization of same-sex marriage around the country. It has raised and spent millions, opposing not only marriage equality but also civil unions.
Yet NOM is now backing legislation in New Hampshire that would repeal same-sex marriage but legalize civil unions, signaling a shift in its tactics as more states move toward recognizing marriage equality.
The New Hampshire House is expected to vote Wednesday on a bill that would repeal marriage equality and replace it with a civil unions law that was in effect in the state in 2008 and 2009. Same-sex marriage was legalized in the state on Jan. 1, 2010.
State Rep. David Bates (R-Windham), the author of the bill, is also pushing for a ballot referendum in November asking voters, "Shall New Hampshire law allow civil unions for same-sex couples and define marriage as the union of one man and one woman?"
The referendum, however, would be non-binding so if voters opted to keep same-sex marriage, the state wouldn't necessarily have to listen. Repeal would still take effect on March 31, 2013, if Bates' bill passes.
NOM is backing this bill, even though it would leave civil unions in place in the state and would not nullify the almost 1,900 same-sex marriages already in place.
In the past, NOM has come out strongly against civil unions. Last year, it called the potential of civil-union legalization in Illinois a "direct threat" to marriage.
After Rhode Island legalized civil unions for same-sex couples last year, Christopher Plante, executive director of the Rhode Island chapter of NOM, said it was a "disappointing and dangerous day."
NOM did not return a request for comment. But its backing of Bates' bill -- and the bill itself -- seems to be an incremental approach in the fight to keep marriage defined as being between one man and one woman, which is a tactic abortion opponents have used for years. Essentially, the group seems to be wagering that if it can't get unions between same-sex couples completely repealed at this point, one step backward -- away from full marriage rights -- is at least a move in the right direction.
"This is complete and total policy reversal coming from one of the nation's most virulently anti-gay organizations," said Human Rights Campaign President Joe Solmonese in a statement on Monday. "It smells like a Mitt Romney-style flip flop for short term gain. NOM's phoniness and opportunism never cease to amaze."
Calling all HuffPost superfans!
Sign up for membership to become a founding member and help shape HuffPost's next chapter
BEFORE YOU GO