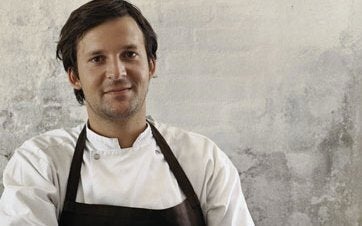 The top North American restaurant, also for the second straight year, went to Grant Achatz's Alinea, which moved up one spot in the rankings to No. 6. Thomas Keller's Per Se rounded out the top 10 and was the second-ranked North American restaurant on the list.
The awards are decided by over 800 international restaurant industry experts, though there is no predetermined set of criteria, but rather just a simple computation of votes. The judges are divided into 27 different world regions, in which a chairman for each region appoints 30 jurors, including journalists, chefs and restaurateurs and food lovers. Each juror can vote for seven restaurants, and only four are allowed to be from the juror's region.
Controversially, the 50 Best organization does not require the jurors to turn in receipts, nor prove that they visited the restaurants they vote for, as the New York Times discussed in the recent article, "The World's 50 Best Restaurants? Says Who?". Other pitfalls of the process are discussed, including countries' tourism arms treating jurors to all-expenses-paid junkets to expose them to specific restaurants, and that jurors may actually include chefs that are also eligible to be on the list.
The impact of scoring a top 50 nod can be huge for restaurants even at the lower end of the list, Claude Bosi of London's Hibiscus (at number 43 this year) explained to the Times: "Business after the awards was, like, stupid."
Launched only a decade ago, the S. Pellegrino top 50 list is already stealing some of the Michelin Guide's thunder, though it does tend to favor more contemporary restaurants, as The Telegraph points out.
This year, two awards were announced in advance of the Top 50 list. A new award, the Veuve Clicquot World's Best Female Chef, went to Anne-Sophie Pic of the three-Michelin starred restaurant Maison Pic in Valence, France. Juan Mari Arzak received the Lifetime Achievement award, recognizing his work for his family's restaurant, Arzak, which has been operating since 1897.
Notably absent from the list this year is Ferran Adria's El Bulli, which Adria chose to withdraw from the competition because it will be serving its last meal in its current incarnation on July 30 of this year, before becoming a gastronomic think-tank, of sorts.
2010 ranking in parentheses
1 Noma, Denmark (1)
2 El Celler De Can Roca, Spain (4)
3 Mugaritz Spain (5)
4 Osteria Francescana Italy (6)
5 The Fat Duck, U.K. (3)
6 Alinea, U.S. (7)
7 D.O.M, Brazil (18)
8 Arzak, Spain (9)
9 Le Chateaubriand, France (11)
10 Per Se, U.S. (10)
11 Daniel, U.S. (8)
12 Les Creations De Narisawa, Japan (24)
13 L'Astrance, France (16)
14 L'Atelier De Joel Robuchon, France (29)
15 Hof Van Cleve, Belgium (17)
16 Pierre Gagnaire, France (13)
17 Oud Sluis, Netherlands (19)
18 Le Bernardin, U.S. (15)
19 L'Arpege, France (Re-Entry)
20 Nihonryori Ryugin, Japan (48)
21 Vendome, Germany (22)
22 Steirereck, Austria (21)
23 Schloss Schauenstein, Switzerland (30)
24 Eleven Madison Park, U.S. (50)
25 Aqua, Germany (34)
26 Quay, Australia (27)
27 Iggy's, Singapore (28)
28 Combal Zero, Italy (35)
29 Martin Berasategui, Spain (33)
30 Bras, France (Re-Entry)
31 Biko, Mexico (46)
32 Le Calandre, Italy (20)
33 Ristorante Cracco, Italy (Re-Entry)
34 The Ledbury, U.K. (New Entry)
35 Chez Dominique, Finland (23)
36 Le Quartier Francais, South Africa (31)
37 Amber, China (New Entry)
38 Dal Pescatore Italy (36)
39 Il Canto, Italy (40)
40 Momofuku Ssam Bar, U.S. (26)
41 St John, U.K. (43)
42 Astrid Y Gaston, Peru (New Entry)
43 Hibiscus, U.K. (49)
44 La Maison Troisgros, France (44)
45 Alain Ducasse Au Plaza Athenee, France (41)
46 De Librije, Netherlands (37)
47 Hotel De Ville, Switzerland (14)
48 Varvary, Russia (New Entry)
49 Pujol, Mexico (New entry)
50 Etxebarri, Spain (Re-Entry)