Nomad PNW would be the coolest coffee shop on the block in any Seattle or Portland neighborhood, but opening instead among the rustic storefronts in the tiny town of Wilkeson (population: 485), it sticks out like a sore thumb – but in a good way.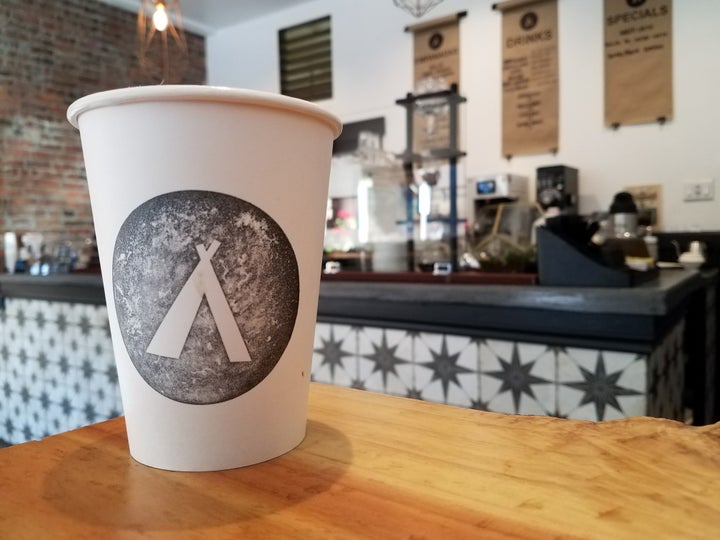 Just a stone's throw from the Carbon River entrance to Mount Rainier National Park, Wilkeson is an unlikely place for a design-forward, third-wave café. Housed in a slightly newer addition to a historic row of storefronts that doesn't appear to have changed much since the town's 1880s heyday as a mining town, you might expect to see a hitching post outside.
Inside, however, the minimalist-nature aesthetic is purely modern Pacific Northwest. Live-edge wood tables surround the small seating area, and black-and-white topographical maps are meticulously spaced across the otherwise-sparse walls. A cart along the wall, brimming with caps, beanies, camp-style mugs and other merch emblazoned the chic Nomad logo are the first signs that Nomad knows exactly how cool it is.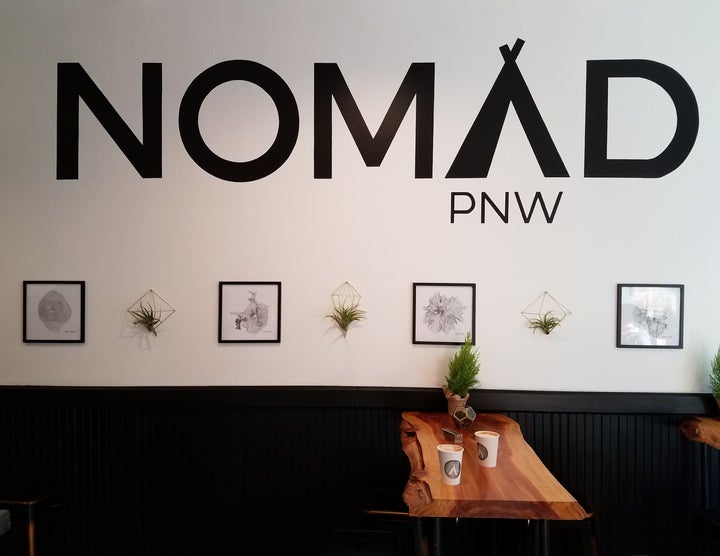 But if you've come this far for a visit, it's probably less for the décor, and more for the coffee and food.
Serving up Seattle-based Anchorhead's finest single-origins (heavy on the Guatemalan and Ethiopian), the usual mochas, lattes, espressos, cappuccinos and Americanos are brewed to perfection by owners Jeff and Felicia and their team. But it's their one-offs and pet projects that provide one of the most interesting – and delicious – reasons to make the trip to Nomad.
Ever since Jeff and Felicia opened their doors last December, they've been happy to give customers a behind-the-stage peek at some of their unique coffee contraptions. A two-foot-tall, three-tier Yama cold-brew drip tower, for instance, sits behind the counter. A gravy-powered system made of delicate Taiwanese glassware, the Yama maker can take almost a full day to brew, but the result is absolutely unique. The light, fruity, cold-brewed coffee comes out looking almost like green tea, and carries a light, fruity flavor and zero alkaline bitterness. Another behind-the-counter device that allows Jeff to add a theatrical flair to the Nomad experience is a Bunsen-burner powered syphon filter that requires precision and attention from the barista, but delivers a strong, smooth cup of coffee that explodes with aroma, but no grittiness.
At least as much attention has gone into the food menu as into the coffee, and everything is crafted in house. The empanadas have light, flaky crusts cooked to a golden brown around piping-hot spinach filling, and the similarly house-made chimichurri sauce adds an intense, but not too spicy, kick. On the sweet side of the menu, gingerbread cookies and molasses bars are fresh daily.
While foot traffic might not be Nomad's bread and butter, boot traffic from hikers, climbers, snowshoers and skiers heading to and from Rainier is what Jeff envisions providing a steady stream of regulars. The combination of stylish décor, high-end brews and showmanship could easily also make it a destination for coffee pilgrims from the entire Pacific Northwest.
Related
Popular in the Community