All students deserve a safe, violence-free environment that supports and enhances their academic experience. Yet all too many teens and young adults suffer from sexual assault and experience the traumas that can diminish their aspirations. That is why not only do we need to do more to end the epidemic of sexual assault - we also need to lift up the heroes who do the quiet work, every day, to prevent and address sexual violence.
In April, we are going to do just that. In honor of National Sexual Assault Awareness and Prevention Month, It's On Us and the White House Task Force to Protect Students from Sexual Assault will host a Champions of Change event to honor outstanding leaders in the movement to end sexual violence in schools - and we need to hear from you. We are looking for nominations to recognize student leaders who are dedicated to making campuses safe for everyone.
The White House Task Force to Protect Students from Sexual Assault has taken several steps to strengthen the support and resources available to survivors and to combat sexual violence on college and university campuses. Led by the Vice President and the White House Council on Women and Girls, the Task Force was created by President Obama to promote an interagency effort to address sexual violence in educational settings. Since its inception on January 22, 2014, the Task Force has provided recommendations and resources for schools, encouraged collaboration within communities, and launched a public awareness campaign and cultural movement to better address this issue. They released their first report in April 2014 and a resource guide in September 2015.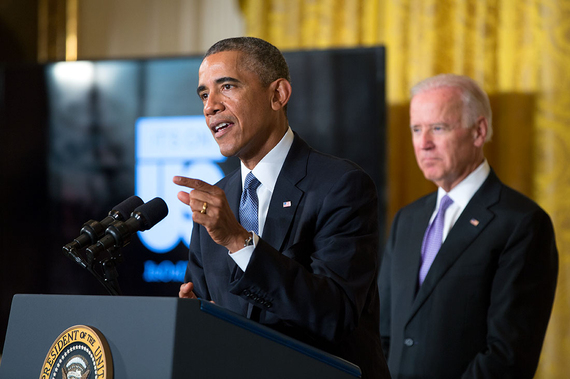 President Barack Obama, with Vice President Joe Biden, delivers remarks at an event to launch the "It's On Us" campaign, a public awareness and action campaign designed to prevent sexual assault at colleges and universities, in the East Room of the White House, Sept. 19, 2014. (Official White House Photo by Pete Souza)
The "It's On Us" campaign seeks to engage college students and all members of campus communities in preventing sexual assault. President Obama and Vice President Biden launched the campaign in September 2014 in partnership with Generation Progress, student body leadership from nearly 200 colleges and universities across the country, collegiate sports organizations such as the NCAA, and private companies that have strong connections with students at colleges and universities. The campaign builds on the recommendations put forth by the White House's Task Force to Protect Students from Sexual Assault, and is part of the ongoing commitment that President Obama and Vice President Biden have to ensuring that each of us - both men and women - is part of the solution. Since its launch, "It's On Us" has engaged students at almost 500 schools in 48 states, had more than 250,000 people sign the "It's On Us" pledge, and worked with community members and celebrities alike to support survivors and change the culture around sexual assault.
As the country continues to combat sexual violence, it is important to recognize those who have contributed to the progress we have already achieved. This Administration is committed to inspiring change, but we know the biggest impact comes from leaders within each community. If you know someone who is a leader against sexual and dating violence, help us honor his or her great work by nominating them to be a Champion of Change.
Nominees should be students who have acted as leaders to mobilize others to change the culture around sexual assault and dating violence or create systemic changes.
Nominate an It's On Us Champion of Change by Thursday, March 3rd at 11:59 p.m. ET. Click here to submit your nomination.
Calling all HuffPost superfans!
Sign up for membership to become a founding member and help shape HuffPost's next chapter