Maria Munir hadn't even told their parents yet about their gender identity when they confronted the president about transgender rights during a town hall meeting in London.
"I'm about to do something terrifying, which is coming out to you as a non-binary person, which means that I don't fit within ― I'm getting emotional, I'm so sorry," Munir began to tell President Barack Obama and at least 500 other youth leaders at Royal Horticultural Halls on Saturday.
Munir, 20, who attends York University, does not identify as being either female or male, and asked what the president would do to help solidify the rights of the transgender community.
"In the UK we don't recognize non-binary people under the equality act ... I wish yourself and David Cameron would take us seriously as transgender people, and perhaps you could elucidate what you can do to go beyond what has been accepted by the LGBTQ rights movement, in including people who fit outside the social norms?" Munir asked, according to Sky News.
"I know that in North Carolina, people are having to produce birth certificates to go to the toilet," Munir told the president.
"You should feel encouraged social attitudes are changing ... [that] doesn't mean it's fast enough, but you should keep pushing and it's in part due to the courageous acts of young people like yourself," Obama responded.
Munir told the BBC it was important to come out to the president to help destigmatize thoughts about the trans community.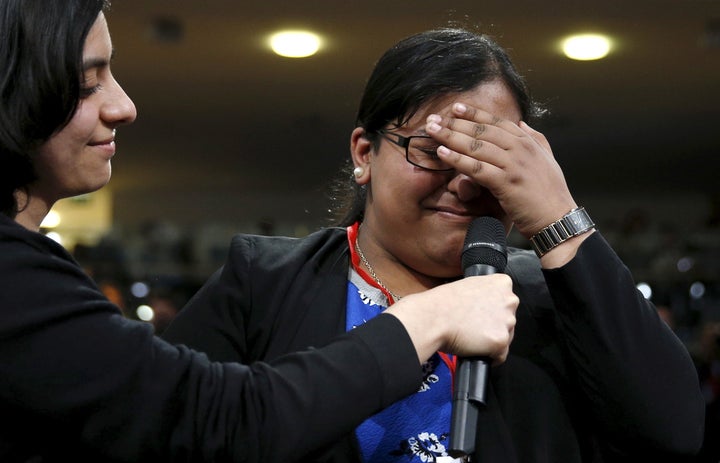 "If I can use myself as a sacrifice, of maybe being ostracised by my community, maybe I will be able to prevent other young people from being ostracised by their community," Munir told the outlet. Munir said they had not yet come out to their parents, but knows that "they will accept me when they see how much of a change I can have throughout the world."
During the town hall, Obama also admitted it took his daughters and Vice President Joe Biden to change his position on marriage equality from a strictly legal issue to a social one.
"I have to confess my children generally had an impact on me," Obama said. "People I loved who were in monogamous same-sex relationships explained to me what I should have understood earlier, which is it was not simply about legal rights but about a sense of stigma, that if you're calling it something different it means that somehow it means less in the eyes of society."
Correction: An earlier version of this article stated that the town hall took place at York University. The town hall actually took place at Royal Horticultural Halls.
REAL LIFE. REAL NEWS. REAL VOICES.
Help us tell more of the stories that matter from voices that too often remain unheard.