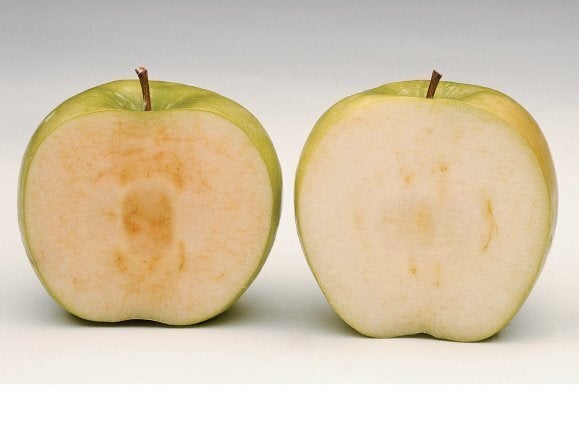 You know how the old story goes: You want to eat an apple. You cut into that apple. The apple turns brown. You no longer want to eat that apple.
Why, you might be wondering, do we need a non-browning apple? We'll let OSF founder and apple-grower Neal Carter explain:
We all like innovation that helps to alleviate waste, there's no doubt about that. But we start to get a little twitchy when science messes with our food too much. Remember how stressed out people were about the stuff that made ketchup fly out of the bottle? According to OSF's website, they plan to branch out into peaches, cherries and pears as well.
According to The New York Times, apple growers are just not convinced yet. They quoted Christian Schlect, president of the Northwest Horticultural Council thusly, "We don't think it's in the best interest of the apple industry of the United States to have that product in the marketplace at this time."
Some, like Lucy Sharratt, coordinator of the Canadian Biotechnology Action Network, have expressed concern that this genetic modification would impede the apple's natural ability to let us know when they're rotten (although Carter says a rotten apple will still look rotten and wouldn't be effected by the modification). Sharratt also expressed concern that this will further pervert the human connection to our modern food system, by turning the apple into a "industrialized product sold in plastic bags," rather than a fruit that grows on a tree.
Related