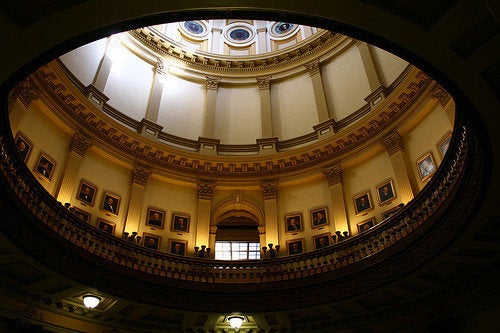 *** Update ***
The Colorado Springs Gazette reported Wednesday that El Paso County attorney Bill Louis would like to authorize his office to intervene in the case on behalf of El Paso County. The move could enable Louis to list El Paso County as a defendent along with the state, or as "a friend of the court," and either participate in the deliberations or issue a brief to the court.
A non-partisan commission of at least 30 past and current legislators announced Monday that they've filed a lawsuit against the 1992-enacted Colorado Taxpayer's Bill of Rights, more commonly known as TABOR.
The state constitutional amendment was championed by Douglas Bruce, a state representative from Colorado Springs who is succeeded by current Representative Mark Waller. After its passing, Bruce told the Associated Press TABOR "was the most important event in Colorado since statehood."
The lawsuit however calls TABOR unconstitutional, arguing that its tax and spending limits are so strict that the government has little room to maneuver. Under TABOR, lawmakers are required to ask voters before they can raise taxes, and ties the amount of money the government may spend to a fixed rule: that government cannot grow faster than the rate of inflation and population growth.
While the purpose of TABOR was initially to restrict the growth of government, it didn't make a provision that would allow for increased productivity. Taxpayers have a mandate to refunds for surplus revenues, rather than that surplus going to the state and being spent elsewhere--which, according to the Center on Budget and Policy Priorities, has directly influenced Colorado's now infamous education cuts.
Under TABOR, higher education funding per resident student dropped by 31 percent after adjusting for inflation; after TABOR's suspension, it declined by another 3 percent.

Tuitions have risen as a result. Between 2002 and 2005, system-wide resident tuition increased by 21 percent (adjusting for inflation); since that time it has increased by 31 percent.
Republican Arizona Governor Jan Brewer voted against a similar TABOR-like measure last month, according to the Associated Press:
Colorado is among three states, along with Oregon and Oklahoma, that have a combination of tax and spending limits, but Colorado is the only one that requires voter approval for all tax increases, NCSL said. Missouri and Washington require voter approval for taxes, but only when they're over a certain amount.

The Florida Legislature agreed earlier this month to put a measure modeled after TABOR on the state's 2012 November ballot. Last month, Republican Arizona Gov. Jan Brewer vetoed a proposed spending limit similar to Colorado's formula, saying the measure would be too restrictive.
WATCH:
REAL LIFE. REAL NEWS. REAL VOICES.
Help us tell more of the stories that matter from voices that too often remain unheard.