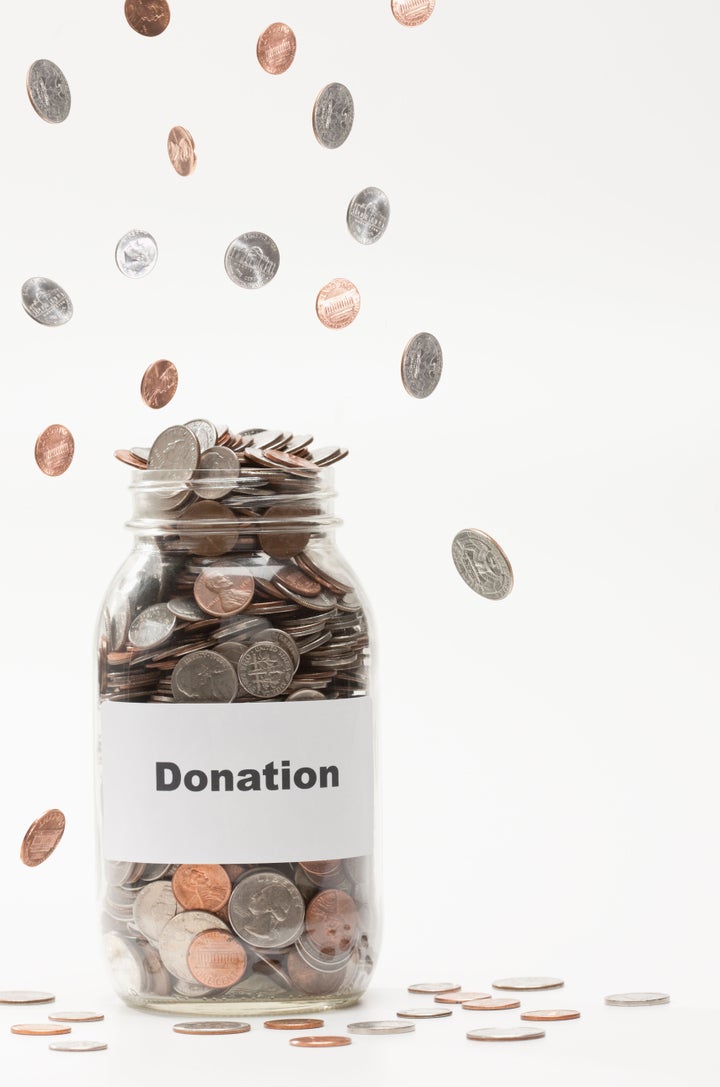 There is something to be said about strong roots. The midwestern United States experienced its worst drought in half a century this summer. Here in the state of Illinois, more than 95 percent of the state was in a state of "severe drought" or worse.
Even in the midst of a drought like we saw this summer or storms like Hurricane Isaac, which slammed the Gulf Coast in late August, a tree with strong, deep roots can stand fast, living for decades through all kinds of adversity -- eventually, perhaps, becoming a sturdy giant and producing seeds for many others to grow.
For those of us who work in philanthropy, we are continually looking for how we can strengthen organizations that operate in their own types of droughts -- environments where their services are often most critical when funding is scarce, as demonstrated unambiguously by the recent financial crisis. Working in this type of environment requires strong roots. Yet all too often, grantmakers are focused on seeing immediate results from their grants neglecting the foundational roots that build the resilience required to sustain a non-profit organization for the long-term. As a result, grantees go without proper support for capacity building.
Capacity building, at its most basic, strengthens non-profit's strategy, processes and leadership in ways that enhances their ability to achieve results. With capacity building support, grantees can establish the roots they need to survive in shifting or harsh climates.
Some common forms of capacity-building support are providing funding for technology, strategic planning or leadership development. Foundations can also strengthen non-profits' capacity through helping to build new communications vehicles, fundraising strategies, and strengthening human resources and financial management capabilities.
In the private sector, these types of investments are routine. A business that isn't closely examining its communications strategy or embracing new technology won't thrive in a competitive market. It shouldn't come as a surprise that similar investments are critical for supporting strong non-profits. Yet, non-profit organizations often operate in an environment that forces them to exhaust their limited resources on the immediate programmatic demands they face.
The Hartford Foundation for Public Giving, a community foundation serving Connecticut's Capitol Region, launched an initiative in 2001 to increase the organizational capacity of mid-sized multi-service agencies in the Greater Hartford area. The foundation provided three-year grants to twelve agencies whose current capacity had been assessed and who had identified projects that would strengthen the agencies' work toward their missions.
"By any conceivable measure this Initiative was highly successful in building capacity among the agencies that were part of it," said a 2009 evaluation of the initiative by the foundation. Among the consequences of the initiative was an increase in revenue for all but two of the agencies. At least four of the agencies expanded "so substantially that they have required new quarters," and "one increases its budget by 170 percent over the course of the Initiative."
In the late 1990s, when GEO was formed, it was uncertain whether capacity building would find its way into the core of foundations' grantmaking strategies. GEO's 2011 study of grantmaker practice found that not only are a majority of grantmakers providing capacity building support, but that number has held steady following the economic recession. Capacity building is here to stay. Still, there's room for progress. Capacity-building support remains difficult to come by for non-profits, and one in three grantmakers still aren't providing capacity-building support.
In our work learning from grantmakers and grantees about what leads to effective grantmaking, we continually find that success hinges on a grantmaker's openness to advice and external input. For evidence of this regarding capacity building, just take a look at these two graphs from our field study 'Is Grantmaking Getting Smarter?'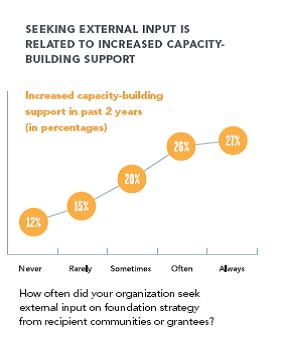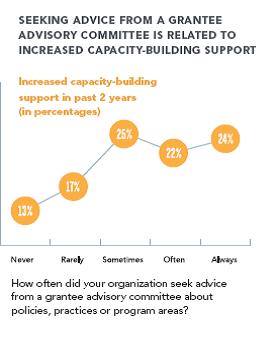 Of organizations that increased their capacity building support between 2008 - 2011, only 27 percent were organization that "rarely" or "never" sought external input on strategy from recipiet communities or grantees. Ambitious funders design their funding strategies by listening to people on the ground who know the real needs of their communities. We must listen to those on the front lines, those who know the soil that the roots must grow in.
It's also hard to understate the benefits that leadership and talent development provide to organizations. A new briefing paper from GEO's Scaling What Works initiative examines the practices of funders that have strengthened their grantees by strengthening their leadership -- not just executive leadership but emerging leaders throughout the organization as well. Non-profits tend to face some of the messiest, toughest problems society has to offer. From a financial standpoint, investing in leadership development is a low-cost investment with high-yield results. Without an investment in talent and the retention of talent, organizations will struggle to meet demands. Nothing builds stable roots like stable leaders.
The Barr Foundation invests in strong leaders in a way that strengthens not only individual organizations, but the entire non-profit ecosystem in Boston. Each year Barr selects 12 non-profit executive directors working in Greater Boston to participate in The Barr Fellowship. The fellowship begins with a three-month sabbatical, during which the fellows learn together, are inspired by activists enacting bold changes with limited resources, gain a better understanding of the challenges other leaders are up against, and spur each other on to reimagine a new horizon for Boston's non-profits. While the fellow is on sabbatical, the Barr Foundation also provides the fellow's organization with a $40,000 flexible grant to cover costs that may arise from the fellow's absence, which ultimately results in the organization strengthening leadership from within. The fellows continue to meet together for three years and join a larger network of former fellows that has responded creatively and collectively to a number of community challenges.
At GEO, we are committed to being on the forefront of conversations about grantee capacity building. Currently, we are in the process of finalizing our own in-depth landscape scan to understand the newest approaches and challenges to this work. Additionally, a convening of leading grantmakers is exploring the subject in a six-month Collaborative Non-profit Capacity-Building Lab (CCBLab) led by GEO. Our Scaling What Works initiative is also active visiting cities across the U.S., leading workshops on how to build capacity for evaluation and learning. Of course, if you have an example of effective capacity building efforts that might strengthen the next phase of our work, consider sharing it with GEO.
Many of the questions that we face and the issues that we are up against are deep-rooted themselves. Yet, by funders working together with non-profits and the communities they serve, I'm convinced, we will weather whatever droughts may come and thrive in the greener days that follow.
Popular in the Community