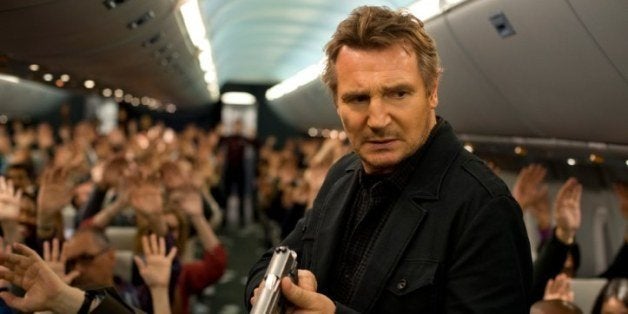 It's rare that I don't see a big budget studio movie before release –- especially a movie that is currently number one at the box office, as is the case with the Liam Neeson thriller "Non-Stop." Now, I did my best to avoid "Non-Stop" because, frankly, I am terrified of flying and this movie happens to be about a distressed commercial airliner. There was no way I was going to see "Non-Stop" unless Liam Neeson himself wanted to take me on a tour of New York City. No way.
Now, my hope was that "Non-Stop" would have a modest weekend at the box office, then drift off into obscurity. Instead, it's the number one movie at the box office –- grossing just under $50 million so far worldwide -- and it's apparent I just can't ignore this movie any longer.
So, on Tuesday morning, I bought a ticket to "Non-Stop" at the Beekman Theater on Manhattan's Upper East Side and attempted to face my fears. While watching, I kept a running diary. Here's how that all went. (Yes, some spoilers ahead.)
11:57 a.m.: "Non-Stop" opens with a shot of Liam Neeson at the airport with a distressed look on his face, drinking booze. I completely relate to everything that's going on in this movie so far.
12:00 p.m.: I am three minutes into this movie and I am miserable.
12:05 p.m.: Honestly, this is the fanciest commercial airliner I have ever seen.
12:06 p.m.: I can only assume that these people are flying Truffle Air.
12:07 p.m.: Lupita Nyong'o is in this movie. She just won an Oscar. She's playing a flight attendant.
12:08 p.m.: Liam Neeson is freaking out a bit as the plane takes off because it frightens him. I will not be surprised if I see my name in the credits as "How To Act Like A Nervous Airplane Passenger Consultant."
12:09 p.m.: Julianne Moore just reclined her seat all the way back after takeoff. I can only assume that I'm sitting right behind her.
12:13 p.m.: The flight attendants on Truffle Air look like they're wearing Starfleet uniforms.
12:16 p.m.: So far, the lesson I've learned from watching "Non-Stop" is that I should start smoking.
12:16 p.m.: We also just learned that Liam Neeson is an air marshal, but I already knew that before I bought my ticket.
12:17 p.m.: Liam Neeson has just been informed that someone is going to do something bad on the plane and I hate this experience.
12:19 p.m.: The pilots are in the cockpit laughing, having a nice time. Hey, eyes on the sky, fellas.
12:22 p.m.: The plane is experiencing extreme turbulence. I don't like this movie. Why am I watching this?
12:22 p.m.: Liam Neeson just killed who he thought was the bad guy. Okay! Case closed, huh? All in 25 minutes! Not bad!
12:22 p.m.: I'd actually be down with the idea of "Non-Stop" only being 25 minutes long.
12:26 p.m.: Liam Neeson just described what's all going on as "an innocent prank." There is a dead man in the lavatory.
12:32 p.m.: Liam Neeson just announced that there will be a "random inspection" of the passengers on the flight. Could you imagine if that were a thing?
12:42p.m.: The plane just made a huge dip. I can't do this.
12:44 p.m.: The plane dipped because the pilot is dead. Who's laughing now, chuckles?
12:44 p.m.: I can only assume the pilot ate the fish for dinner.
12:46 p.m.: I hope Ted Striker winds up flying this plane.
12:47 p.m.: Liam Neeson … Leslie Nielsen? Coincidence?
12:48 p.m.: (Okay, I'm done. I'm sorry.)
12:53 p.m.: Julianne Moore looks so amused that she's in this movie.
12:57 p.m.: Why did I agree to do this?
12:59 p.m.: Liam Neeson just said, "I hate flying." This is now my favorite movie quote.
1:03 p.m.: The passengers are watching their own ordeal on the in flight satellite TV that Air Truffle offers. They are getting news of their impending death from Pat Kiernan on NY 1.
1:07 p.m.: You know, I've had worse flights.
1:08 p.m.: Okay, so there's a bomb on the plane that they have found and it's right in front of them. Can't they just fly low, open the door and throw it out of the plane?
1:10 p.m.: I am going to name my first born "Scoot."
1:15 p.m.: Okay! So it was just explained why they can't just through the bomb out of the plane.
1:19 p.m.: I just remembered that Lupita Nyong'o is still in this movie. She walked by. I think she said something, too.
1:24 p.m.: While mocking Liam Neeson, the bad guy just said, "Do you have any idea how easy this was." If I'm being honest, all of this seemed extremely complicated.
1:28 p.m.: The plane is in freefall.
1:28 p.m.: Oh my god I hate this.
1:29 p.m.: I have nightmares about this very thing.
1:30 p.m.: They are in zero gravity now. Of course, Liam Neeson uses this predicament to do something cool.
1:32 p.m.: I never want to be on a plane in which the only surviving pilot is whispering to himself, "Come on, you can do this," as he tries to land.
1:34 p.m.: The Air Truffle flight has crash landed on a runway in Iceland. But everyone seems okay! (Well, except for the people who got shot.)
1:36 p.m.: How are these people getting home? Will they get on another plane? I'd take a boat. I might take a boat from now on anyway.
1:36 p.m.: And the end credits roll.
1:37 p.m.: That was okay.
1:40 p.m.: This is a small theater that only has two theaters. As I'm leaving, a man approaches the box office -– where it clearly says "Non-Stop" and "American Hustle" –- and asks, "Hey, you guys got that 'Wolf of Wall Street'? The person at the box office responds, "No, just 'American Hustle' and 'Non-Stop.'" The man ponders this response for a few second, looks at the person behind the counter and says, "Nah," then walks away into the abyss.
Mike Ryan is senior writer for Huffington Post Entertainment. You can contact him directly on Twitter.