By now, most of us know the importance of eating healthy, unprocessed, organic and local foods. But how about your vanity and makeup bag? Chances are, you have dozens of skincare and makeup products that are full of ingredients you can't pronounce.
Since you're not ingesting these products, you might think that you can let these just...slide. At least, I used to think that way. It was only two years ago that I became aware of the alternative to conventional skincare: natural skincare without harsh chemicals, preservatives, or endocrine disruptors. Since then, I've gradually transitioned to "green" my skincare and makeup products. Here are some reasons to consider:
1. Toxins: Conventional beauty products contain untold amounts of chemicals, which are not regulated by the FDA. This means companies can develop and use any kind of chemical without first going through approval process--it's basically, innocent until proven guilty. But many of these chemicals have already been linked to serious health issues, like these below.
-Parabens: A preservative in about 85% of beauty products out there, parabens inhibits microbial growth and increases shelf life. This is how conventional makeup can stay good on the shelf for months and years. Parabens has been shown to mimic estrogen in the body, and is linked to increased risk of breast cancer.
-Phthalates: Phthalates are a group of plasticizers that soften plastics and vinyl--but they're not just in ostensibly plastic things like toys and food wrappings. They are present in most beauty products, even in things that don't recall plastic at all, like perfumes. They are known endocrine disruptors, linked to obesity, hormonal acne, and birth defects.
Other common ingredients in conventional makeup and skincare to watch out for, include mica (adds shimmer; mostly mined by child laborers in India), formaldehyde (carcinogen; in hair dye, nail polish, deodorant), and more.
2. Cruelty-free: Most beauty brands test on animals like rabbits, beagles, mice, and more, subjecting them to years of repeated topical application or ingestion of chemicals--not at all a glamorous picture.
The great news is that it's easier and more fun than ever to choose natural alternatives to conventional beauty products. When I was using luxury skincare and makeup, I was frustrated by chronic skin problems, including hormonal acne. Since switching to chemical-free and vegan beauty products, I've experienced so much improvement with my skin--and confidence. Here's how to build up your own natural beauty regimen (all vegan-friendly and organic, too!).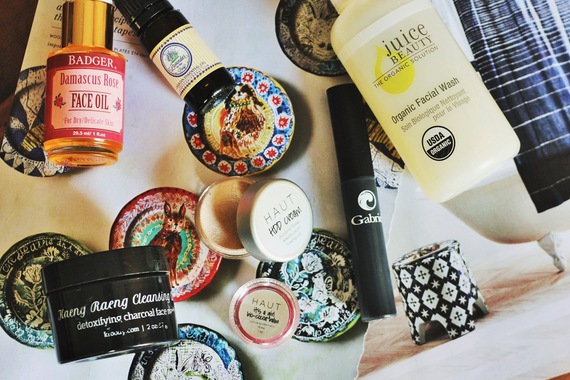 1. Foundation
Conventional foundation, no matter how expensive or designer, is loaded with aforementioned preservatives and plasticizers that allow them to stay on the shelf for more than a year at a time. Choose natural, mineral-based foundation instead, like Haut Cosmetics HDD Cream. It's made with Canadian glacial clay, rosehip oil, and mineral pigments, and so pure and free of preservatives that I keep mine in the fridge--yet it's highly effective and gives you a HD-ready, diffused glow.
2. Mascara
Despite the fact that it goes on one of the most sensitive areas of your body, common mascaras contain things like aluminum powder (neurotoxin), mercury, and more. Use natural mascaras instead: I use Gabriel Mascara, a lengthening and thickening formula made with botanical ingredients (first one on the list is aloe juice infused water).
3. Lipstick
Between eating and drinking, we ingest a lot of lipstick--which is typically made with the aforementioned culprits, plus metals like cadmium and lead. I use natural lipsticks and tints using botanical oils and mineral tints, like Haut Cosmetics Bio-Coco Balm. Other great brands to try are Pacifica, Marie Natie, and Gressa.
4. Cleanser
Botanical oil-based cleansers gently cleanse the skin without harsh chemicals, which is actually helpful if you have blemish-prone skin. I like Juice Beauty Organic Facial Wash, which leaves skin feeling soft and clean. Plus, the ingredients list sounds more like a fancy juice than a cleanser--think white grape juice, apple juice, aloe, sunflower and jojoba oils.
5. Mask
While cleansers are meant to be washed off the face, masks and creams are supposed to penetrate into your skin--which is why it's worth being doubly cautious about these items. Instead of creamy facial masks containing additives, I prefer all-natural masks with just clay, charcoal, and natural oils. I swear by Kaeng Raeng Detoxifying Charcoal Mask, which deep cleanses, calms, and balances your skin with clay, Himalayan salt, and gardenia oil.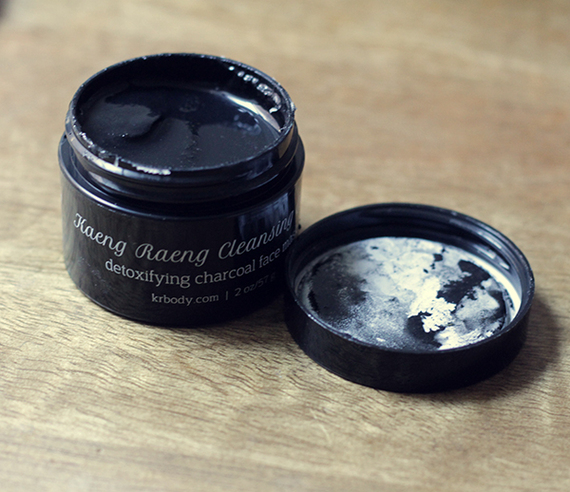 6. Moisturizer
Lotions and creams contain binding or texturizing agents like dimethicone, so I've been using oils exclusively as my moisturizer for over a year, to great results. There are so many great plant oils depending on your skin type. I like trying different oils: rose hip oil is great for discoloration, jojoba is nourishing, and my secret weapon, lavender essential oil is anti-bacterial and calms inflammation. (Make sure to blend essential oil with carrier oil like argan, jojoba, or sweet almond oil to diffuse).
Detoxifying my makeup bag and bathroom counter has been one of the best decisions I've ever made--you won't regret it! What natural, organic, cruelty-free brands have you tried? Let me know if you have any questions!