An unlikely star of the brand-name beer industry is beer that doesn't give you a buzz.
Beer giants have been contending in recent years with saturation in what are traditionally their biggest markets -- the U.S. and Western Europe -- as drinkers turn increasingly to craft brews and boozier spirits. With options for growth limited to buying craft breweries or creating new craft-like brews, big-name beer makers are looking to corner the market on drinks that have little or no alcohol.
"We have seen an upside from nonalcoholic," Heineken CEO Jean-François van Boxmeer told The Huffington Post. "That's been a source of growth for our business."
Non- and low-alcoholic beers have been around for decades, but they're often thought of as being the less tasty and edgy cousins of the boozy stuff. But as beer companies look to stave off decline, they hope to capitalize on a growing interest in the less buzzy varieties by launching new non- and low-alcoholic beers to woo customers searching for that beer taste after working out, during a professional event or as an alternative to soda.
The world's third-largest brewer, Heineken is currently piloting a new brand, Maxx, an all-natural version of its nonalcoholic beer, in five markets. In 2013, the company launched its first radler, a drink that's 60 percent lemonade, 40 percent beer and has either 2.0 percent alcohol by volume or zero percent alcohol by volume. The company has expanded its radler line to 41 markets and several different brands, and it's had some success so far.
Revenue from Heineken's "innovation" category, a sector that includes low- and nonalcoholic beverages like radlers, as well as experimental drinks like a tequila-infused beer, grew 7.7 percent last year, outpacing the 3.3 percent growth in revenue for the company overall.
European beer makers Anheuser-Busch InBev, the world's biggest brewer, and Carlsberg, another industry leader, have been pushing non-alcoholic varieties of their own in Europe for a few years, to the Wall Street Journal.
"In the rich and developed world you see a consumer trend going toward more specific offerings and away from big-ticket brands," van Boxmeer said. "People are in the discovery mode. They want to be surprised, and they want to be excited by discovering new things."
The worldwide beer market was a $282.8 billion industry in 2013. But by 2018 it's expected to shrink 3.5 percent in North America and more than 4 percent in Europe, according to market research firm Euromonitor International. Young people are leading this trend in the U.S.: In a 2013 Gallup survey, just 41 percent of 18- to 29-year-olds said they preferred beer over wine and liquor, compared to 71 percent of young adults in the early 1990s.
"Basically it's a disaster," Spiros Malandrakis, a senior alcoholic drinks analyst at Euromonitor, said of the upheaval.
At the same time, interest in non- and low-alcohol beers has been growing worldwide. Sales in this niche market increased from $3.36 billion in 2008 to nearly $5 billion in 2013, and they're projected to grow to $6.5 billion by 2018, per Euromonitor.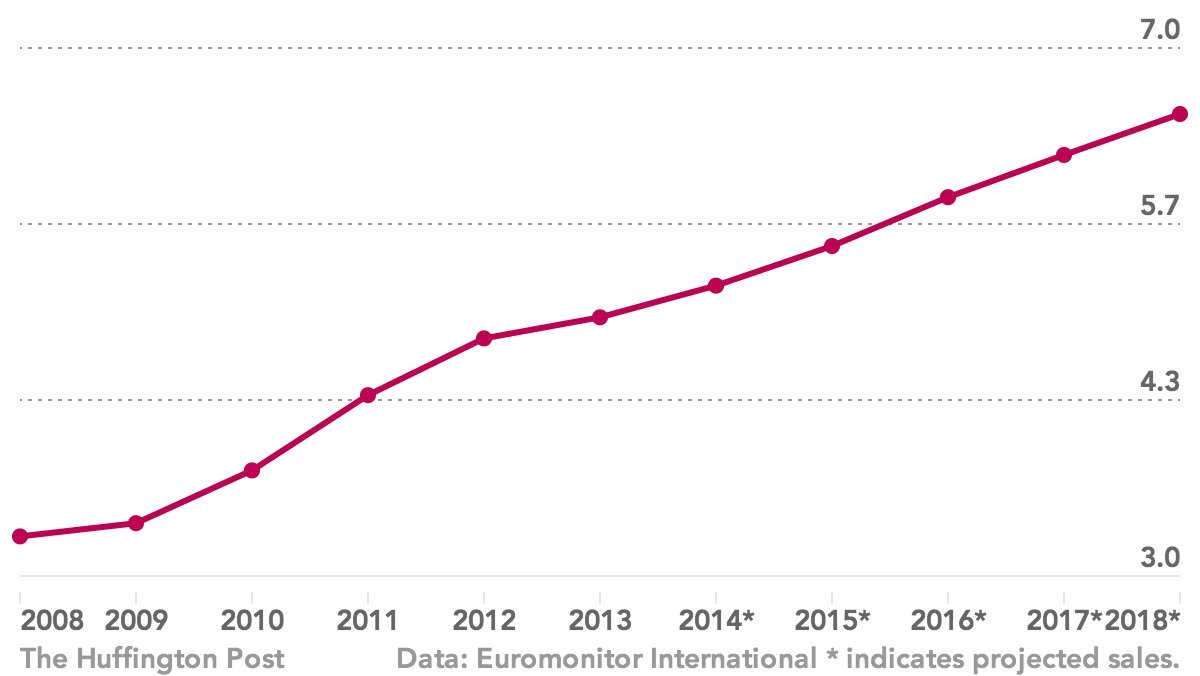 Worldwide sales of low- and nonalcoholic beer in billions of U.S. dollars, according to Euromonitor.
These beverages are particularly popular in religious Muslim countries, where drinking is frowned upon in social settings. In Iran, for example, "nonalcoholic beer is growing like there's no tomorrow," Malandrakis said.
Still, there's a lot of convincing to do in countries with big drinking cultures.
Companies have tweaked their formulas in recent years to improve the taste of nonalcoholic offerings, according to Malandrakis, who added that alcohol-free beer in the 1990s "didn't taste like beer at all."
That reputation has made it difficult to convince North Americans to drink nonalcoholic beer by choice rather than necessity, according to Ted Flemming, the owner of PremiumNearBeer.com, a Toronto-based online nonalcoholic beer store. Flemming started the site in 2013 after he was diagnosed with Crohn's disease and couldn't drink alcoholic beer anymore. He noted that many of his customers opt out of drinking alcoholic beer for religious or health reasons.
Flemming said he likes the way alcohol-free beers taste, and he acknowledged that they've improved recently. But he said most people haven't caught up yet, probably because they just haven't tried nonalcoholic beers.
"It's going to be a bit of a learning curve for consumers here [in North America]," he told HuffPost. "Once they try something, they're going to be convinced that it's a good-tasting beer."
There's a social "stigma" associated with drinking nonalcoholic beer, according to Tom Roston, a New York-based writer who penned a blog post a few years ago sticking up for nonalcoholic beers. Roston, who drinks alcoholic suds but reaches for alcohol-free options at times that aren't ideal for him to get drunk, told HuffPost it can be awkward when a friend finds a six-pack of O'Doul's in his fridge, or when he brings a nonalcoholic brew to a poker game with friends.
Still, Roston said it can be a perfect drink when he wants the taste of beer but he's feeling sick or needs to keep a clear head. A 1 p.m. work lunch, for example, has been a time when a non-boozy beer "really did hit the spot," he said.
People like Roston are beer companies' best hope for growth of the non- or low-alcoholic beer industry, according to Malandrakis. Still, he cautions against pinning too-high hopes on nonalcoholic beer as a savior.
"Nonalcoholic beer will never become major, and it will never be enough to stem the tides of the receding beer category," he said.
Related
Popular in the Community