Just when you thought your to-read pile couldn't stack any higher without toppling, designer David McCandless has created an infographic visualizing which nonfiction books most media outlets and awards panels recommend.
Previously, McCandless depicted which classics are most recommended, pulling data from LibraryThing, Goodreads, Oprah's book club selections, Man Booker Prize winners, and more. Now he's used the same formula to determine which nonfiction titles are regarded as essential.
Nonfiction titles by literary fiction writers reign supreme, with Virginia Woolf's A Room of One's Own and Truman Capote's In Cold Blood racking up the most references. Science-related titles appear prominently, too, including Stephen Hawking's A Brief History of Time and Thomas S. Kuhn's The Structure of Scientific Revolutions. And, in spite of pleas that its rules are no longer relevant, The Elements of Style appears nestled among the notable titles.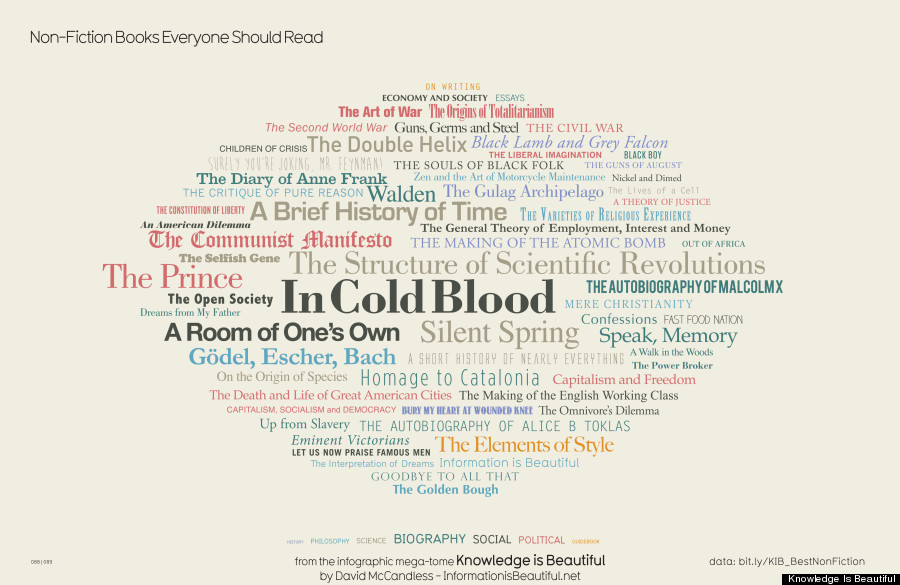 Related
Popular in the Community