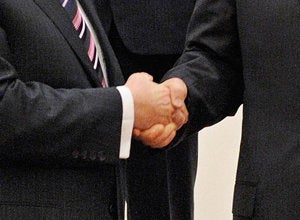 With global corporations actively pursuing growth opportunities in emerging markets, Harvard Business School Professor Bill George raises the compelling leadership development challenge facing these businesses in this HBR blog. He points out how companies require entirely new approaches to prepare leaders for "aligning employees around the company's mission and values, empowering people to lead, and collaborating horizontally rather than managing vertically." Further, George calls for new ways to develop the cultural sensitivities, emotional intelligence, and self-awareness of thousands of new leaders. Clearly, traditional leadership training and education will not suffice.
In my view, nonprofit board service is the ultimate leadership opportunity, giving business executives with the personal and professional skills they need in this new world. Furthermore, there's a win-win in this leadership development arrangement. By serving on nonprofit and global nongovernmental ("NGO") boards, business people provide invaluable skills, expertise, and resources in strengthening organizations that address vital issues, while gaining unique experience in working with people from diverse backgrounds on missions of common interest.
Nonprofit boards are boot camps for leadership development
NGOs and nonprofits address issues of poverty, education, renewable natural resources, healthcare, housing, social justice, human rights, jobs, economic development, and arts and culture. These organizations face severe strategic and financial challenges. The responsibility to ensure that organizations are vital and effective falls squarely on the shoulders of nonprofit boards of directors and the CEOs they hire.
"Oversight," a word commonly used to describe the business of board governance, is not leadership. Certainly boards must be held accountable to exercise their three core fiduciary duties: the duty of care -- to be attentive board members, participate in meetings, read board materials and minutes, and be knowledgeable about the organization, its finances, and its issues; the duty of loyalty -- to put the organization's interests above personal and professional interests and bring any potential conflicts of interest to the board's attention; and the duty of obedience -- to serve the mission, making all board decisions in the interest of the mission. These are serious and fundamental responsibilities.
Mere oversight, however, will not advance an organization to the heights of its success in serving the community. NGO and nonprofit boards must do more than simply watch the books and steer clear of conflicts of interest.
Beyond the legal duties of care, loyalty, and obedience, I have always recommended a fourth board "duty:" the duty of imagination. It is imperative for boards to imagine the organization's greater potential in service to the community, and build the path, including the revenue model for success. This is leadership.
With the partnership of an expert CEO, a high impact board considers the stakeholders, the mission and its relevance; ensures that programs are focused for the highest impact, with measurement models for iterative assessment and planning; builds a highly effective revenue model and engages in achieving its success; advocates for the organization; explores strategic alliances that might advance the mission; alternately listens, asks, learns, and advances decision-making; develops and mentors newer board members; chooses leaders; and builds an even better board.
Essential to success is the right fit between the board candidate and the board
Unfortunately, sloppy matches of executives to board positions give nonprofit board service a bad name. The worst possible scenario is a candidate who winds up on a board with a misunderstanding of the circumstances and expectations. If this happens even 20% of the time, then there are too many business people who are turned off and board rooms that are encumbered. There is no need for this to happen.
Quality matching depends on candidates and nonprofits having a clear idea of what they can expect from each other. In my experience of having trained and placed several hundred business executives on NGO and nonprofit boards, the likelihood of success is maximized when candidates have the opportunity to explore a range of board experiences, join a board where they are excited about the mission and what is expected of them, have proper training in advance, and access to coaching services along the way.
Success is further enhanced when the boards also have access to high quality, professional training, coaching, and consulting services that are designed to build board effectiveness.
Boards mean experiential learning for ethics and accountability, as well as content expertise
Nonprofit board service is the ultimate experience in leadership, ethics, accountability, group dynamics, and crisis management and communications.
Picture the CEO of a global manufacturing company sitting down with her leadership team comprising executives who serve on boards addressing water and sanitation, healthcare, education, entrepreneurship, and property rights. Consider the richness of their experiences, the range and depth of their civic relationships and good will, and content expertise among them.
Next consider the head of a large regional office in a meeting with his reports who participate on boards serving myriad causes, such as workforce development, after school youth centers, access to college, and the domestic violence shelter. This is a team that is on a leadership development fast track, not only deeply embedded in regional issues, engaging with community leaders, but also expert on matters that are relevant to corporate and municipal affairs in communities worldwide.
Nonprofit board service is the experiential learning opportunity to reinvent corporate leaders to build more vibrant and successful companies and a better world.

Related
Popular in the Community