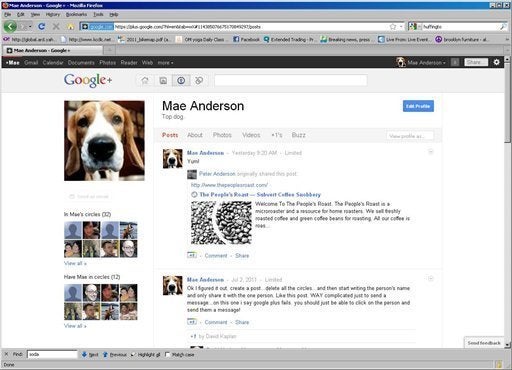 WASHINGTON -- Nonprofit techies aren't waiting for the full roll out of the newest social network to start figuring out ways to use Google+ to do great things.
Within 24 hours of Google's invitation-only "limited launch" last week, "social good oriented geeks had posted stuff on how to use it to make change," said Lucy Bernholz, a San Francisco-based blogger who writes about philanthropy.
Some early adopting social activists lucky enough to be invited to test-drive Google+ planned to use it to organize questions for President Obama's Twitter town hall Wednesday, she said.
And although Google is focusing on individual profiles and not encouraging the equivalent of organizational Facebook fan pages, some nonprofits are "hacking to get it," said Beth Kanter, a blogger who focuses on how nonprofits are using social media to bring about change.
KaBoom, which helps communities build children's playgrounds, has started a Google+ site. So has the group Bullying UK, which already has more than 3,000 people in its circle.
Nonprofits are a natural online guinea pig. A recent study by the University of Massachusetts, Dartmouth, found that large non-profits led businesses as well as universities in their use and early adoption of social media networks. Other research has shown near-universal use of social media by foundations.
"It's like a sandbox now. Let's kick the tires, let's try this. It's not strategic," said Kanter of the early exploration by nonprofit world tech-types like herself who have been trying out Google+ the last few days. She said it is too early to predict how the social network will eventually be employed by organizations or how it could change activism, because many features have yet to be unveiled.
Still, Kanter can see some advantages of Google's social network compared to Facebook. Many who work in health, education, social services and other sensitive areas have found it cumbersome and sometimes impossible to erect professional firewalls to keep patients, students and clients out. Google, she said, gives users more control on who can join.
Kanter also can envision using Google+ to set up small circles akin to membership clubs in which charitable groups can conduct tailored conversations with donors. Another possible use: relaying cell phone updates to a select circle at rallies or protests.
"I've heard groans -- not another social network to figure out," Kanter said. She noted that platform wars are liable to break out as the burgeoning number of social networks vie for attention, but sees promise in Google's entry into an already crowded field.
"It's early," she said. "We don't know where this is going to go."
Bernholz doesn't know if all the buzz about Google+ will have faded out a year from now, but she does see it as the latest tool in a trend toward a new form of philanthropy that doesn't rely on traditional institutions.
"People share what works," she said. "If your mental model is you need institutions, that's not happening. That's not how this works anymore. There's been a dispersion of activity, networks of individuals. Those most comfortable exploring a free technology tool such as that thrown out by Google...That's what social good looks like in 2011."
Related
Popular in the Community