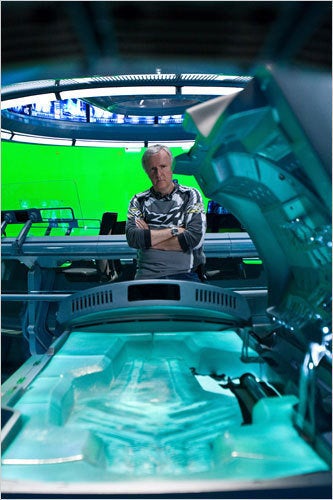 The setting was an amphitheater filled with attendees from around the globe. The scene sounds fairly usual, although the attendees were sitting amongst a Panda -- wearing a shoulder-ferret (looks exactly like it sounds), a bald English woman levitating in lotus position; a small penguin; a punk-rocker girl, replete with a bull's style nose ring; and yours truly, Glitteractica Cookie (Susan Tenby by human/legal standards), a pink-skinned cat-lady, emblazoned with paw-print tattoos, wearing a tuxedo T-shirt and a tutu, though I was both virtual and present in real-life, which is not as tricky as it sounds.
The small conference room in San Jose, California, was dimly lit and buzzing with intensity, while being relatively silent, except for the tapping of keyboards and the occasional chuckle or sigh. The reason was because many participants in the room were participating from both Second Life and the room in San Jose, and they are doing so, in avatar form. Avatars are virtual alter egos, that are our embodiment (not always human, as I noted) in a virtual world. The avatars and the in-world, Second Life experience was being projected on the far wall of the room, although most people were looking at many more than just that one screen. The room was packed. People were sitting, standing, texting, blogging, filming and tweeting -- all about the use of virtual worlds like Second Life to connect and educate people about public health issues.
The event I'm describing was not a costume parade or a psychedelic dance party. It was a day-long "Mixed Reality Lounge," hosted by the NonProfit Commons, an online community initiative of nonprofit TechSoup Global -- and part of the NetSquared Conference in San Jose -- an annual gathering that brings people together to collaborate on projects using Web-based and mobile technology to progress social change. The Mixed Reality Lounge used live audio and video streams to connect the virtual world of Second Life with the physical conference in San Jose. Attendees of the Lounge celebrated the launch of Health Commons, the newest Second Life "island" hosting nonprofits with health-related missions, and discussed the impact of virtual reality technology in health education and community support.
The Boomer Esiason Foundation was just one organization present that shared its success story of using Second Life as a platform for Cystic Fibrosis patients to connect and support one another. Cystic Fibrosis is an aggressive and debilitating disease. Patients are often tethered to vibrating vests and machines to keep their lungs mucus-free. To avoid serious cross-infections, patients are discouraged from interacting with one another in real life. In many cases, the virtual world of Second Life is the only opportunity for patients to meet others with the disease in a real-time setting. In this virtual environment, patients are able to socialize, get support and advice, and to connect with others who understand their condition. Second Life is superior to a chat room for these purposes as it provides a unique venue for creative self-expression. The patients, for example, have created a photo gallery where their avatars can guide others through a hall of photos showing self-portraits of their human selves and explaining the meaning behind each shot.
In addition to the element of fun that is provided by the visual, 3-D interface, notably absent from text-based chat rooms, virtual worlds can enable a user to experience learning from an inside, walk-through perspective. That is, rather than just reading about the the surface of the moon, or a brain, or the bottom of the sea or ancient Greece, an avatar can take a stroll (or fly, if you prefer) through these experiences. The limits are only those of the imagination of the designer. It is a world where the impossible can happen and that is very significant when the impact can vastly improve a patient's quality of life.
Virtual Ability, a virtual community of support and resources for people with disabilities, was another notable presenter illustrating the benefits of using virtual worlds for health education and support. One example of a person with a disability using Second Life is Louise Nicholson known as "Louise Later" in avatar form. Louise is blind and has a virtual seeing-eye dog that serves as an assistive technology engine that reads the typed, text chat in the virtual space and describes the environment to Louise. This technology enables Louise to participate in the virtual world and meet with other people who share her struggles and successes.
As Peggy Weil, one of the designers of the Gone Gitmo, virtual Guantanamo Bay experience in Second Life points out, correctly, "Second Life is real life, and the people behind the avatars are real. Using terms like Real Life, in opposition to Second Life, minimizes this fact." The disabilities represented by the Virtual Ability group are just as real, and include cognitive, behavioral, psychological and physical disabilities. Some participants are not ambulatory due to conditions such as Multiple Sclerosis, but through Second Life, they are provided with a vibrant, ever-changing, creative and fun way of expressing themselves and connecting with their peers. Virtual Ability was just awarded a $10,000 prize (as in real dollars folks, not play money for virtual use) for their excellent application of community-building and education in Second Life.
Large foundations are beginning to take notice and leaders like the MacArthur Foundation are not only providing grants to nonprofits to help grow their virtual presence, they are holding events on their own island. Other nonprofit communities like Global Kids teach digital media skills to young people and have successful funded programs in Second Life. More nonprofits are seeing virtual worlds, like Second Life, as one of a handful of social media tools that are essential in their Web and outreach strategies.
To learn more about the Nonprofit Commons, an online community initiative of TechSoup Global that hosts hundreds of nonprofit organizations in Second Life, visit us at www.nonprofitcommons.org or just jump into your avatar finest and teleport on over to the Nonprofit Commons Island. We have an open town hall meeting, every Friday, on Plush Nonprofit Commons Island, at 8:30am PT (also known as Second Life time). Tell them, Glitteractica Cookie, the pink cat lady, sent you.
Related
Popular in the Community