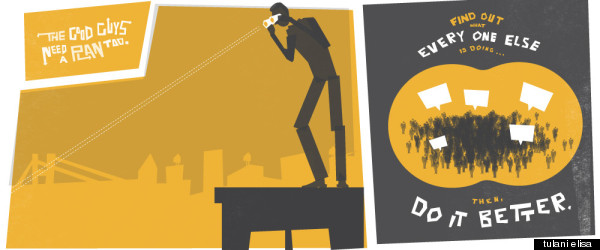 "Good artists copy, great artists steal." -Picasso
If you're unsure whether or not your social media content and approach is a work of art, let me assure you...it is. The way your organization curates its social accounts is its footprint, its story, its digital work of art. Which brings me to the opening quote. Original work is great, but be sure to observe those who are already doing it right through a social landscape analysis. Then enhance your content from there.
By spying on your peers and best-in-class organizations -- and using their successes as inspiration -- you can advance the impact, reach and presentation of your social media presence. Below are five easy steps to auditing your social landscape:
Create a shortlist. Include five to 10 peers and best-in-class orgs (hint: Google "brands doing social right")
Do the detective work.
Visit each website and observe:
-
How
social is integrated into the site
-
Which
social platforms they utilize
Once on the platforms, note:
-
Content:
post length and tone, image use and active campaigns
-
Audience:
response and engagement
-
Cadence:
how often they post, what kind of content they're posting (questions vs. fundraising vs. program info, etc.)
Analyze the data. See what's working based on numbers of followers and engagement levels.
Incorporate your findings. Decide how their best work could help enhance your organization's approach. Use all of the creative content you found to generate new ideas and approaches, and start experimenting on your accounts.
Get inspired. Creativity inspires creativity. Use what you've learned previously about your audiences, what you've already set as your tone and approach, and incorporate the examples of success from your landscape analysis to enhance your overall social strategy.
Let the social media landscape inspire you and your content, make the great ideas you see your own and don't be afraid to let it enhance your social strategy.
Calling all HuffPost superfans!
Sign up for membership to become a founding member and help shape HuffPost's next chapter