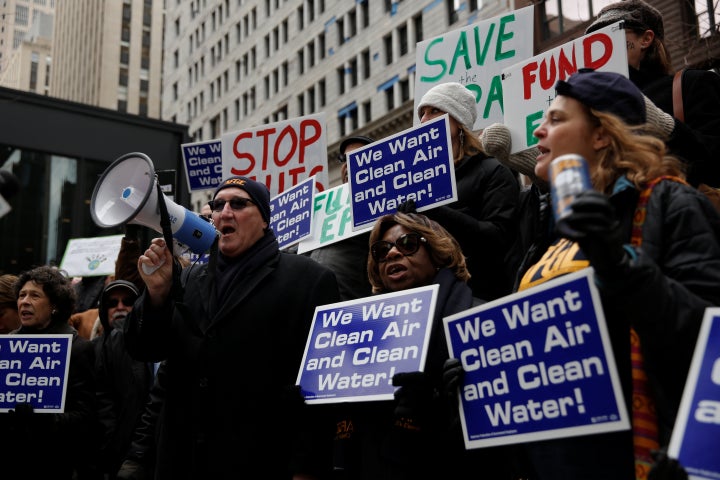 Some 15 million Americans across 27 states are drinking water that could be contaminated with potentially carcinogenic man-made chemicals without even realizing it.
According to a new analysis and map released Thursday by the Environmental Working Group and scientists at Northeastern University, perfluorochemicals (PFCs) — a class of chemicals including perfluorooctanoic acid (PFAS) and perfluorooctane sulfonate (PFOS) — were detected in 162 U.S. drinking water systems in recent Environmental Protection Agency testing.
The toxic chemicals have been used over the years in a wide range of consumer products, like certain types of nonstick cookware, cleaning products and waterproof clothing, and have been linked to a number of health concerns including cancer, developmental issues and a weakened immune system.
Manufacturers have claimed the dangerous PFCs are no longer used in these products. But Bill Walker, EWG managing editor and the new analysis' co-author, pointed out that PFCs have proven so ubiquitous in many products over time that, based on testing by the Centers for Disease Control and Prevention, about 98 percent of Americans have at least some PFCs in their blood.
Practically any additional exposure to PFCs consumed through drinking water or any other means — even fast food wrappers, for example — is too much, Walker argues, because it takes a long time for the chemicals to leave the body.
"There's a significant body of evidence out there indicating that these are chemicals you don't want in your drinking water," Walker told HuffPost. "They might be, and likely are, having a human health impact at extremely low concentrations. We don't need anymore."
Despite the growing recognition of health risks associated with exposure, PFCs are not a federally regulated water contaminant like lead or arsenic.
Recognizing the potential threat, the EPA listed PFCs under its 2012 Unmonitored Contaminant Watering Rule as a candidate for regulation, prompting tests to begin in 2013.
The EPA rule specifically mandates that all U.S. water systems serving more than 10,000 customers test for these unregulated contaminants. In the case of the PFCs, systems were required to report back any detected levels that exceed 20 parts per trillion for PFOA and 40 ppt for PFOS.
But these results likely don't even come close to telling the full story of PFC exposure in the U.S.
While the EPA has required this testing and set a nonbinding health advisory level of 70 ppt for either PFOAs or PFOS or both chemicals combined, advocates say that concentration far exceeds the safe level of exposure that a growing number of scientists are pointing to. One calculation released in 2015 put the estimated safe level of PFC concentration in drinking water at 1 ppt.
In addition, the EPA testing — though it includes a small selection of samples from water systems smaller than those serving more than 10,000 customers — excludes most small water systems, which serve some 53 million Americans (about 18 percent of the U.S. population). Another 15 million U.S. households (15 percent of the population) get their water from private drinking wells that are not required to be tested for PFCs.
The testing would not have helped the residents of Hoosick Falls, New York, a village of 3,400. In 2015, elevated levels of PFOA were detected in the town's water supply thanks to testing paid for by a private citizen who was concerned about the chemical. That testing revealed levels as high as 18,000 ppt, likely due to the village wells' proximity to a plastics factory that made Teflon products.
Concerns over the chemicals have prompted some states, like Minnesota and Vermont, to take action by setting lower state-level limits — as low as 20 ppt — for the substances.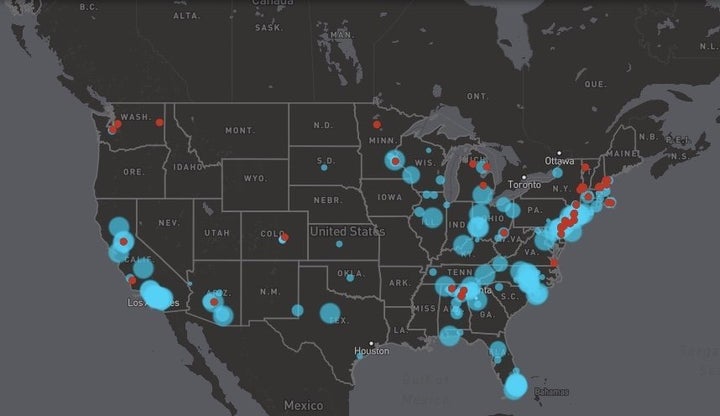 But the risk remains high. The analysis and map released Thursday also points to more than 47 sites of known or suspected PFC contamination across the U.S. (identified above by red dots).
Among the sites, tracked by Northeastern University researchers, are 21 military bases, 20 industrial facilities and seven civilian firefighting locations.
Phil Brown, Northeastern University's Social Science Environmental Health Institute director, said the hope of the tracking project is to make more Americans aware of the problem's ubiquity.
"Chemical policy has not done an adequate job of protecting us from this," Brown told HuffPost. "This is a whole class of chemicals that people rarely hear about. But the more we know, the more consumer and environmental activism will come about."
For the moment, it appears unlikely — given the Trump administration's push to downsize the EPA and slash regulations deemed overly burdensome to industry — that further federal action on PFCs will be coming anytime soon.
Even under the Obama administration, Walker noted, no new water contaminants were added to the list of regulated substances. That inaction continued a long-standing trend: Over the past 20 years, no new contaminants have been added to those regulated under the Safe Drinking Water Act.
So ongoing action will likely come, instead, from states, which Walker argues puts residents of certain states less amenable to new regulations at a clear disadvantage compared to others.
"Things are not supposed to work this way in the United States where rights and protections given to people in one state don't cross the line to another," Walker added. "We need a federal standard."
Before You Go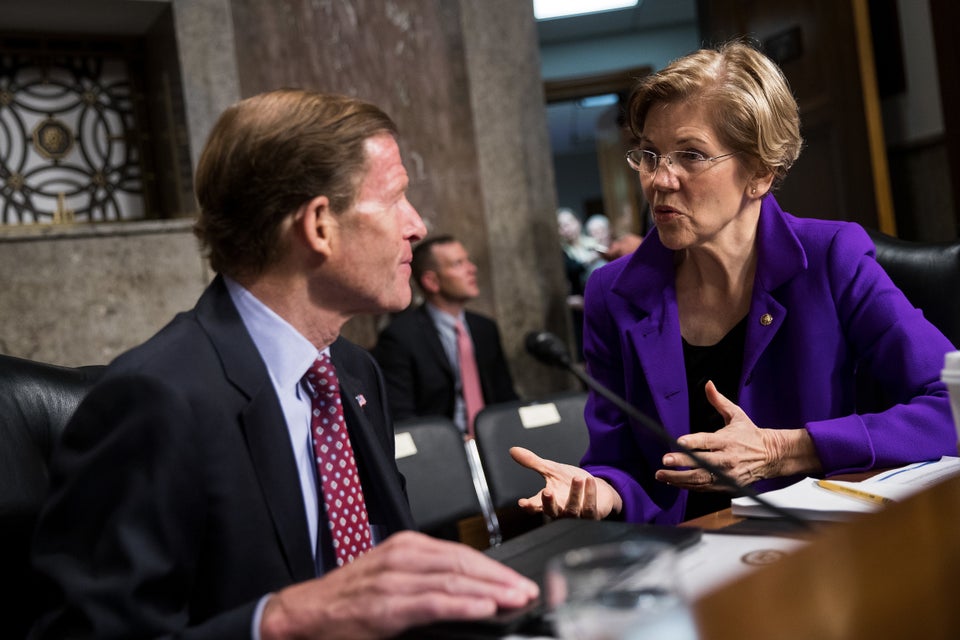 2017 Scenes From Congress & Capitol Hill
Popular in the Community