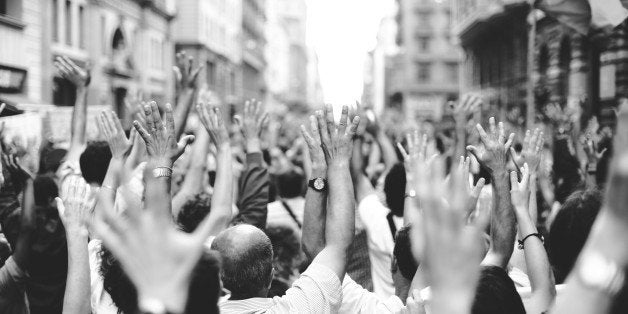 Sadly, last week's eruption of violence in the streets of Ferguson, Mo. confirmed the expectations of a nation. Regardless of the grand jury's decision in the tragic death of Michael Brown, it was assumed that physical violence and the destruction of property would visibly define a community's response. And it did, profiling the continued challenge of race relations in the United States.
As news outlets around the globe showed the fiery scenes of buildings burning amid the haze of tear gas in the streets, it was evident that, for some, the appropriate response to a grand jury's decision was the destruction of a community. However, burning police cars, stealing liquor and destroying a neighbor's business does little to right a perceived wrong.
Dr. Martin Luther King would have been disappointed with that response. Just two weeks ago I had the privilege of visiting the newly renovated National Civil Rights Museum located at the Lorraine Motel in Memphis. As part of a Leadership Tennessee experience sponsored by Lipscomb University, which I lead, I joined participants in silently observing the spot where Dr. King was assassinated but more important, contemplating the legacy of his life's struggle to eliminate injustice and promote civil rights. The core of his work was closely tethered to non-violent social change.
America has a long way to go in creating a society where justice prevails, where police are consistently fair, where citizens are law abiding and where opportunities are provided equally to all. As a relatively newcomer to the Midsouth, I have learned how the deep wounds of segregation still fester and the struggle of African-Americans for equal treatment and opportunity is only a partially completed promise. But, where we seek to arrive -- as a just and diverse society -- is really not the question. We know what is right. The question is, how will we get there? Will it be through destructive conflict or constructive collaboration?
As a college student in Los Angeles, I lived through racial riots in the '60s and, 30 years later, those connected to the Rodney King beating. I remember the irony, sitting in a college class titled "Social Problems" when angry young adults stormed through the academic building overturning desks, trashing the facility and threatening those who occupied it. On more than one occasion, I was evacuated by the fire department after my dorm had been set on fire. I vividly remember another occasion, standing on the roof of an airport hotel watching fires burn from Long Beach to Beverly Hills in a moment when LAPD lost control of the city. Almost anyone can burn buildings, loot businesses and threaten the lives of fellow members of a community. Violence requires neither intelligence nor self-control. With the exception of drawing attention to problems, it does very little to solve them.
In contrast, the non-violent approach to resolving society's most pressing challenges requires vision and persistence. It makes a powerful statement reflecting the passion of people for change. But, it also brings the belief that real change is more likely with aggressive legal advocacy, thoughtful legislation and the hard work of collaborative problem solving. American institutions are not perfect, but they are far ahead of senseless violence and hateful attacks in the streets. Dr. King gave his life for an approach to social change that is as critically needed today as it was during the height of the civil rights movement 50 years ago. We need to live his observation:
"Human progress is neither automatic nor inevitable... every step toward the goal of justice requires sacrifice, suffering and struggle; the tireless exertions and passionate concern of dedicated individuals."
Very soon, a different tragedy in a different place will move Ferguson from the headlines. The satellite trucks will appear in another location and, for a moment, something else will be the center of the media's attention. But the destruction -- of lives and property -- will remain for those in Ferguson. America can place the entire tragedy into its distant memory or it can recommit to the most promising approach to long-term human progress: non-violent expression, constructive dialogue and decisive action to eliminate every unfairness in our society. That is the hard work of resolution... that comes after destructive conflict.
Calling all HuffPost superfans!
Sign up for membership to become a founding member and help shape HuffPost's next chapter