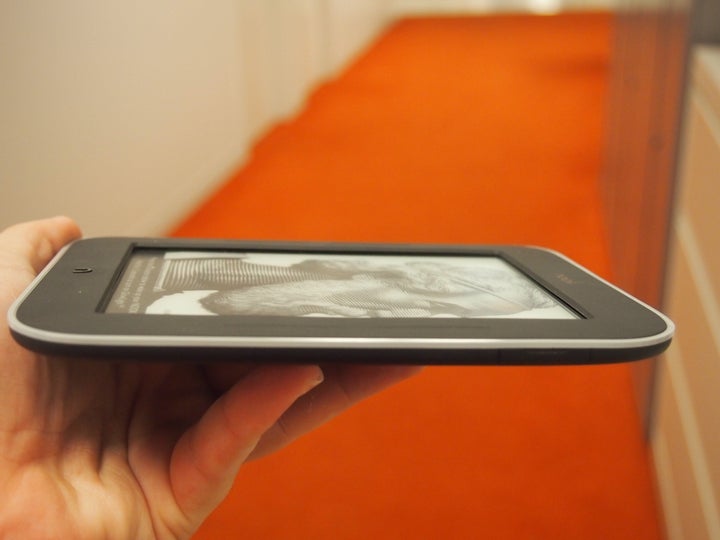 IN THE BEGINNING, when Man wanted to read from a portable digital device, he used an Electronic Ink tablet, like a Kindle, a NOOK or a Kobo. And though these Tablets were Good with Sufficient Ambient Light, in the Dark they became useless, as Man could not Read the Words without a Lamp, a Chandelier or a Cumbersome Flashlight Attachment to externally Illuminate the Screen;
And then Apple created the iPad, and Amazon the Kindle Fire, with backlit LCD screens that Shone in the Dark with their Righteous Brightness. And though these heavier Devices solved the problem of reading in Darkness, when they were brought into the Sun, Man could not read the Words at all, and he strained his eyes, and Cursed the Heavens;
And so it seemed that Man was destined to choose between a Path of Darkness, or a Path of Light. He could either read in the Sunlight with his Electronic Ink Device and use a Lamp or Cumbersome Flashlight Attachment in the Dark, or he could read in the Dark with his LCD Device and leave the device at home when he wanted to read outside, at the Pool, or in the Garden;
And so Man compromised, as all Men must learn to Do.
And then, on a rainy day in April 2012, just as Man was preparing for Jersey Beach Season, at the moment that Man was set to choose between his LCD Device and his E Ink Device, Barnes & Noble came forth with a new NOOK and said: "Let there be light."
And it was Good. Oh, it was Good.
For Barnes & Noble's new NOOK e-reader tablet appeared identical in Size and Shape to the old NOOK e-reader tablet, but in fact weighed slightly less. And it retained its incredible battery life, and came with the Barnes & Noble Book and Magazine and Newspaper catalogue that e-reader shoppers would expect from a new tablet.
And yet this NOOK e-reader also had in-screen lighting, with a Glorious GlowLight emanating from the sides of the screens that illuminated the Text on the display, so that Man could read in the Dark without his Cumbersome Flashlight Attachment.
And the GlowLight worked easily and could be turned on and off, and its brightness could be easily adjusted with a Sliding Scale on screen. And the GlowLight made the new NOOK the Best e-reader Man Could Buy, for it was the only one that Man could use both in the Darkness or in the Light, in the Sunshine or under the Moon, at the Beach or in Bed, while his Husband or Wife slept next to him.
And thus, so sayeth I: The NOOK Simple Touch With GlowLight does Winneth the e-reader Wars, for the inability to read in the Dark was the Largest Problem with e-readers, and now that Problem had been Extinct-ed by Barnes & Noble.
And Lo, other e-readers do Tempteth, for the new NOOK is Wi-Fi only and it Lacketh a 3G connection for downloading Books and Magazines on the go, as users haveth on the Kindle Touch 3G ($149) or Kindle Keyboard 3G ($139). It also Lacketh a Physical Keyboard, for easy Title Search and In-Book Note Taking, as models from Amazon do haveth. Like all E Ink readers, it rendereth magazines and newspapers more poorly than LCD tablets. It costeth $139 (without advertisements), and cheaper e-readers do Flourish at as low as $79 for a simple Kindle (with advertisements) or $99 for a NOOK Simple Touch without GlowLight.
And lest we forget, there are those, like my roommateth Jon, who will always prefer Buttons to change pages, rather than an on-screen Swipe Function, as the NOOK's screen does not respond like a smartphone's or an LCD tablet's*.
Though those features may Tempteth, the main feature you want from an e-reader is the ability to read it in all places of the Universe, not only the Bright ones. If you are a general consumer in the market for an e-reader, the NOOK Simple Touch with GlowLight is your best choice, if the price difference between the cheapest models of the Kindle ($79) and the NOOK Simple Touch with GlowLight ($139) is not too Leviathan for thine bank account.
The e-reader with a lit screen should soon become the standard for Electronic Ink tablets, as it does not reason that Man should read in the Dark any longer. Amazon and Sony and Kobo should soon follow Barnes & Noble into the Holy Land, and into the Light of illuminated E Ink readers.
Until they see the Light, though, your choice is simple: Choose the NOOK with its GlowLight, and you shall not be in want (of a handy, fully-functional e-reader, at least).
The NOOK SimpleTouch with GlowLight is available for pre-order at the Barnes & Noble website here. It should start shipping this week, ahead of schedule, according to a Barnes & Noble representative.
CORRECTION: The NOOK Simple Touch With GlowLight does, in fact, have buttons to turn the pages, as well as the option to swipe on screen. Thanks to Molly for pointing this out.
THE CAPTAIN GADGET SPEC LIST FOR THE BARNES & NOBLE NOOK SIMPLE TOUCH WITH GLOWLIGHT:
Price: $139
Advertisements: No
Height/Width/Depth: 6.5' x 5.0' x 0.47'
Display: 6-inch touchscreen, Electronic Ink
Weight: 6.95 ounces
Weight of 6-inch Kindle Touch: 7.5 ounces
Battery (stated): Over 1 month with GlowLight on, based on a half hour of daily reading time, or over 2 months with GlowLight off, based on a half hour of daily reading time
Coolest Facial Hair Of Author That Appears On Screensaver: Joseph Conrad
Can Access The Huffington Post: No -- newspapers, magazines and books only; no Internet browser
Weird Out-of-Context Claim from Barnes & Noble Website: "Amazing in bed"
Comes With: Wall Charger, USB Cable
Conncetion: Wi-Fi
3G?: No.
4G?: Also no.
5G?: Doesn't even exist.
6G?: Now you're just messing with me.
7G?: Stop it.
Memory: 2GB (or 1,000 books, per B&N), with slot for SD card up to 32GB
"Memory": Insufferable song from the musical "Cats"
Killer Feature: It's all about the GlowLight
Worth buying for: Anyone considering an e-reader
Why? It's all about the GlowLight, baby.