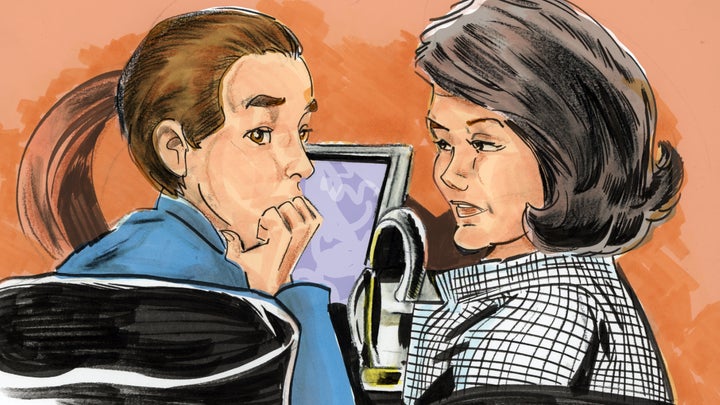 ORLANDO ― Lawyers for Noor Salman called for the case against her to be dismissed, after prosecutors revealed that the father of Pulse nightclub shooter Omar Mateen was an FBI informant who is under a criminal investigation.
Salman, the widow of Omar Mateen, is currently on trial, charged with aiding and abetting her husband in his attempt to provide material support to a terrorist organization, and obstruction of justice. She has pleaded not guilty.
In a motion filed late Sunday night, Salman's lawyers say the government failed to disclose that Seddique Mateen, the father of shooter Omar Mateen, was an FBI informant from 2005 until June 2016, when the Pulse nightclub attack occurred.
When Seddique Mateen's house was searched on the day of the massacre, law enforcement officials found receipts showing he recently transferred money to Turkey and Afghanistan. As a result, a criminal investigation was opened.
The government also disclosed that in 2012 they got an anonymous tip that Seddique Mateen was seeking to raise up to $100,000 via a donation drive to contribute toward an attack against the government of Pakistan.
On Monday, FBI Special Agent Juvenal Martin testified that he oversaw Seddique Mateen when he was an informant. In 2013, he was asked to interview Seddique Mateen's son, Omar, after the latter allegedly made suspicious statements to co-workers about terrorist organizations.
He visited Omar Mateen's home three times to interview him, Martin said. On the first occasion, Seddique Mateen arrived unannounced in the middle of their conversation.
On the third visit, Noor Salman served him homemade cake. "It was very good, by the way," he said.
The FBI closed the counterterrorism investigation into Omar Mateen in March 2014 after concluding that he was not a threat. Martin added that at the time, he considered developing Omar Mateen as an informant, like his father.
Two years later, Omar Mateen stalked into Pulse nightclub in Orlando with an AR-15 style rifle and killed 49 people.
U.S. District Judge Paul Byron denied the request to dismiss the case at the end of the day.
"This trial is not about Seddique Mateen, it's about Noor Salman," he said.
The government's decision to withhold pertinent information "placed Ms. Salman, the jury, and this Court in a dark wood where the search for truth has been thwarted," her attorneys wrote, referencing Dante's "Inferno." "It is apparent from the Government's belated disclosure that Ms. Salman has been defending a case without a complete set of facts and evidence that the Government was required to disclose."
Her attorneys said if they knew about this information, they would have investigated whether Seddique Mateen was involved in or knew about his son's plans to commit a terror attack.
As part of their case against Salman, prosecutors allege that she texted her husband a "cover story" to tell his parents that night to conceal his plans. It was Ramadan, and the couple had been invited to a dinner at the mosque.
"If ur mom calls say nimo invited you out and noor wants to stay home," Salman wrote at 5:55 p.m on the evening of the shooting.
Her lawyers, who have characterized this text as Salman simply asking her husband to communicate their plans with his mother, said this new disclosure raises questions about whether a cover story was even necessary.
"If the evidence shows that Seddique had some level of foreknowledge — based on his financial transaction or an affinity for ISIS — such a story would have been completely unnecessary, and Salman's texting would indicate that she was the dupe and not the provocateur claimed by the Government," her lawyers wrote.
Salman believed her husband was out with his friend "Nemo" on the night of the shooting, as that's what he told her, Salman's lawyers said.
Jurors finally heard from "Nemo" on Monday. He testified that Omar Mateen would often use him as an excuse when he wanted to cheat on his wife.
David Weinstein, a former assistant U.S. Attorney in Florida, said that the defense's motion to dismiss stands a realistic likelihood of being granted.
"By affirmatively withholding information that Mateen's father was an active informant for the FBI up until the date of the Pulse Club shooting, the government has compromised the defense's ability to present their case and cross examine witnesses," he said. "This has risen to the level of a material violation of Salman's constitutional right to a fair trial, which could result in not only a mistrial, but an outright dismissal."
Salman is the only one charged in the crime. Her husband died in a shootout with police at the nightclub after pledging allegiance to ISIS .
Salman's lawyers have said she was in the dark about his plans, and was a victim of abuse at his hands.
"She was not his partner, she was not his peer, and she certainly was not his confidant," Salman's attorney, Linda Moreno, said during opening statements.
This story has been updated to include more details about the case, information from the ongoing trial and comment from Weinstein. It was also updated after Byron denied the request to dismiss the case.