As a Libyan-American growing up in southern Maryland, Noor Tagouri says that she often felt "ashamed" to be a Muslim outsider in her local community. Though Tagouri struggled with her identity as a child, today the 21-year-old journalist fully embraces her religion and culture, proudly wearing her hijab and aiming to become the first hijabi anchor on commercial television in America.
Even her name, Tagouri tells #OWNSHOW in the above video, represents her desire to be a driving force in the world of journalism.
"My name, Noor, means 'light.' My middle name is Alhuda, so Noor Alhuda means 'the guiding light,'" she says. "My name itself inspires me to be that guiding light."
In 2012, Tagouri launched her social media campaign #LetNoorShine -- or, "let light shine" -- to inspire both herself and others to follow their dreams. "I started #LetNoorShine when I decided I was going to be very vocal about what I was doing to become a hijabi journalist on television -- on American television," she says.
Tagouri's dream of becoming a journalist began at a very early age, when she realized she had a skill and passion for asking great questions.
"I grew up knowing that I wanted to be a reporter... and basically have a way to tell stories," she says. "I never thought I was going to wear this hijab, [but] when I did start wearing it, I decided that I still wanted to be a reporter, obviously, and I didn't want this to stop me."
Though another hijabi journalist named Mnar Muhawesh was a reporter/anchor on cable, Tagouri points out that this has never been seen before on commercial television. The lack of Muslim journalists wearing a hijab while anchoring the news was never a deterrent for Tagouri. In fact, it was the opposite.
"As soon as I realized how powerful it is to be different, I thrived off of it," she says.
However, not everyone was supportive of this young, eager hijabi journalist.
"There have been so many times where I have been knocked down, where people told me I wasn't going to be able to do it, where people in the newsroom that I was interning at would go behind my back... saying, 'Who does she think she is? Does she not know that this isn't going to happen for her?'" Tagouri says. "But they don't realize that this generation, right now, is an upcoming generation. Things are changing. People are going to get used to it. People... want diversity; they want to understand each other."
CBS Radio's community and public affairs director, Justine Love, agreed. She had seen an 18-year-old Tagouri give a spoken word performance on World AIDS Day several years ago and offered the journalism major an internship right on the spot. What Tagouri considers especially divine about that experience is the fact that she had prayed for professional guidance less than 24 hours earlier.
"I prayed a prayer we call Istikhaarah, which is the guidance prayer," she says. "I prayed it the night before my performance, asking God for an internship or a job or something."
With that CBS Radio internship, Tagouri's journalism career began to take off.
"Literally, that internship changed my life," Tagouri says. "That was the start of when #LetNoorShine was starting and when things just started falling into place. It was opportunity after opportunity, and it was just from that guidance, just from that prayer."
Related
Before You Go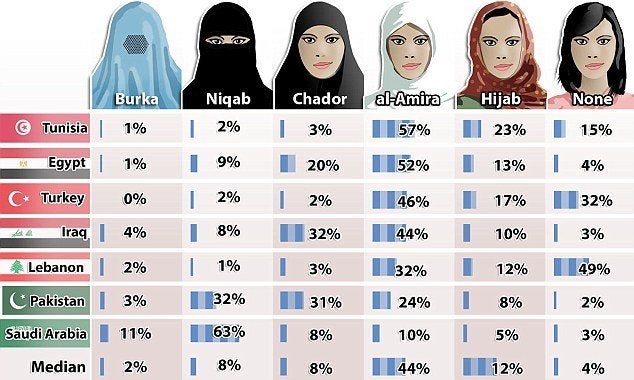 Hijab, Burka And Niqab Use Around The World
Popular in the Community