Stories are powerful. They provoke thought, change, and inspiration. They challenge you to create movement and action.
Journalist and motivational speaker Noor Tagouri agrees; leveraging the art of storytelling to build opportunities for tangible impact.
Tagouri uses her role as an inspirational figure to educate others on various types of social issues, such as racism, mental illness and trafficking.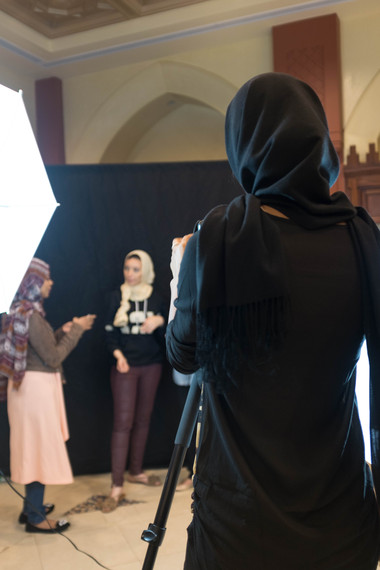 In December 2015, she partnered with CEO of streetwear brand Lis'n Up, Adam Khafif, to later launch what would become #TheNoorEffect clothing line. Launched in 2012, Lis'n Up has maintained a consistent focus on powerful messages either inspired or enhanced by other art forms, such as poetry or socially conscious music. He has also made sure that 50 percent of proceeds are donated to charity.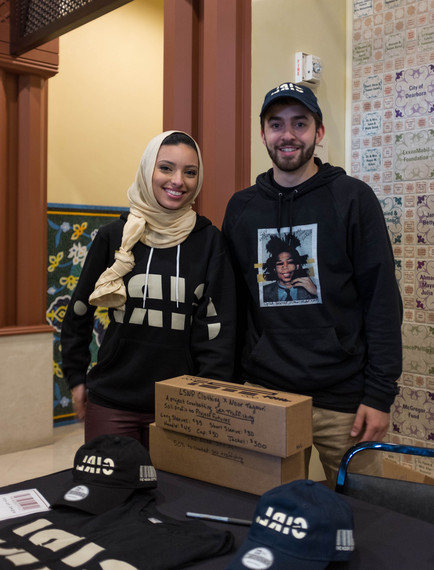 "My dad always told me to do something I'm passionate about, but something that will benefit others too," Khafif said. "While I was thinking about [starting the line and incorporating lyrics from socially conscious artists], I also wanted to take it a step further and give the customer a really unique experience. So, when you go on the website and you checkout, there's a drop down list of charities that you can choose from, where 50 percent of our profit goes to. You're not just giving money and getting something in return. You're getting experience."
The charities customers can choose from include the New England Cancer Research, the Ray Tye Foundation, UNICEF, Greenpeace and Islamic Relief. However, proceeds made from #TheNoorEffect line are dedicated to Project Futures, an organization that combats sex trafficking. Its primary aim is to empower individuals of all ages to take action against trafficking within their own communities, through prevention and support services.
The International Labour Organization (ILO) estimated in 2014 that human and sex trafficking reaps approximately $150 billion in illicit profits each year. Numerous individuals are unaware of the extent of this global, modern-day slavery, which is where the vital role of projects like #TheNoorEffect come to play.
The Lis'n Up x Noor Tagouri collaboration illustrates the power within the act of empowering women. The name translates to "The Light Effect", or "The Effect of Light". Tagouri and Khafif are enlightening both consumers and passersby, subconsciously assuring that each item brings the name of the line to life. #TheNoorEffect consists of high quality long sleeve shirts, beanies, caps and varsity jackets in black, blue and maroon. Each item has the word "GIRL" crossed out on it in taupe -- an idea inspired by artist Jean-Michel Basquiat's quote, "I cross out words so you will see them more."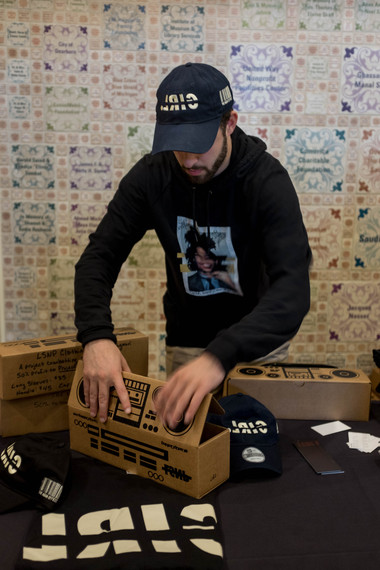 "The whole line itself is something I chose to do because I was very passionate about [eradicating] sex trafficking," Tagouri said. "I also love fashion and wanted to do something in it, but I wanted to make sure that the message was consistent with the one I was talking about in tours. We wanted to make something that allows every consumer to be a storyteller. That's why, with this line, you're essentially wearing the story on your back. You have that power just by walking around, but it's not only that, it's a conversation starter. It allows people to have questions when they meet others wearing the line."
Tagouri shared that one particular piece in #TheNoorEffect line holds the most meaning and sentimental value to her -- the poem behind the long sleeved shirt and hoodie. She had been trying to come up with something for a while, but woke up one night around 3 a.m. and finished it in 30 seconds.
To ignite the blazing fire that is our girls.
Replace barcodes on bodies with those on books.
You can never sell her soul but society can profit from her thoughts.
Enlightenment and education to break free from the shackles of objectification.
She is a force to be reckoned with.
No longer held back because she has a voice and a passion.
She belongs to no one but herself.
Listen to her. Learn from her. Love her.
And there will be Noor.

She then shared that a friend's great aunt read the poem at a gathering in the Bronx, so he recorded it and sent it to Tagouri. She started crying when she watched it.
"The video gave me chills, because she read it with a booming voice, and it made you feel what it was," Tagouri exclaimed. "After that, I was like, this is it. This is why we do it."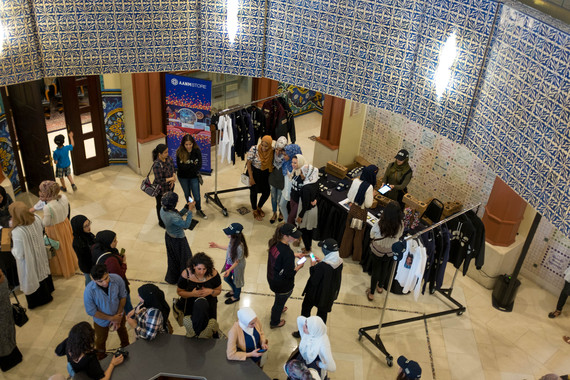 I urge you all to start the conversation. Support the line, support the cause, intrigue people and enlighten them. To purchase your limited edition #TheNoorEffect gear, visit the LSNP SITE and view the exclusive lookbook HERE. If you were unable to attend any of #TheNoorEffect pop-up shops or purchase any items, but still want to help combat sex trafficking, work on spreading awareness within your own community. Find organizations around you, understand what the needs are, and then volunteer not just with a savior mentality -- but to actually fulfill those needs.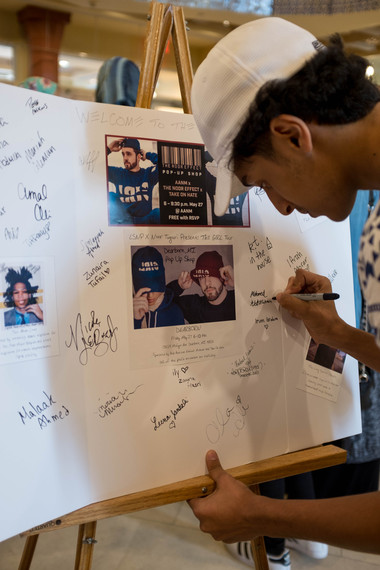 Calling all HuffPost superfans!
Sign up for membership to become a founding member and help shape HuffPost's next chapter