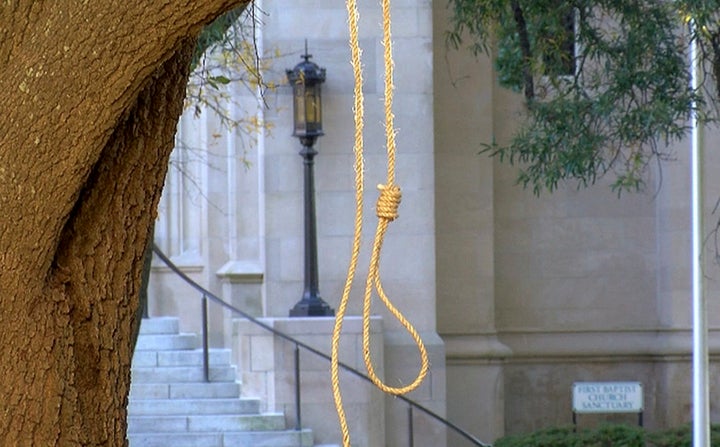 Nooses hanging from trees and signs about lynching were found at the Mississippi State Capitol early Monday morning, just a day before a runoff election to decide whether a black man will represent the state in the U.S. Senate for the first time since the 1880s.
Two nooses and six signs, including one referencing murdered black teen Emmett Till, were hung around the Capitol campus at about 7 a.m. on Monday, according to Chuck McIntosh, spokesman for the Mississippi Department of Finance and Administration.
"We're hanging nooses to remind people that times haven't changed," read one of the signs, NBC News reported Tuesday. Another sign referenced Mississippi's history of lynchings.
McIntosh told HuffPost on Monday that it was unclear, based on the signs alone, whether the incident was related to Tuesday's runoff election between Sen. Cindy Hyde-Smith (R-Miss.) and Democratic candidate Mike Espy, who is African-American. He described the signs as focusing on lynching and Till, a 14-year-old who was lynched in Mississippi in 1955 after being accused of interacting with a white woman.
"While I can't speak to their mindset, it is notable that it was done the day before the special election," McIntosh said.
However, a Capitol Police spokesman told NBC News that one of the signs referenced the election. The sign read: "On Tuesday Nov. 27, thousands of Mississippians will vote for a senator. We need someone who respects the lives of lynch victims," NBC News reported, citing the spokesman.
Hyde-Smith made headlines and lost campaign funding after she joked about wanting to attend a "public hanging" earlier this month. She apologized, but the hits kept coming: a Rhodes scholar at the University of Mississippi called her a white supremacist; the NAACP and Espy himself called the comments "hurtful and harmful"; and her uncritical views of the Confederacy and Mississippi's legacy of racism were made public. As HuffPost's Jenna Amatulli reports:
Espy said he wouldn't link his opponent to the nooses. "I can't connect that to her. I wouldn't do that. That'd be unfair," he told reporters Monday.
So far, there are no suspects in the incident at the state Capitol, though police are looking at surveillance footage, McIntosh said. There are no immediate plans to beef up security at the building or elsewhere during Tuesday's election.
This story has been updated to include additional information about the content of the signs.
CORRECTION: A previous version of this article incorrectly said that a black man has not held a Senate seat in Mississippi since 1833.
Popular in the Community