 Six months ago, I moved into a five-person house in a gloriously quiet yet bristling residential neighborhood north of the Panhandle in San Francisco. My first week here, when I told a San Franciscan that I just moved to NOPA, she rolled her eyes and said, "Yeah, yeah, yeah, that's just what bourgeois people call it since the delicious restaurant Nopa is there, and the gentrifiers don't like saying 'Western Addition.'" But when I told another local that I lived in Western Addition, they were like, "Dude, you don't live in Western Addy, you live in NOPA." Another friend told me to play it safe and just say, "By the Panhandle."
Call it what you will, I fell in love with NOPA at first sight. I love its mellow mood; mothers enjoying a cup of coffee with their kids before school at Central Coffee Tea & Spice, the older man on my block who spends afternoons on his sun-kissed stoop sipping a Heineken with his German Shepherd, watching the father and son in matching Giants hats playing catch nearby on the sidewalk, and the black jeans and leather jacket clad 30-somethings who don't have an office job, sitting outside at Matching Half Cafe, chomping on kale salads and drinking Sight Glass pour-over, checking Twitter feeds on their iPads.
I love NOPA's color; my house is painted orange, teal, and grey, with gold and blue trim around the windows -- and the house across the street is painted pink, teal, and purple. I love its smell; eucalyptus blowing down from Alamo Square Park and circling back through the Panhandle, marijuana steaming from the dispensary on Grove and Divis, and the cats smoking outside Bean Bag Cafe. I love its inconsistent weather; sunny and warm in the late morning and afternoon, and cloudy and brisk in the early evening when the fog whispers in, and its perfectly imperfect mélange of people and businesses -- Nopa restaurant across the street from Popeyes Chicken & Biscuits, Bar Crudo adjacent to Da' Pitt BBQ, music bumping late night from The Independent next door to the abandoned Harding Theater.
On Sunday mornings, I go for my morning run through the Panhandle and emerge in the wild jungle of beauty that is Golden Gate Park, and after, walk down Grove Street to the Divisadero Farmer's Market and treat myself to a croissant and a sample of delicious homemade garlic parmesan spread from the affable guy at the Italian Marketplace stand. I go to Rare Device even though I don't need anything rare nor a device -- and buy an adorable letterpress card with a heart-shaped balloon flying over the Golden Gate Bridge -- for a special someone of the future.

Around 10 p.m., on nights when I've got something to celebrate, I walk over to Nopa and sneak past the communal table to snag a seat at the bar for a burger medium rare with gruyere, add a side of grilled broccoli, and perhaps a WuTang Clan inspired "Killa Bee" cocktail with sombra mezcal, honey, and lemon. If I'm feeling particularly good, I order the chocolate mousse with praline cream, hazelnut biscotti, and candied pomegranate for dessert.
I know I'm supposed to hate myself and all the other transplant-turned-San Francisco foodie gentrifiers I hang out with for creating this beautiful mess, driving up the rent, and forcing the people who grew up here to move away. I know I'm supposed to be annoyed by the opening of The Mill, a hybrid Four Barrel Coffee and Josey Baker Bread, and the highly-anticipated arrival of a new Bi-Rite Market right next to Nopa, officially anointing Divisadero as "the new Valencia Street."
But, don't tell anyone, I'm stoked. The Mill, up until a few weeks ago, while still under construction, was serving the best toast I've ever had out of a makeshift tent. On opening day at The Mill, I ordered the country bread toast with butter, maple syrup, and powdered sugar -- the first bite was better than making love. Now, in order to get my salted caramel ice cream, all I have to do is walk a few blocks to Bi-Rite, avoiding the wiggle down to the Mission and the crowds on 18th Street. Sounds heavenly.
I love NOPA, and I'll live here as long as I live in San Francisco -- that is, of course, until about three months from now, when I can no longer afford to. But, that's still three months of toast.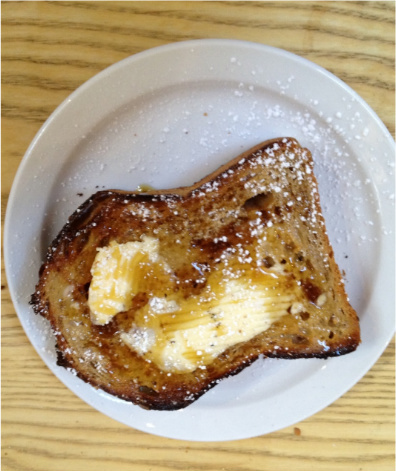 REAL LIFE. REAL NEWS. REAL VOICES.
Help us tell more of the stories that matter from voices that too often remain unheard.