A phone that's not a phone had raised more than $13,000 on Kickstarter as of Tuesday afternoon, well over its $5,000 original fundraising goal. The "NoPhone" lets you to avoid the horror of not having a smartphone in your hand by giving you a plastic phone-shaped block to hold instead of your usual iPhone or Android.
"Never again experience the unsettling feeling of flesh on flesh when closing your hand," the New York City and Amsterdam-based designers deadpan on the Kickstarter page.
Like other pieces of plastic, the NoPhone is waterproof and non-addictive.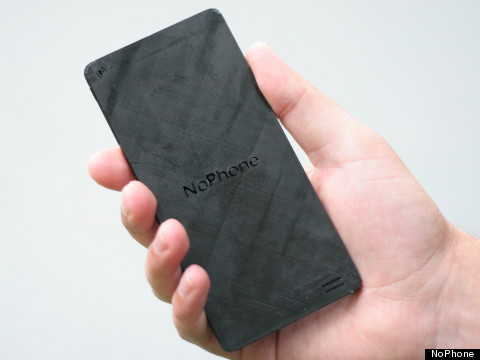 Van Gould, Ingmar Larsen and Ben Langeveld, the phone's creators, told The Huffington Post in an email that they were inspired to make the NoPhone while drinking on a rooftop bar in New York City called 230 Fifth. They looked up from their phones and noticed that everyone else was holding their devices, too.
"You would have looked weird in this bar if you weren't holding a phone," they said. "That's when we came up with the idea for the NoPhone."
You may not be able to check Tinder on the NoPhone, but you might bother to look up -- and end up having a drink with the person next to you instead. Then again, maybe not. Social instructions aren't included.
The NoPhone isn't the first product aimed at encouraging people to talk face to face. Last year, a bar in Brazil unveiled the Offline Glass -- which has a chunk of its base cut out so that it can stand upright only when balanced on top of a phone.
"Smartphone addiction might be the one thing that we all have in common," the NoPhone designers said.
The team said they are still looking into manufacturing options. For now, a $12 pledge on the Kickstarter will get you a NoPhone, to be delivered around December.
For an extra $6, you can add a reflective mirror for taking real-time selfies. And if you're feeling fancy, you can "add a verbal hashtag by syncing your brain and vocal cords."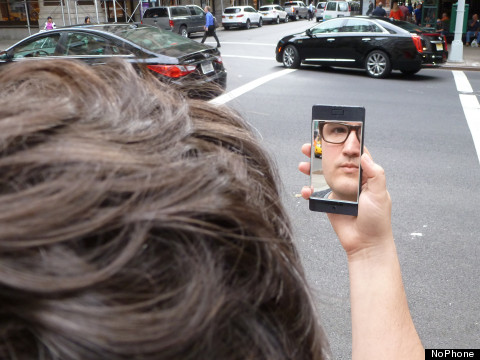 Related