 The mood was somber at Lincoln Center's Alice Tully Hall on Monday as a crowd of about 800 filed into the New York City landmark to celebrate the life and work of Nora Ephron, who died suddenly last month at age 71 from pneumonia brought on by acute myeloid leukemia. But as the lights dimmed and a stream of family members and famous friends took the stage to share memories of Ephron, making the intimate auditorium reverberate with laughter and applause, it quickly became clear Ephron's memorial would be hilarious and heartfelt. For the blazingly witty Ephron, it couldn't have been a more fitting tribute.
"Don't be afraid to be funny," said Martin Short, who was the first to take the stage, of the instructions Ephron's son Jacob Bernstein had given him in advance of the memorial.
The 10 speakers who followed, including director-producer Mike Nichols, sister Delia Ephron and Rosie O'Donnell, took the edict to heart, with hysterical send-ups of Ephron and stories that would have delighted the legendary writer-director-producer.
Her sister Delia lovingly remembered how Nora had kidnapped a landlord to secure a lease during Delia's early days in New York. Washington Post columnist Richard Cohen recalled the time she faced down rude waiters in Naples when they served her "pizza a là dreck." And Tom Hanks and wife Rita Wilson performed a he-said, she-said imitation of an average night with Ephron and her husband of 28 years, Nick Pileggi. (Pileggi did not speak at the service.)
Among the other themes at Ephron's memorial: her talents as a Renaissance woman ("She was a latter-day, urbane Mark Twain. And she could cook," said Cohen); her seemingly endless bandwidth for new friends (She was "the hub of a friendship wheel," said an emotional Meryl Streep); and her utter devotion to sons Jacob and Max ("She was my best friend, my biggest cheerleader, and a total drill sergeant, which is basically what a great parent is supposed to be," said Jacob).
All this fanfare was, to some extent, planned by Ephron. Before her June 26 death, she orchestrated many details of the memorial, including who would speak and for how long, filing her plans in a folder labelled "exit."
Given the scope of her talents (journalist, essayist, playwright, screenwriter, novelist, producer, director, blogger, creator of Huffington Post Divorce), it was no surprise that the collection of attendees gathered to celebrate Ephron amounted to a who's who of the entertainment, media, politics and publishing worlds, including Arianna Huffington, Steven Spielberg, Scott Rudin, Jon Hamm, Meg Ryan, Steve Martin, Matthew Broderick, Sally Field, Diane von Furstenberg, Barry Diller, Charlie Rose, Tom Brokaw, Barbara Walters, Joy Behar, Diane Sawyer, Martha Stewart, Bette Midler, Rob Reiner, Sen. Al Franken, Mayor Michael Bloomberg, Tina Brown, Graydon Carter, Gay Talese and Gail Collins.
After the service, guests sipped pink champagne, conjuring Martin Short's loving words from earlier that morning:
"I believe that when people pass, they zoom into the people that love them the most. So, if that's the case, then all of us here have a piece of Nora. And that's the way it should be. Because life would just seem all too mundane without her. And if she's a part of us, we must be more like her: read everything, savor everything, talk to the person on your left, embrace laughter like it's a drug, drink more pink champagne, and yes, brush up on your style."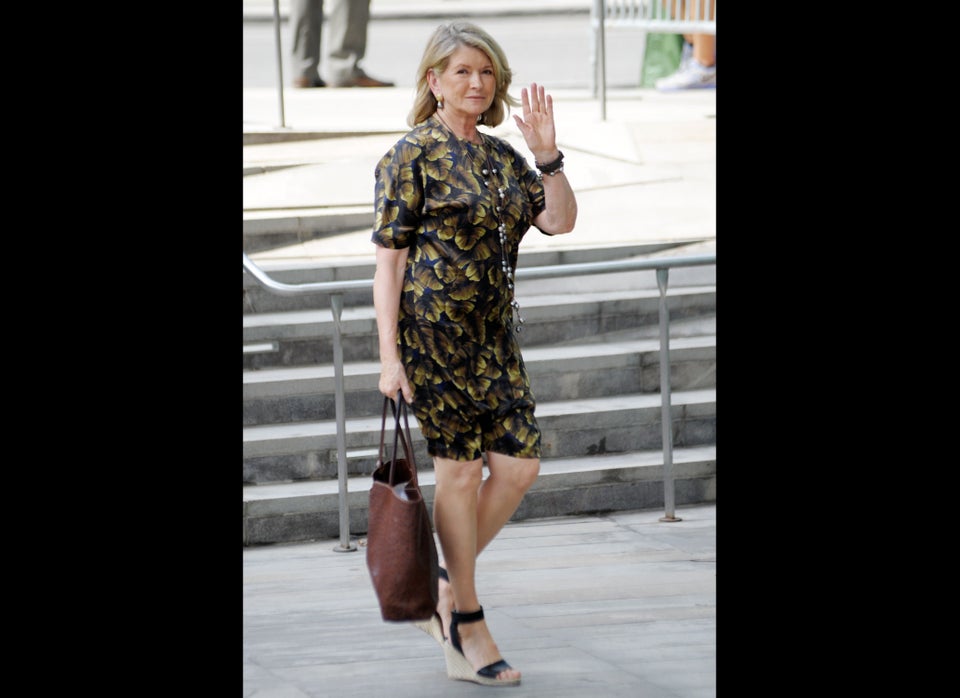 Nora Ephron's Memorial