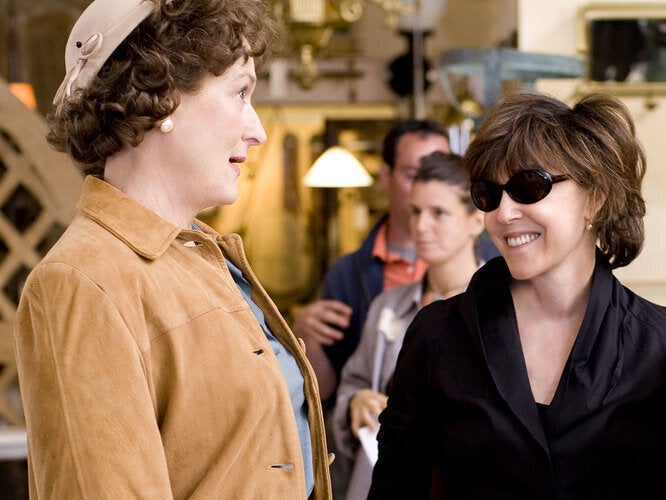 It was arguably Nora Ephron's 2009 film Julie & Julia that most fully thrust her love of food into Hollywood's bright spotlight, but the woman whose work includes landmark titles like When Harry Met Sally and Sleepless in Seattle had for years littered her stories, films and plays with references to eating. And eating well, we might add.
The novelist-screenwriter-journalist-director-producer-playwright (her title could go on and on) has always been candid about the enriching role food played in her life offscreen and off the page.
In the 1960s, Ephron first discovered Julia Child's cookbook, Mastering the Art of French Cooking, and cooked her way through a deal of it -- much like Julie, Ephron's real-life character in Julie & Julia.
When asked about her own signature recipes, Ephron replied in classic form:
If there is a Nora Ephron signature anything it is that there's slightly too much food. I have a friend whose mantra is: You must choose. And I believe the exact opposite: I think you should always have at least four desserts that are kind of fighting with each other.
But as was Ephron's style, her personal stories were most often the stuff of inspiration. So it was with food, which not-so-subtly crept its way into her work. In 1975, she penned "Crazy Salad: Some Things About Women." Her 1983 novel, Heartburn, which was adapted into a movie with Meryl Streep and Jack Nicholson three years later, features a food writer protagonist who works at a New York magazine. The novel itself is flecked with recipes.
Food references abound in nearly all her other films. The best example could be a scene in When Harry Met Sally in which Meg Ryan's character fakes an orgasm in Manhattan's Katz's Delicatessen.
"I'll have what she's having," says Rob Reiner's mother in her famous cameo.
A pivotal scene in another critical favorite, 1993's Sleepless in Seattle, has Tom Hanks' character comforting his young son with memories of his mother.
"She could peel an apple in one long, curly strip," Hanks says gently, his mind lost in a warm memory.
In 1996, Michael starred John Travolta in the starring role, an angel come to Earth who smells like baked goods to women. Co-star Andie MacDowell is a self-proclaimed angel expert who sings about pie.
What we're looking for is not the thing you cook year in and year out, but the recipe you're trying this year for the first time in order to give yourself the illusion that your Thanksgiving dinner this year is slightly different from your Thanksgiving dinner last year. This, in turn, is meant to make you believe that you are capable of change.

In ways, it's fitting that Julie & Julia was Ephron's last film. We'll leave you with one of our favorite quotes by her, which she gave to Newseek amid a media blitz for the film:
Everybody dies, there's no avoiding it and I do not believe for one second that butter is the cause of anyone's death. Overeating may be, but not butter, please. I just feel bad for people who make that mistake. By the way the same thing is true of olive oil. What difference could it possibly make if there's a little olive oil in your salad dressing? It does not take one day off your life.
Related