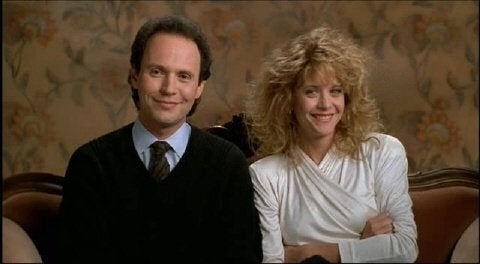 It's lucky for all of us that Nora Ephron didn't have big breasts. "If I had them," she wrote in an essay in 1972, "I would have been a completely different person." If she had them, or I suppose we must now write if she had had them, we might not have had the fearless journalism, the sparkling columns, the moving memoirs and the romantic comedies, and the one in particular that's still among the best.
"I'll have what she's having," says the woman in the diner in When Harry Met Sally and who, looking at Ephron's astonishing career, wouldn't? We might, it's true, not be quite so keen on the miserably married parents, whose screaming rows were the backdrop to her childhood. We might think a mother who tells you that "everything is copy" and then decides to use your childhood as copy for her own play isn't quite the start in life we had in mind.
But that lesson shaped her life. Ephron's screenwriter parents -- they wrote There's No Business Like Show Business and Carousel -- might have held back on the cuddles, but they certainly knew how to get their daughters to write, and fight. All four became writers.
Ephron started when she was still at school. When she heard a female sports writer give a talk in her freshman year at Beverley Hills High School, she "suddenly realized," she says in her most recent collection of essays, I Remember Nothing, that she "desperately wanted to be a journalist and that being a journalist was probably a good way to meet men."
Being a journalist, if you were a woman in 1962, which is when she graduated from Wellesley College, wasn't easy. "If," she wrote in the same essay, "you were a college girl (like me) who had worked on your college newspaper (like me) and you were a girl (like me) they hired you as a mail girl." But while she was a "mail girl" at Newsweek, her parodies of columnists at the New York Post were spotted by the editor, who hired her.
Being a journalist, it turned out, was a good way to meet men. While Ephron was building a reputation as one of the sharpest, smartest, funniest writers in New York, she met and married the writer Dan Greenburg.
When that marriage broke up, she met and married Carl Bernstein at the height of his Watergate fame.
And when she found out, when she was seven months pregnant, that he was having a very public affair with Margaret Jay, she swallowed the pain, and the shame, and turned it into art.
The result was Heartburn. The central character in the novel, modeled on her husband, was, she wrote, "capable of having sex with a Venetian blind." It was a role Jack Nicholson played in the film rather well.
The word "feisty" is one that's overused of women who don't just nod and smile, and particularly of Jewish New Yorkers like Nora Ephron. But "feisty" is certainly what the female characters in her work were.
Not all the films were great. When Harry Met Sally was fresh and funny. Sleepless in Seattle had charm. You've Got Mail felt like a formula -- kooky heroine has fierce exchanges with handsome rival -- that was beginning to wear a bit thin. But one thing you could never doubt was the intelligence of the writing, and the sizzling energy of its creator's brain.
If the films sometimes presented a slightly rosy view of life and love, the books couldn't have been much more clear-eyed. "We all look good for our age. Except for our necks," she wrote in the title piece from I Feel Bad About My Neck, a collection of essays she published in 2006. "There are elephant necks. There are necks with wattles and necks with creases that are on the verge of becoming wattles. According to my dermatologist, the neck starts to go at 43 and that's that."
She wrote with cool clarity about aging, and physical appearance, and failed relationships. She wrote with cool clarity about what it's like to be a woman.
"Don't," she said in a graduation speech to Wellesley students in 1996, "underestimate how much antagonism there is toward women." Women, she said, should be the "heroine" of their lives and not the victim.
"It will," she said, "be a little messy, but embrace the mess. It will be complicated, but rejoice in the complications. It will not be anything like what you think it will be like, but surprises are good for you. And don't be frightened: you can always change your mind. I know: I've had four careers and three husbands."
Yes, she did. She was a journalist, an author, a screenwriter and a film director. And she did find love again: with the screenwriter Nicholas Pileggi, who has been her husband for 25 years. She was ill, with a rare blood disease called myelodysplasia, for six years. On Tuesday, she died of it. Too young, at 71. Pileggi will mourn. Everyone who loved her will mourn. But many of us who never even met her will miss her wisdom and her wit.
"You should," she told Reuters when she was promoting I Remember Nothing, "eat delicious things while you can still eat them" and "go to wonderful places while you still can." You should, she said, "not have evenings where you say to yourself ... 'Why am I here? I am bored'." You should, in other words, try to live life as she lived it: with zest, and joy, but not always grace.
Related
Popular in the Community