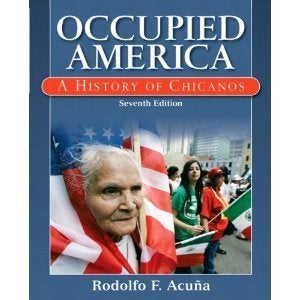 Latino Books Once Banned In Arizona
A New Mexico state representative wants to keep Hispanic history books out of public schools, following in the footsteps of some of her conservative colleagues in Arizona.
New Mexico state Rep. Antonio Maestas (D-Albuquerque) proposed a memorial on Monday praising diversity in the state's curricula and slammed Tucson's decision to ban seven ethnic studies books from classroom use.
That didn't go over well with Republican state Rep. Nora Espinoza (Roswell).
Espinoza, a conservative legislator who is herself Hispanic, went off on a rant against the Latino intellectuals whose books were banished, saying they don't belong in New Mexico schools.
Espinoza read out loud before the state House Education Committee one of Corky Gonzalez's poems that contained the sentence "my culture was raped," and implied the metaphor was not appropriate for young minds.
"These are are extremely racist and hate books," Espinoza said, according to the report from KRQE. She did not return phone calls or an email asking for comment.
Maestas, who proposed the memorial, told The Huffington Post he was shocked at her reaction. He had intended the memorial as a statement in favor of tolerance.
"What happened in Arizona recently was so un-American, and it's particularly un-New Mexican," Maestas said. "New Mexico is a state that takes great pride in celebrating its diversity."
The memorial will be considered again on Wednesday. If it passes, copies will be sent to both New Mexico Gov. Susana Martinez (R) and Gov. Jan Brewer (R) in Arizona.
Mexican-American studies scholar Rodolfo Acuña, whose book is a standard text in college classrooms across the country, wasn't impressed with Espinoza's characterization of his work as racist.
"I don't think she's qualified to make that judgment," Acuña told The Huffington Post. "It's never come up in an academic journal … I've been panned, I've been praised, but I've never been called a racist and the book has never been called racist."
Supporters of the Tucson classes praised the program for boosting student achievement and graduation rates. They point to a state-commissioned, independent audit that recommended expanding the courses. The opponents who dismantled the program accused the teachers of politicizing the classroom and breeding resentment against white people -- a charge the teachers deny.
For Acuña, Mexican American studies has nothing to do with instilling resentment. Instead, he says, such classes build tolerance.
"We get to know each other better," Acuña said. "Unless you have ideologues who want to come in there and take exception with everything, for the most part 99 percent of students are ready to get in there and learn."
Check out the seven books at the heart of the controversy in the slideshow above.
Popular in the Community