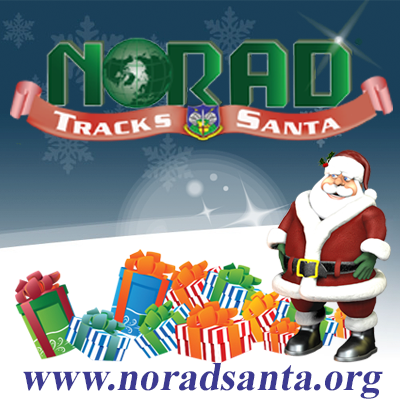 For almost 60 years, the North American Aerospace Defense Command (NORAD) and its predecessor, the Continental Air Defense Command (CONAD) have tracked Santa's flight.
The story goes that, in 1955, a Colorado Springs-based Sears Roebuck & Co. advertisement for children to call Santa misprinted the telephone number. Instead of reaching Santa, the phone number put kids through to the CONAD Commander-in-Chief's operations "hotline." The Director of Operations at the time, Colonel Harry Shoup, had his staff check the radar for indications of Santa making his way south from the North Pole. Children who called were given updates on his location, and the tradition was born.
Since that time, NORAD men, women, family and friends have selflessly volunteered their time to personally respond to phone calls and emails from children all around the world. In addition, NORAD now tracks Santa using the internet. Millions of people who want to know Santa's whereabouts now visit the NORAD Tracks Santa website.
And, once again this Christmas, NORAD is ready to track, escort and assist Santa as he makes his way to North American homes and to children throughout the world with a sleigh loaded with gifts for all those who have been good...
Children ranging in age from 4 years old to early teens contact the "NORAD Tracks Santa" call center at 877-446-6723, [Navy Lt. Cmdr. Bill Lewis, a NORAD spokesman] said. Typically, the younger ones want to know when Santa will arrive at their houses, where he is at that moment, and what kinds of gifts he has in his sleigh.

Sometimes children want to know how Santa can deliver presents around the world so quickly.

NORAD routinely performs aerospace warning and aerospace control missions 365 days a year, and that's where the "fighter jets" come into play when Santa approaches his first stops in the Northeastern Canadian provinces, Lewis explained. From there, he goes around North America, then north to south and back and forth along the poles, making deliveries as he goes across each of the time zones, he said.

Santa Claus reviews his flight plan for his annual Christmas Eve trek across the globe in the NORAD and U.S. Northern Command Current Operations Center at the NORAD and Northcom headquarters at Peterson Air Force Base, Colo. U.S. Air Force photo by Michael Kucharek

"[Canada] has the 'pilots' this year who will take on the 'fighter jet' mission, and as Santa makes his approach into North America, [the 'jets'] go up, make sure it's him, verify it on the flight plan that he gave us and let him go on his way," Lewis said.

The military and civilian volunteers work in two-hour shifts from 3 a.m., Mountain Standard Time Dec. 24 to 3 a.m. Christmas day, he said. Responses are available in eight languages -- English, French, Spanish, German, Italian, Japanese, Portuguese and Chinese.

"In just the call center alone, volunteers do anything from social media posting, pushing out tweets all night, posting on our Facebook page, and answering phones -- which is the largest percentage of [the shift] -- and they answer emails," Lewis said.

During Christmas in 2012, more than 1,250 volunteers in the "NORAD Tracks Santa" call center fielded about 114,000 calls and nearly 11,000 emails from children, NORAD figures show.

The website had 22.3 million visitors from 235 countries and territories across the globe during December, and the program's Facebook page grew to more than 1.2 million followers.

More than 129,000 people also tweeted about Santa's journey on Twitter, and cell phones downloaded 1.5 million applications. Altogether, 25 million people around the world followed Santa's journey in real-time on the web, on their mobile devices, by e-mail and by phone in 2012.

The program is paid for by 55 corporate contributors, Lewis said.

"We have people calling all the time to help," he said. "We just could not do this without the volunteers."

The volunteers sign up for "NORAD Tracks Santa" for a good reason, Lewis said.

"It's the joy of the season in your heart," he said. "When you get the first few phone calls from these kids and hear the innocence in their voices ... if you step back and take it all in, it's incredible."

Lead image courtesy www.noradsanta.org
REAL LIFE. REAL NEWS. REAL VOICES.
Help us tell more of the stories that matter from voices that too often remain unheard.